Food.
Technically it breaks down into ATPs and powers our body. In reality, its a lot more than that.
When happy, we celebrate and share our happiness with food. When sad, we comfort ourselves with food. When ill, we eat to get back our immunity.
Food completes the routine of our days. It travels with us through all our emotions. It is not just a reflex activity we do to live.
Food is also associated with one other special element – Nostalgia. If you have the same feelings while living in Dubai, you must visit Khau Galli to grab the authentic food that will remind you of home.
Let's know more about its outlet in JLT.
The Ambience At Khau Galli
Overlooking the Jumeirah Lake Towers, it wouldn't be difficult to spot Khau Galli. You can hear the Bollywood classics in the air.
Even before you enter Khau Galli, it takes your senses back to India.
Your eyes will feast on the wall adorned with the famous Bollywood dialogues. We guarantee you will spend 10-15 minutes ogling the posters and repeating the dialogues inside your head.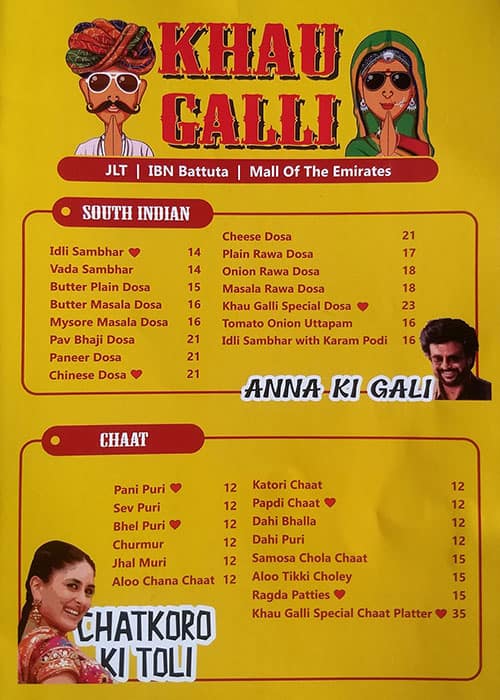 Special mention goes to the banner and the menu card. They've put in a lot of effort to bring out the classic Indian style. Tables are redesigned as tables. The cashier's table is like the hood of an Indian rickshaw. Every aspect of Khau Galli is carefully sculpted to enrich your Instagram.
All in all, it is not a place where you come, eat, and go. Khau Galli is where you sit outdoors overseeing the lake, enjoying the ambience, munching your favorite chaat foods, and ending the day with hot chai or Shikanji.
Other than the ambience, Khau Galli has a lot of sumptuous Indian food to offer. Want to satiate your taste buds? Then let's find out what specials it has to offer.
The Must-Try Recommendations
The management takes special care to maintain authenticity. Khau Galli doesn't fail to satisfy our nostalgic taste buds. Let's find out how.
Khau Galli's special Chaat Platter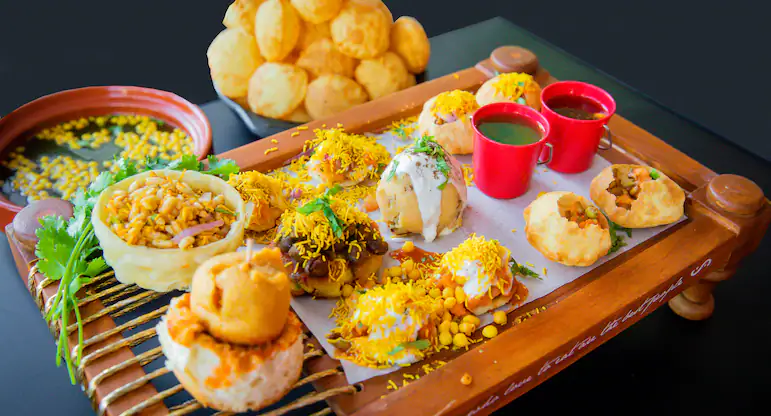 Chaat Platter is not served on a typical food board rather on a miniature dhaba charpai. Can you ask for more authenticity? It comes pre-assembled and you have both the mint and tamarind chutneys served in a glass. This fantastic dish is spicy, sweet, and tangy at the same time, which takes your taste buds on a roller coaster ride.
Oriental Sizzler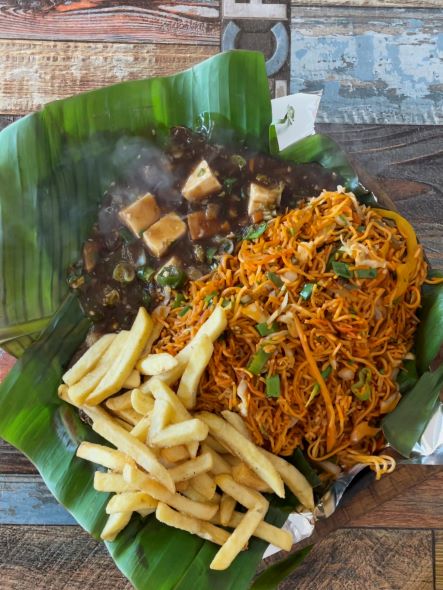 The spicy Oriental Sizzler is served hot. Paneer cubes and vegetables cooked in the Manchurian sauce are served with stir-fried noodles and rice. Get a whiff of that mesmerizing union of spicy sauce and vegetables while you devour the sizzler.
Jalebi With Rabdi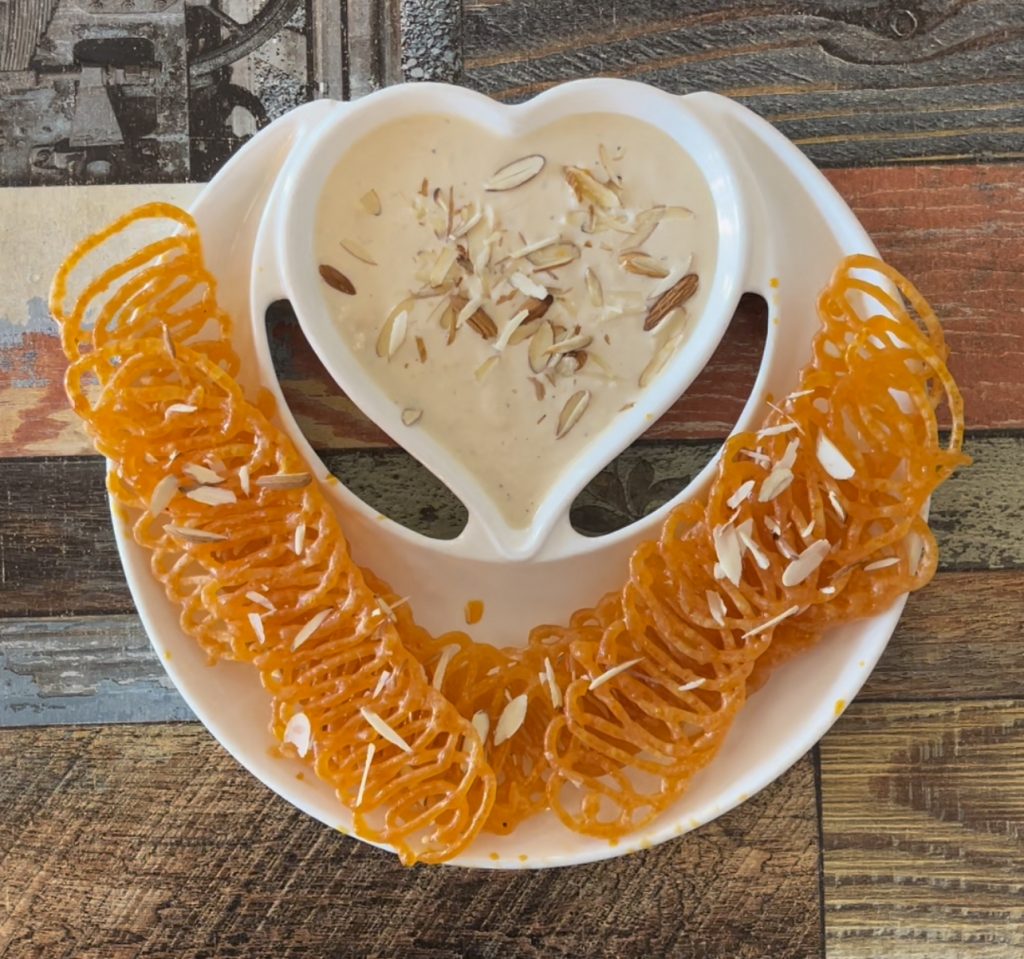 End the meal with Hot Jalebi coated with a thin layer of syrup and Rabdi. The goodness of milk and nuts will treat your mouth well and leave you wanting for more. They also have a mithai corner where you can please your sweet tooth with some desi sweets.
Parting words
Khau Galli is a feast to your stomach as well as your heart. During Covid times when you are away from family, this authentic Indian is there to soothe your desi nostalgia and cure your homesickness.
Do pay a visit to this perfect spot and treat your taste buds to authentic Indian street foods. And let me know about your overall experience in the comment section. I would love to hear from you.