Asian food is one such cuisine that everyone loves. And, of course, it had to make its way into Dubai. It not only satiates your appetite but also takes your taste buds on a trip. So if you are a foodie or wish to take your palate on a trip, then visit these best Asian restaurants in Dubai.
Best Asian restaurants in Dubai
Sitting in the corner of DIFC (Dubai International Financial centers gate village), Zuma is one of Dubai's best fine dining restaurants. It is famous for its Black cod,  scrumptious buffet, and crispy Calamari. And you know what? Zuma has made its place in San Pellegrino World's Best Restaurants list for three consecutive years solely because of its culinary adventures. But, one thing that makes Zuma stand apart is izakaya: a Japanese style that focuses on sharing. Zuma serves all the dishes in a steady flow as and when they get ready. This allows the diners to relish each dish.
Cuisine: Japanese
Gate Village 06, DIFC
+971 4 425 5660
 The China Club
Situated in Radisson Blu, The China Club is famous for its fresh ingredients dishes that have contrasting texture and meal enhancing abilities. The vast menu has a wide variety of delicious meals, including classics and fresh innovations. A classic yum cha (also known as dim sum) feast or a hot bowl of Indo-Chinese Hakka noodles are available to diners. Don't forget to order Peking duck, which will be delivered to your table and cut right in front of your eyes.
Cuisine: Chinese
Radisson Blu Hotel, Dubai Deira Creek
04 205 7333/7444
Icho, located on floors 49 to 51 of the Radisson Royal Hotel, is the city's tallest Japanese restaurant, with a mesmerizing view. The food is top-notch, with dishes like foie gras with sweet soy sauce and deep-fried prawns with wasabi mayonnaise. The spread is enormous and stunning to look at. From the sashimi to the pickles to the seaweed and salads, everything is so awesome. In fact,  the fish balls are a must-try. All in all, Icho is a place to enjoy dinner in a fun way. It may not be exactly romantic, but a lovely location to go for a good meal and some entertainment by Chef's.
Cuisine: Japanese
Voco Hotel, Trade Centre Area, Dubai
+97143080000
ARMANI/HASHI
Set along a terrace of Dubai's famous Burj Khalifa, Armani/Hashi is one of the city's most beautiful restaurants. It is located in the opulent Armani Hotel concourse, serves Giorgio Armani's gastronomic creations.
Because of the excellent view, you'll need to move quickly to secure the best seats. The desired views from this stunning eating place include the Burj Khalifa's sky-piercing tower above and the charming Dubai Fountain below, making an evening here a must-do.
The food here is to vouch for! Fish is cooked fresh and meticulously for sushi, sashimi, and other meals, incorporating classic and contemporary Japanese cooking methods. Of course, being an Armani restaurant, Hashi offers a variety of trademark dishes to make your dinner even more memorable.
Cuisine: Japanese
Armani Hotel, Burj Khalifa, Downtown Dubai
+971 4 888 3888
THIPTARA
Thiptara translates to "magic at the sea" and can be compared to having an exclusive small Thai island of gastronomic pleasures right here in the Middle East. Jutting out into Burj Lake from the opulent Palace Downtown Dubai hotel, it offers a great view of the surroundings. It's easy to understand why an exotic pagoda restaurant is a favorite for special events and romantic evenings, with light lanterns hanging from elaborately built, vaulted ceilings.
This award-winning restaurant specializes in royal Thai cuisine and Bangkok-style seafood. Reimagine all of your favorite Thai dishes, but with an additional kick of flavor. Thiptara offers a unique twist to all standard meals, resulting in a dinner that will leave you wanting more. Choose from a variety of curries, such as beef Panang, Thai green, and spicy roasted red duck, as well as traditional Thai meals.
Cuisine: Thai
The Palace Downtown Dubai
+971 4 888 3444
www.theaddress.com/dining
Hoi An
Vietnamese food is still underrepresented in South Asian cuisine; nevertheless, once you've tasted its bright flavors, you'll want to traverse the length and breadth of Dubai to try more.
The menu at Hoi An is enormous, and you'd be hard-pressed to find a better representation of genuine Vietnam in all its fresh and fragrant beauty. Spicy blue crab cake and deep-fried soft shell crab with spicy mayonnaise are two things that one must try.
Cuisine: Vietnamese
Shangri-la Hotel, Dubai
04 405 2703
www.shangri-la.com
 Benjarong
You'll believe you've struck gold at Benjarong if you're looking for Thai food in a luxurious environment. Benjarong at Dusit Thani Dubai, located in the city's lively financial area, provides a genuine Thai experience to the metropolis.
The enticing cuisine was created by Thai chef Wichit Panyo and his crew,  making this restaurant stand out from the crowd. Choose from a menu of distinctive dishes, each artistically presented, and relax in the trendy and colorful setting. Some of Bengarong's most prized dishes are said to have come from Thailand's royal palaces, where they have remained unaltered for generations.
Cuisine: Thai
Dusit Thani Dubai
04 317 4515
Taikun Dubai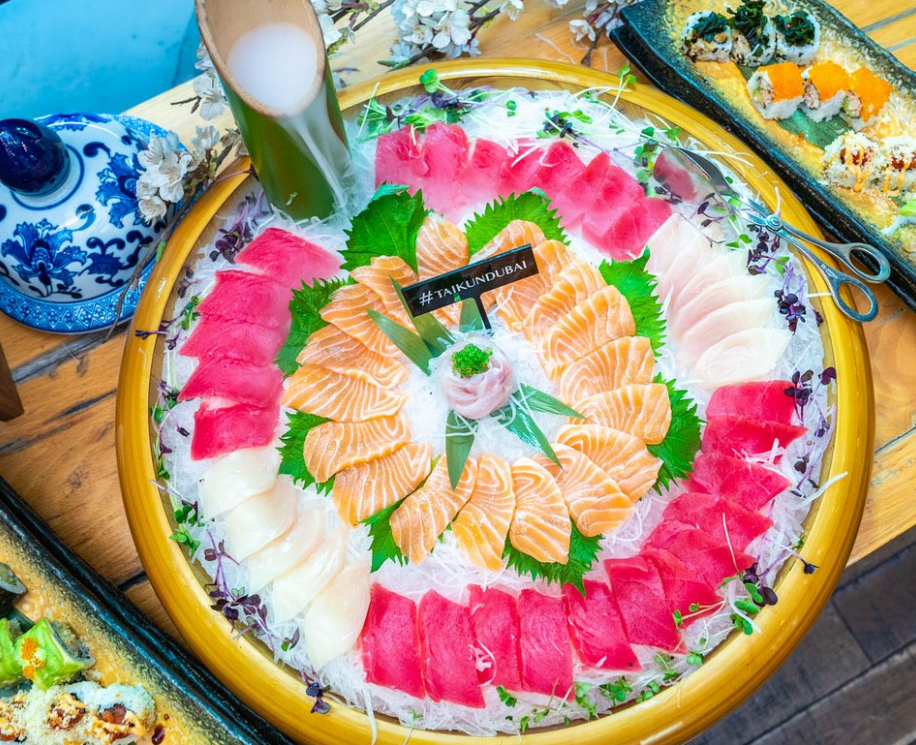 Russell Crowe, Hugh Jackman, Leonardo Di Caprio, Salma Hayek, and Nicole Kidman visited Taikun Sydney, making it a celebrity hotspot. Will Smith and Cristiano Ronaldo have been the most prominent visitors to this store since it debuted in Dubai. When the weather is nice, Taikun Dubai's serene Japanese-style garden setting in the heart of Downtown Dubai is one of its key selling features.
Relax and unwind among the soothing water features and bonsai plants. The sophisticated new à la carte Friday breakfast, as well as some new dishes on the regular menu, such as mushroom hotpot and the odd chocolate tofu dessert, are among the season's highlights.
Vida Downtown Dubai hotel
04 442 8383
So, that is all about the best Asian restaurants in Dubai. For Best View Restaurants In Dubai For A Fine Dining Experience, click here!