The lock-down gave most of us a habit to try some new dishes every day. Many of us got a super chance to release their culinary expertise in the past months. Some came blockbusters, and some might have flopped! Anyway, here is a guide to amaze your family by making a falafel from home. Let us try our hands on this lip smacking Middle Eastern dish.
Falafel is made with fresh herbs and spices and is gluten-free, vegan and is full of plant proteins that help satiate cravings and make one feel full.
Recipe
Falafel is primarily made from chickpeas.
Other ingredients:
1 inch piece of ginger
1 tablespoon all purpose flour
1 teaspoon salt (or to taste)
1/2 teaspoon red chilli powder
1 teaspoon coriander powder
1/2 teaspoon cumin powder
3-4 green coriander pods, powdered
Oil for frying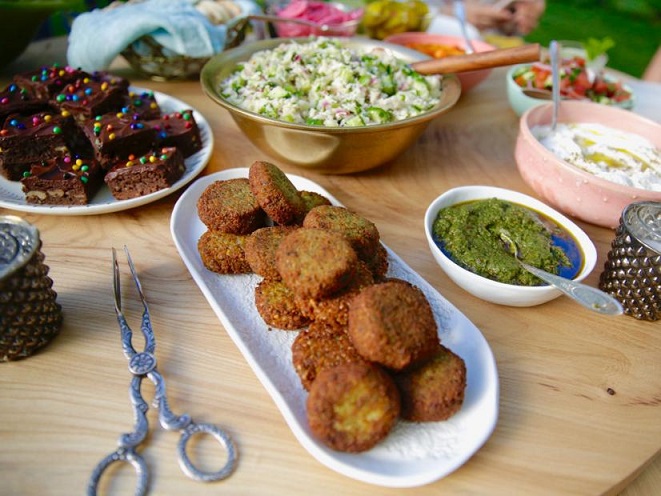 Method
Soak chickpeas in water for 6-8 hours (better overnight). You can also use canned chickpeas if there is not enough to soak. In case of using canned chickpeas, drain and wash them well before use.
Drain the chickpeas and put it in a mixer/ food processor. Add onions, green chillies, coriander, ginger and garlic.
Pulse to a coarse mixture. Now add all the spices and flour and process again. You will need to churn and scrape the mixture from sides in between. If its difficult you can add some water to it but keep water to very very minimum. I added like one tablespoon of water to my mix.
Remove the mixture into a bowl. Mix it with a fork and remove any big pieces of chickpeas that the processor might have missed.
Heat oil in a skillet and drop spoonfuls of falafel batter. Fry the falafels until golden brown.
Remove on a kitchen towel or paper tissue.
Serve hot with hummus or tahini sauce or add them into veggie pita pockets.
Another easy method:
Ingredients
½ cup – Hara chana, soaked overnight
½ no – Onion, cut into quarter
5 – Garlic cloves
1 tsp – Cumin powder
Salt to taste
½ cup – Fresh coriander
1 tbsp – Sesame seeds
⅓ tsp – Baking soda
1 tsp – Green chillies, chopped – optional
Oil to fry or use air fryer.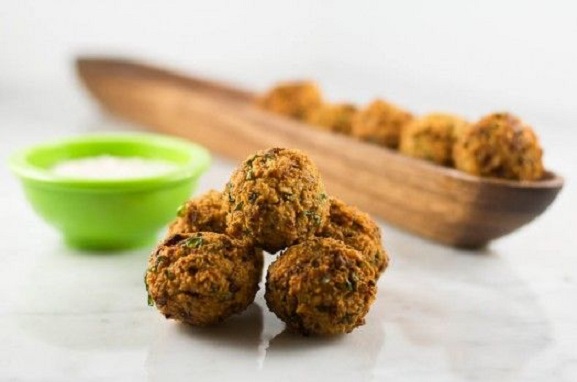 Method
Blitz the above ingredients to make a semi-soft mixture.
Shape as desired.
Heat oil and deep fry the falafels until golden brown.
They should be soft inside and crispy outside.