Karak chai is a popular and regularly consumed tea in the Middle East. There are many brands that have made their own variations to this popular chai. And a few of them have now become the best spots to have karak tea in Dubai. 
If you have lived in Dubai for a long time, you know that tea is a flourishing part of Indian and Middle Eastern culture. A simple cup of hot tea is the most sought after pleasure. Slowly sipping a cup of hot tea can leave you relaxed for a couple of hours. Apart from the popular karak tea in Dubai, there are many others like herbal tea, mint tea, caffeine free tea and more. But karak tea is something that is loved by all. 
So the next time you are on the lookout for having a peaceful time with a cup of tea, here are the best spots for karak tea in Dubai to visit.
One of the most prominent places in Dubai, the Karak tea is the speciality of this place. Served with glucose biscuits, this is definitely one of the popular places for Karak tea and its other unique versions. Not just their tea, but the food served here is also simply delicious and has a good serving portion. The cafe has indoor and outdoor arrangements both of which provide a relaxed and comfortable environment to enjoy the tea.
Location: Downtown Dubai
Average Tea price: Starting from AED 13
Opening hours: 8:00 am onwards
This age-old tea outlet is spread across Dubai and takes the experience of having a relaxed tea to the next level. The flavour of their karak tea will leave you relaxed. Their combo meals are also affordable and available to have with their tea. This joint is mostly visited by visitors on the go and office goers. Due to its availability at many places, it can also be a family friendly joint enjoying their cup of tea. Their value meals like samosa and cheese chilli toast make it a perfect joint for a group of friends to enjoy conversations over tea.
Location: Business Village, near Clock Tower, Deira
Price: Dh40 onwards
Opening Hours: 7am – 2:45am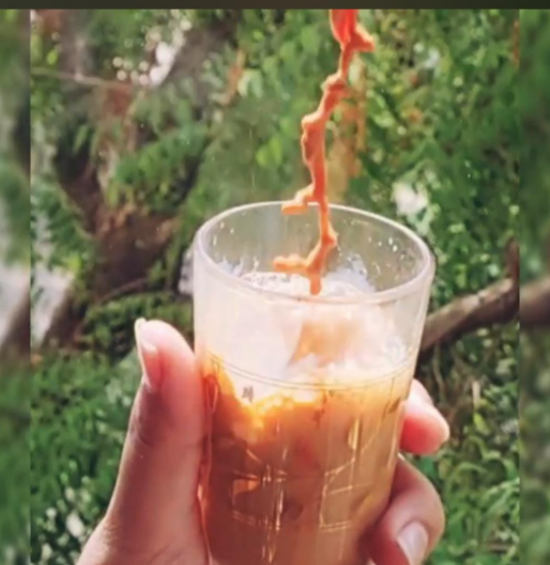 While also making available frothy delicious coffee, this cafe is very popular for its unique speciality of zaffrani chai made from freshly boiled milk. They also have a wide range of options available in their menu for a good afternoon lunch. Whether it is spending time with your family or friends, this is a perfect place to have a wonderful combination of their flavorful paneer tikki biryani followed by their special karak zaffrani chai from fresh milk. If not lunch, this is also a good place to spend evenings with their chai and fafda or chai puri specialties. 
Do you know: Zankar has also released her own version of gold infused UAE's favourite karak chai.
Location: Jumeirah Lake Towers
Spread across various places in Dubai, this cafe is also famous for karak tea and its own unique variation of tea. This cafe is popular for providing its own exceptional experience with its own blend and amazing taste of food options of affordable sandwiches and burgers. Their range of parathas, wraps and kathi rolls are also a must try. They have an awesome seating facility outside and parking space as well which makes it very suitable for visiting in the evenings and mid night too. Whether you want to catch up with friends or want to hang out to have casual conversations, this is a perfect place to look out.
Location: Multiple Places
Time: Varies based on the location but available from 7 AM – 12 AM on Weekdays with availability of 8 AM – 8 PM on Thursday And Friday
Price: AED 10.00 onwards
This homegrown cafe requires no introduction and is well known to all. What started in a domestic office is now spread across multiple places and is ready to serve visitors with freshly brewed tea. This is a popular place to hangout and relax between hectic work. They also have a wide variety of eateries like wraps, samosas that makes an amazing streetside experience. They also have amazing cool desserts and their Match Green Tea Soft Serve is a must try. So whether it is to enjoy their fresh brew of karak tea or to have it along with some snacks this cafe is sure to give you an awesome experience.
Location: Dubai Silicon Oasis, Ibn Battuta, Dubai Media City, Cinema Akil, Two leaves in Time Out Market
Time: Depends on location but available from 12:00 PM – 10:00 PM
Price: AED 15 onwards