Dubai is one of the most popular travel destinations for tourists. If you are a vegetarian or want to try delicious Indian vegetarian cuisine, there are a variety of options available for everyone. Here are some of the best Indian vegetarian restaurants in Dubai where you can find authentic tasty delicacies and an amazing dining experience.
Top Indian Vegetarian Restaurants in Dubai
\Want to enjoy a variety of dishes from Gujarati and Rajasthani cuisine together? Rasoi ghar is here for you that offers delicious food. Munch on its popular starters like dhokla, samosa, kachori. How about enjoying a steamy plate of khichdi, parathas, pooris. Also,you can satiate your sweet cravings for main course with yummy gulab jamun and halwa as dessert, they have it all. With every dish, you can savor the original flavor and eat them whole heartedly.
They have a very casual ambience and informal environment. The seating is low with floor cushions provided to enjoy their special thali.
Time: Opens from 12 PM to 3:30 PM thereafter from 7 PM to 11:30 PM
Location: Opposite BurJuman, Bur Dubai, Dubai
Price: AED 90 approximately for two people
 This Indian restaurant offers the best Royal Rajasthani Cuisine in Dubai. Their popular unlimited thali has more than 20 varieties of delicacies. It will make you feel like a king with every bite you eat. There are a lot of options for vegetarians having authentic flavor. They make sure that you enjoy the traditional cuisine experience like a king and eat to your full.  For experiencing this scrumptious taste, you should visit here . 
Time: 12 PM to 3:30 PM, 7 PM to 11:30 PM Daily
Location: Al Karama, Dubai
Prices: AED 90 for two people approximately
Checking around for authentic south Indian meals? Saravana Bhavan is the best place to check out. This chain of restaurants are very popular in their south Indian cuisine globally. They have an enormous variety of dishes for breakfast, lunch and dinner. With soft steamed Idlis and delicious chutneys that melt on the first bite, this is a must visit. Their colorful and crispy dosa varieties will leave you looking for more. Enjoy their flavorful thalis and tasty curries to please your taste buds. The aroma and taste of their traditional and authentic filter coffee is heavenly. You can enjoy the experience here with your entire family. The plethora of dishes here are also very affordable and budget friendly.
Price: AED 70 for 2 pax (approx.)
Location: Multiple Places
Time: 7:30am – 11pm (Today)
Craving for Bombay street style snacks and fast food? Bombay Times is the perfect spot for you. You have a variety of popular chat items like Bhel Puri, Sev Puri, Misa pav, and more here. Their range of options for a simple, quick and tasty sandwich, will leave you feeling at home. The ambience is very casual and they cater to a variety of fast food in this small little place. With its affordable price, you can feel a taste of Bombay street food here. Definitely a must visit for Indian Vegetarian Restaurants in Dubai to have a yummy snack.
Location: Meena Bazaar, Dubai
Time: 7am – 11:30pm
Price: AED 55 for two people
Kamat group of restaurants is a very go-to name in India. This is very popular for their large variety of Indian Vegetarian cuisines. Right from north Indian, south Indian, Indo-Chinese and even a bit of Jain delicacies, this place has it all. You can relish an entire day's worth of food from breakfast, lunch and dinner at affordable prices. This is a must-visit place to visit with family & friends for authentic delicacies.
Location: Multiple Places
Time: 10:30am – 12 midnight
Price: AED 115 for two people
Looking for a venue having a  mixed variety of Indian vegetarian cuisine? Then Urban Tadka is the perfect option for you.  Their specialties range from handi biryanis, paneer vegetables, poori, pakoda, samosa, kachori, pani puri, vada pav and more. They cover popular north Indian and south Indian cuisines. They also offer street style food chat items and a blend of Chinese appetizers.  The taste of their delicacies is very authentic and delicious. With a very relaxed atmosphere at their venue, this family friendly joint is a must visit. 
Location: Al Karama and Discovery Gardens
Time: 9am – 11:30pm
Price: AED 100 for two people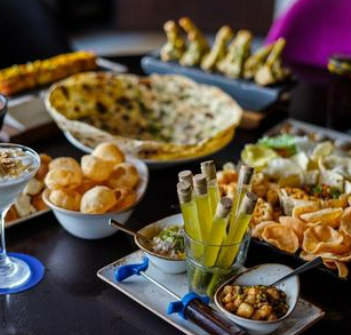 Does a good, friendly and pretty decorated ambience in a restaurant bring a whole new vibe? Spiceklub has it all. It has a wonderful theme and colorful interior which is sure to catch your eyes. They serve the most modern Indian cuisine that is a pleasure to all. They bring a different touch to regular north Indian and South Indian cuisines. Their delicacies are available to cover from breakfast, lunch, dinner and snacks. and chat items. They are popular for Roomali Cheese Papad and Jamun Juice. Their stuffed potato and chat items along with Pan Mousse and Dal Masala are also a must-try. If you are looking for one of the best Indian Vegetarian Restaurants in Dubai, this should be on your list.
Location: Mankhool, Dubai
Time: 12noon – 3:30pm, 6:30pm – 11:30pm
Price: AED 180 for two people
With plenty of Indian restaurants serving vegetarian cuisine from organic Punjabi flavors, royal Rajasthani cuisine, south indian chutneys, chat food or street style food of Bombay there is something for everyone to satisfy your cravings. If you are looking for a memorable dining experience, these are some of the best Indian vegetarian restaurants in Dubai that you should definitely check out in your visit here.