In this recipe for prawn pasta with pesto, ingredients that nourish the soul along with the body, their dense and creamy texture forces you to close your eyes when you take their first bite.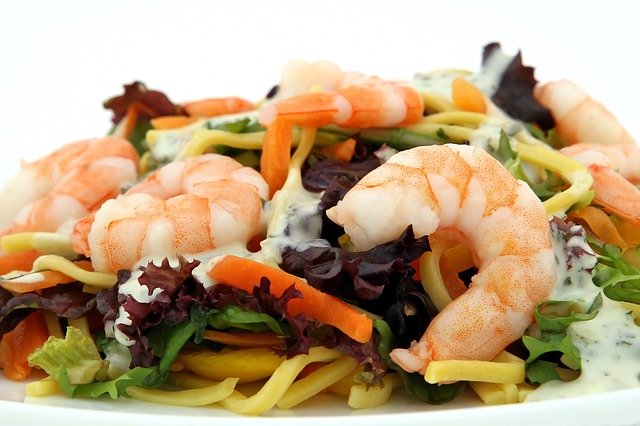 In addition to its rich taste, it makes a quick dish for weekday dinner, and it is a distinct Italian addition to your table for guests to savor what your hands are great.
Ingredients prawn pasta with pesto
Macaroni or spaghetti (linguine or fettuccine can also be used)
3/4 cup basil
Half a kilo of medium to large shrimp or prawns, peeled and de-sweaty (frozen and pre-cooked)
1 tablespoon olive oil
1 teaspoon Italian seasoning (or equal parts garlic powder, dried basil, and dried oregano)
Salt and pepper to taste
1/4 cup Parmesan cheese
1 cup cherry tomatoes, halved
Half a cup of butter
2 cups of cooking cream
How to prepare
Cook spaghetti according to package directions.
Meanwhile, in a blender, mix 1 tablespoon of olive oil, basil, lemon juice, garlic, and salt until smooth. (Adding some pine nuts is optional.)
Heat the butter over medium heat and add cooking cream with salt and pepper, stirring constantly.
Add Parmesan cheese to the mixture, then the basil or pesto mixture, stirring constantly, until the consistency becomes thick.
Finally, add the shrimp to its pink color after about 5 minutes.
When the mixture is done cooking, add the cooked pasta and stir the ingredients well to distribute the flavor.
Next, add cherry tomatoes on top, and as a final touch, you can garnish with some finely chopped parsley to add the crisp green color.
On the side note, the ingredients for this pasta are identical to those of the prawn pizza with pesto, as you can put them on pizza dough (except for cooking cream and butter) and add mozzarella, parmesan, and fresh basil or basil leaves