There are several camping sites in UAE such as Hatta Camping and we all dream of camping with family in the mountains when temperature is moderate at night. But before embarking on a camping trip one must take several aspects into account most notably the location, services, prices, etc.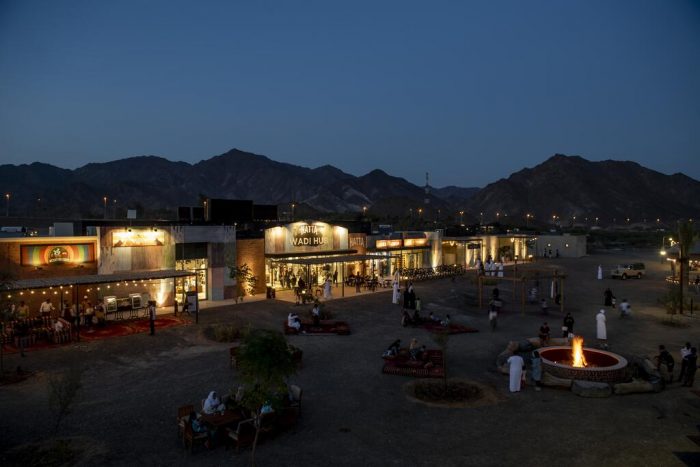 Hatta is one of the most important camping areas in Dubai. It is an ideal area for families and young desert and mountain adventure enthusiasts. It is also ideal for those who want to get away from the hustle and bustle of the city and the accompanying daily routine. Hatta camping will not only help you deviate from the familiar excursion patterns, but also provide you a perfect sky view and its stars at night. For now, let us review the following list for the most prominent Hatta camping sites.
HATTA CAMPING SITES
Hatta includes a group of places designated for camping. These places provide you an ideal location that overlooks the magnificent view of the Hatta Nature Reserve and stunning natural landscapes in Dubai. Not to forget mentioning the surrounding mountains that gives an opportunity to enjoy the peaceful landscapes. And when it comes to camping then it provides two camping options.
ERECTING THE TENT IN THE CAMPING AREAS OF HATTA
This classic way brings us back old memories with family and friends. All you have to do is pack your camping gear and head to Hatta. Here you can pitch tents at a camp site. And the best part is, every camping point in Hatta provides a parking lot. You can also explore the area and find several campsites in Hatta. Most of them are far from the noise and you get to spend a quiet night which makes Hatta camping very special.
RENT CAMPING TRAILERS AT SEDER TRAILERS RESORT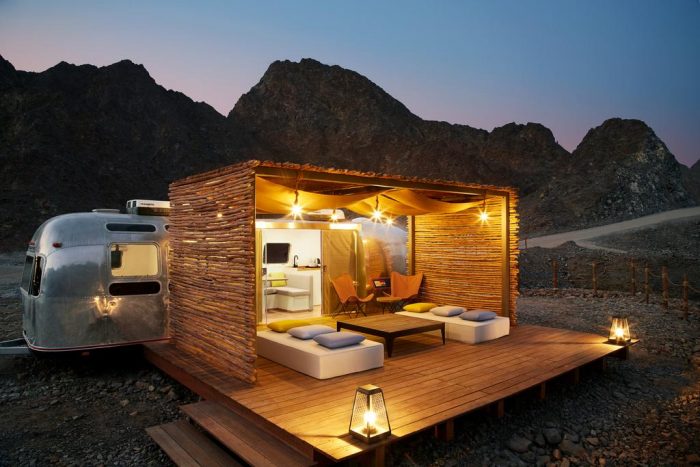 Camping options in Hatta also include rental of hotel trailers that are provided by the region. These allow the visitors to camp on the banks of the Hatta Dam in luxury trailers. You can leave your car at the reception desk and head the trailer to your "Sedr Trailers" resort between the arms of the mountains.
These trailers provide various amenities same as that of a hotel room. These include modern bathrooms, Wi-Fi, TV, comfortable beds, and more.
Facilities and services in Sedr Trailers Hatta
Camping places in Hatta, especially Sedr Trailers Hatta provide a range of services and facilities to make your stay and adventure ideal. These include the following:
Security men over 24 hours
BBQ areas
Reception and customer service center
Free Wi-Fi
Free parking
Food carts in Wadi Hub
Business and networking times
Worktime

During the week: 07:00 AM – 09:00 PM
Weekend: 07:00 AM – 12:00 midnight

Communication: 04 317 3999 800 637227
OTHER OPTIONS IN HATTA
If visiting Hatta camping areas does not appeal to you, there are several other options that may be ideal for you, including:
DAMANI LODGES RESORT
This luxury resort is located in the wonderful mountains of Hatta, and overlooks the Wadi Hub.
Worktime

During the week: 07:00 AM – 09:00 PM
Weekend: 07:00 AM – 12:00 midnight

Communication: 04 317 3999 800 637227
CAMPING FARMS IN HATTA
The area also includes a group of farms, including the Palm House farm, the happiness farm, the sunrise farm, the Hatta countryside farm, and others.
The Palm House Hatta is distinguished as a farm that combines modern designs and decorations inspired by the mountainous nature. It makes the place resemble like a beautiful country house. In all, you will not only be impressed by the décor but Palm House Hatta also provides various entertainments, including swimming pools, children's play areas and barbecue areas, among others.
The Palm House: 050 522 4111
These are the list of places that we have for Hatta camping. If you are an adventure buff then you must try the above camping spots. And the best part is, Hatta is not even far from Dubai. With an awesome scenic drive it will not take you more than 90 minutes to reach. And while on the route, you can even enjoy mountainous terrains and spectacular desert view.