The summer is an ideal time for insects to start their activities in invading the home, and the associated inconvenience and discomfort for people living in the house, in addition to the possibility of transmitting multiple types of diseases, in addition to the health damages resulting from the use of chemical insecticides. Accordingly, we will explain to you in this article a set of natural methods necessary to combat some types of insects as well as ways to protect to protect your home from this unwanted guest.
METHODS OF PREVENTION
The concept of prevention includes several important aspects that we may not pay attention to but may be the primary cause of insect attraction.
KEEP CLEAN AND DRY
Always clean dishes while keeping the dish sink always clean and free of food residue.
Wipe the floors of the house, especially the kitchen, on a daily basis.
Keep some foodstuffs, such as flour and sugar, in tight containers.
Get rid of garbage on a daily basis.
Keep fruits and vegetables inside the refrigerator.
Drying floors in the kitchen and bathroom, and not leaving any pools of water, as it may be a breeding ground for some types of insects.
Ensure that there are no water leaks from the evacuation basin, which makes it an ideal place for cockroaches to collect.
KEEP WINDOWS AND DOORS LOCKED
Make sure the door of the house and the garden door are closed tightly.
Ensure that there are no holes in the windows grilles and home terraces.
CLOSING CRACKS IN THE WALL
Ensure that there are no cracks or pits in the walls of the house because it may become a habitat or a place the insects take to build a colony for them.
CONTROL METHODS
THE ANTS
Cucumber peel contains materials toxic to ants, and therefore cucumber peel can be distributed throughout the home.
Mix the talcum powder "baby powder" with natural vinegar, or use a mint mixture as well, and spray them on the ants or in the place of their colony, both of which help the disappearance of ants.
COCKROACHES
Make a mixture of flour or sugar with borax or boric powder and spray them on the entrances of the house and garden and on the windowsill edges, this powder is "alkali metal salts", usually used to remove stubborn stains from clothes, and after continuing to use it for two consecutive weeks, this will be eliminated. The insect.
Bed bug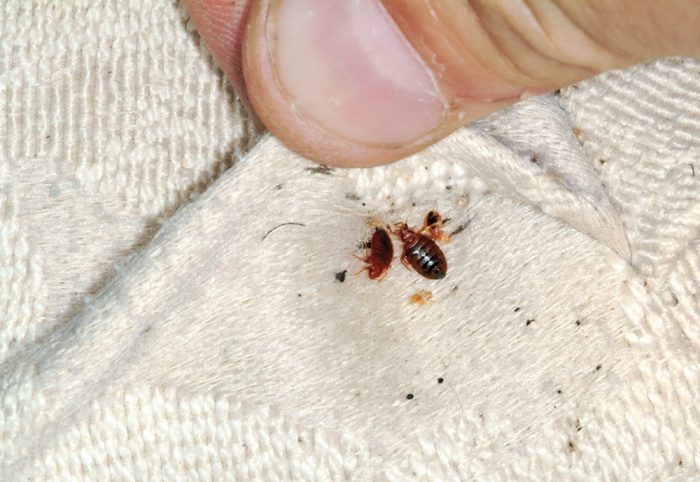 Using lavender twigs that are placed in cupboards and between clothes
SPIDERS
A mixture of apple cider vinegar with a teaspoon of olive oil and a tablespoon of black pepper.
Distributing tomato leaves, chestnut peels, and mint leaves throughout the house.
Wipe windows and doors with white apple vinegar.
FLYING INSECTS
Candles lit near raw meat help flush out insects.
Basil leaves and chestnut around the fruit also help repel insects.
Finally, the smell of lavender, which repels flying insects.
FLIES
There are several natural ways to get rid of flies and their annoying sound:
Half a lemon in which clove nails are placed inside, which helps flush flies because of its dislike of the smell of lemon with cloves.
The fly trap, which is an empty water bottle or deep bowl, a portion of honey is placed inside to attract flies, and then a funnel of paper is placed on the mouth of the container, and therefore when entering the flies it is stuck in honey.
We find that some green weeds and plants play an effective role in flushing out insects from the home, such as lavender, rosemary, cloves and cinnamon, which are suspended inside kitchen cabinets or with winter clothes, as well as basil, which is an expeller of bed bugs.
PESTICIDE
Sometimes we need to resort to chemical insecticides, which are preferred to be used only in cases of travel or not to be in the house for a few days, where there is room to leave the pesticide working for a longer period and more effectively with no effect on human health and after a while the door of the house is opened and the process begins Deep cleaning with soap and water to remove all traces of it.