Coronavirus has forced the world to redirect and rethink their life course more than anything else. It has forced everyone to stay home and most importantly it has created a constant fear of social intimacy among the people. However, to completely avoid outdoors is next to impossible as grocery shopping is unavoidable.
This is where a small family from Dubai is creating headlines. Praveen Kottavathil has converted his yard around his villa in Al Quoz to a self-sustained kitchen garden. This 38-year-old with his wife and children hails from the southern state of Kerala, India. They moved to the current villa a few months ago which was previously owned by a family friend.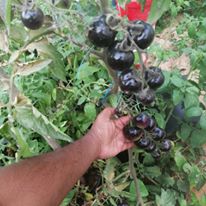 "We have always been self-sufficient in our food production. But during the national sterilization drive when we could not step out of the house, we realised the value of our garden space even more," said Praveen.
Praveen has created a self-sufficient ecosystem on a 3,000 sq ft plot where fruits and vegetables are grown alongside beehives for honey, poultry for eggs and other pets like rabbits and parrots entertain the family.
The family harvests aubergine, ivy gourd, tomatoes, cabbage, cauliflower, coriander leaves, spinach, beans, curry leaves, chillies, watermelons, tapioca, and sugarcane. The best part of this production is the availability of fresh and pesticide-free vegetables all the time.
"In the last few months of the pandemic, we have only purchased onions, garlic, and ginger from the supermarket. Every other vegetable and fruit we ate grew in our home. We stay at home and avoid any exposure to the virus," said Mr. Kottavathil.
Kottavathil is innovative in using space for his garden like he grows herbs in aluminum pipes that he picked up from a construction site. There are three fish tanks placed at the entrance of his villa which hosts three types of fish – Tilapia, Guppy, and Koi Carps. The algae water from the tank is used for irrigating the little heaven he created. "Algae water is good for plants. I have fitted pipes running from the tank to the garden area. The fish tanks are recycled with fresh water every two days," detailed Praveen.
Having cute pets around not only spread happiness but also aid the family in maintaining their garden. "The benefit of having rabbits and other animals is that their dung can be added to the compost as fertilizers. The animals are not for our consumption, they are our pets. We only consume the hens' eggs," explained Mr. Kottavathil.
Mr. Praveen Kottavathil is an administrator by profession and his wife, Preeni Sivan, is an ophthalmologist. She with their children, Ayanviraj, 8, and Mithuna, 4, also pitch in to create this beautiful space around their villa. Along with being benefited from his garden, the whole process is really close to Praveen as he has grown around his father's and grandfather's farm in Kerala. He always wanted his kids to have the same experience and to provide them with fresh and healthy food he once enjoyed.
"Even in a balcony, we can easily grow spinach, curry leaves, coriander leaves, mint, and a few other vegetables. Almost all kinds of seeds are now available in the UAE's nurseries. We should all do farming at home, especially for our kitchen," Mr. Kottavathil hopes more people would take inspiration from their home-grown success, especially during the pandemic.