Oily skin occurs when the sebaceous glands in the skin secrete a lot of sebum. Sebum is a waxy oily substance that protects and moisturizes the skin, and is essential for maintaining healthy skin. However, excessive sebum production can lead to oily skin, clogged pores, and acne. Caring for oily skin often requires a lot of effort and time.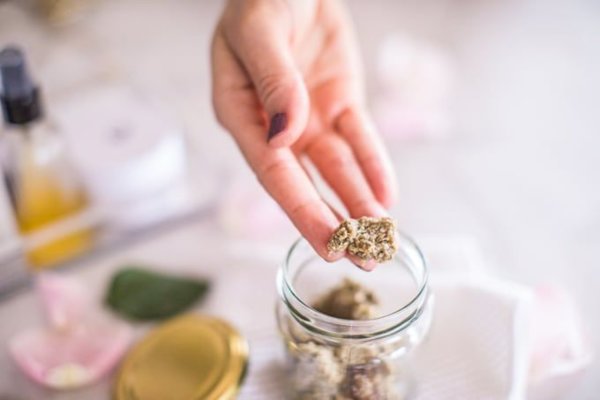 Easy to prepare, inexpensive and very effective, today we offer you a natural scrub suitable for all skin types, although it works particularly well on oily and acne-prone skin. From just 6 ingredients most of them in your kitchen cupboard, this face scrub is an effective treatment for oily skin problems. 
The benefits of this scrap
Oatmeal : soothes irritated skin, oatmeal is packed with vitamins, minerals and fats that moisturize the skin and contribute to its smoothing. This ingredient has intense cleansing properties, and the smooth texture of ground oats provides exfoliating and polishing capabilities that remove dead skin cells and cleanse the skin of impurities, away from any harsh chemicals scratching your skin. Oats also absorb excess oils from the skin, which can help treat acne. Oatmeal also contains zinc, which reduces inflammation and kills acne-causing bacteria.
Bentonite Clay : This medicinal clay has been used for centuries as a treatment for all skin problems. But it's especially surprising that it can cleanse the skin, thanks to its richness in minerals formed from volcanic ash, as bentonite clay reduces your skin's production of oils, removes toxins from your skin, opens closed pores, removes dead skin cells, reduces the appearance of scars, increases skin elasticity It reduces inflammation.
Baking soda : Not only is baking soda or baking soda a great natural exfoliant, but it also cleanses and softens the skin. It also brightens dull and dark complexions, giving you a subtle glow.
Jojoba Oil : This soothing oil works well for almost all skin types and leaves the skin hydrated without too shine, as it is very similar to the natural oils found in our skin.
Fruit Oil : This ultra-nourishing oil is essential for almost all skin types! It's packed with Vitamin A, Vitamin C and Vitamin E, making it ideal for dry or aging skin, as it has been linked to increased collagen production. Rosehip oil also contains a high proportion of retinoic acid, which studies have shown reduces the appearance of wrinkles and scars and works to lighten the skin . It also heals the skin thanks to its anti-microbial and anti-inflammatory compounds, so it's great for smooth skin texture and an even tone.
Lavender essential oil : It smells good enough that you'll feel relaxed instantly, but it also helps skin cells regenerate. So it is a great ingredient for anti-aging skin, dark spots and acne scars.
Scrub to soften the skin with chocolate, sugar and honey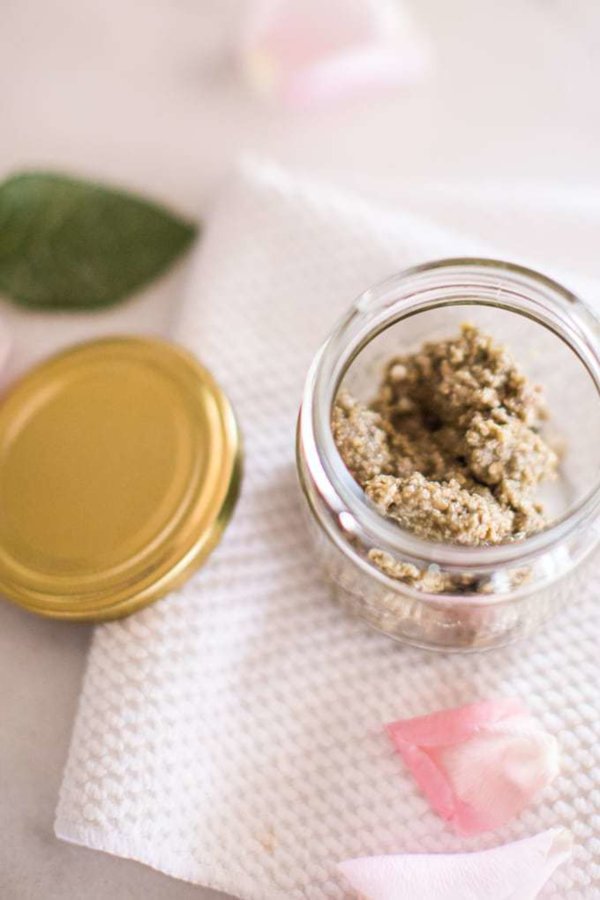 How to prepare a natural scrub to treat oily skin
Ingredients
3 tablespoons of organic oats
2 tablespoons of bentonite clay
1 tablespoon aluminum-free baking soda
3 tablespoons of organic jojoba oil
5 drops of fruit oil
5 drops of organic lavender essential oil
How to prepare
In an electric mixer, put the oatmeal, clay, and baking soda, and blend until smooth.
Add jojoba oil, fruit oil, and lavender oil.
Whisk again until combined.
Transfer the scrub to a clean glass jar.
Usage method:
Take a teaspoon of the mixture and apply it to your wet face and massage it gently in circular motions for several minutes.
Rinse and use a soft towel to wipe off any excess.
Moisturize as needed.