Sound always thrills, if at all it is crystal clear and impacting! There is a major chance that you're riddled with choices when you conjure up different ideas for home theatre rooms. It does not require much effort to transform an empty space in your Dubai home to a fully functional home theatre. Follow these suggestions to set up a wonderful home theatre by yourself that will give you the best sound experience.
Perfect spot
Start with getting a dedicated space to set up a movie theatre room in your house. Ensure that the room you pick is wide enough to accommodate a large LED and the sound systems.
Avoid choosing a space that's too close to the kitchen, dining, or living room. The hustle and bustle from each of these respective rooms will hinder your movie experience since these areas usually have the most foot traffic. The basement or any other spare room are good options for this purpose. Ensure that the room you pick has enough space to maintain adequate distance from the screen for better viewing.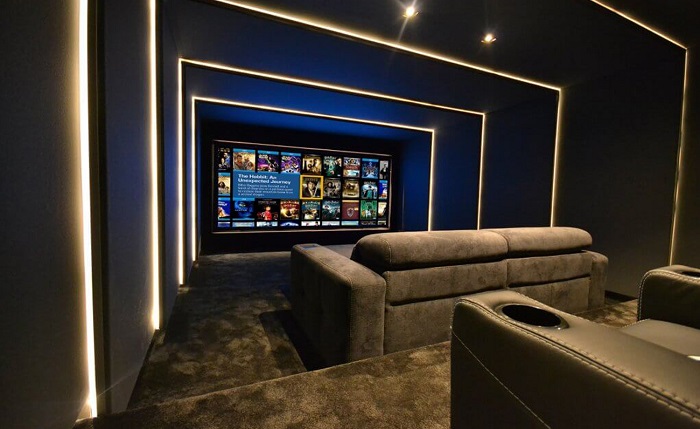 Where to put seats?
You need to do some math to calculate where to put the seats for the ideal viewing angles. Consider the screen's diagonal size to get a precise figure to work with. Generally, a 40 to 43-inch smart television playing or live streaming a Blu-ray movie requires a distance of at least 1.7 metres.
Allot dedicated speakers
Speaker bars have a low horizontal profile but it packs a powerful sound. Some of the sleeker models fit right under the screen while others can be attached as a reinforced base for the screen. Adding smaller speakers that can be attached to the screen is one of the feasible home theatre room ideas on a budget.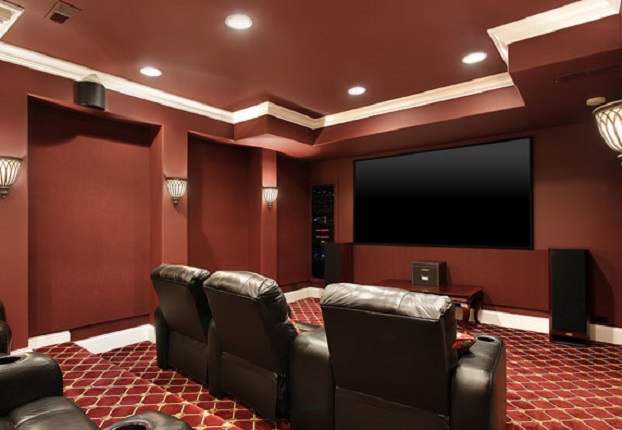 More room space, more bass!
Audio upgrades often dominate the best home theatre setup ideas. A simple audio upgrade comes from a subwoofer from a bass-only class of speakers. These audio devices are designed particularly for a wall-shattering bass. Use the available space well when designing a home theatre room for an equal sound distribution. For maximum effect, place the speakers on the floor.
Limit external light and sound
Ambient lights or sounds come from other rooms or through the windows. Your home theatre experience could be hindered if you hear kids screaming in the middle of a gripping scene from your favourite thriller. Similarly, light bleed from natural or other light sources kills viewing angles and video projections.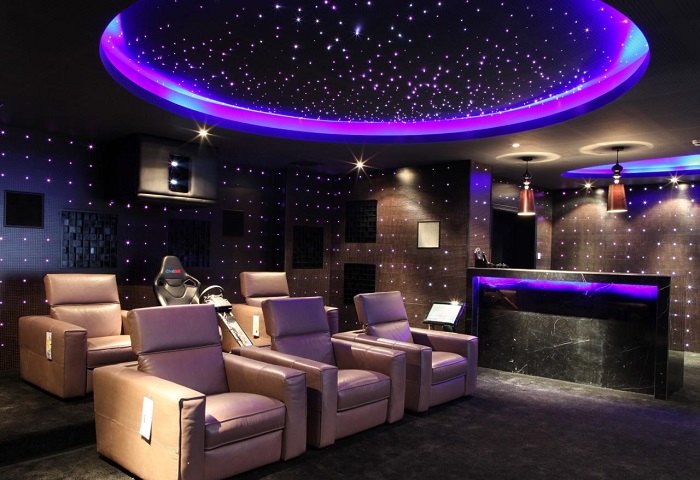 Screen angle and Bad angle
Nothing ruins a movie experience like bad angles and screen glare. There is a pretty simple way to get rid of both your problems. Getting a curved HDTV is a good idea for a perfect home theatre setup. The refined bends on these magnificent displays improve the viewing angles considerably while limiting the screen glare.
Some HDTVs make it possible to be viewed through extreme angles such as the left, right, or even from above and below. On the other hand, some screens may need a dead-centre position.
Right colour and lighting system
Cinemas have excellent light controls installed. Even if you have your own set of ideas for a home theatre room design, just make sure to choose the right lighting and colour scheme for the room. Some of the best options in terms of lighting for a home theatre system are rope lights, soffits, recessed lights and dimmers. Soffits can be placed around the ceiling that runs around the parameters of the home theatre and they are often veneered with rope lights. Using rope lights and dimmers is among the top home theatre room decorating ideas for better lighting