COYA Abu Dhabi
It started with an unbeatable lunch menu, then the prelaunch of the all-day dining menu, and now this… the famous COYA Abu Dhabi is back and Fridays will probably never be the same again!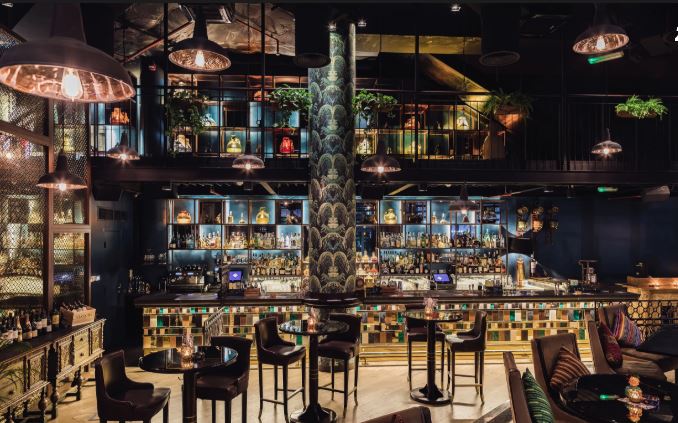 So pencil 26th June in your diary as that's when you'll get to go brunching on Peruvian favorites once again!
You'll brunch in fabulous surroundings with one of the most fabulous views in the city.
Costilla's de Res, Pollo a la Parrilla, Arroz Nikkei, and Quinua con Calabaza are the mains you'll get to choose from, but there's more.
There's the famous COYA platter of Ceviches, Tiraditos and Para Picar, not to mention a selection of Tacos and Maki Rolls.
Appetisers include Calamares con Ocopa, Empanadas de Wagyu, Croquetas de Lubina and a selection of Anticuchos.
Is your mouth watering yet?
Don't fill up too much, though, or you won't have room for these amazing sweets.
The dessert platter including Churros de Naranja, Alfajores, Tortell de Nata Maracuya, Chicha Morada and Ganache de caramel is curated promises to push all the right sweet buttons, we're sure.
This is what it'll cost you
There are different packages available with the non-alcoholic package at just AED 278, including mocktails, soft drinks and juices.
The house beverage package is AED 398 and a premium package costs is 498.
So, there you have it and you know what to do next… grab your friends and start booking to make sure you'll get to taste an array of Peruvian classics
COYA Abu Dhabi, Four Seasons at The Galleria on Al Maryah Island. Every Friday 12.30pm to 4pm. Contact: 02 306 7000, coyarestaurant.com
NOTE: In light of social distancing measures, only four guests per table are allowed and the venue capacity is limited to 64 persons at any time.
Marcos
This is what we've been waiting for and this family-friendly affair at Fairmont Bab Al Bahar hits all the right buttons.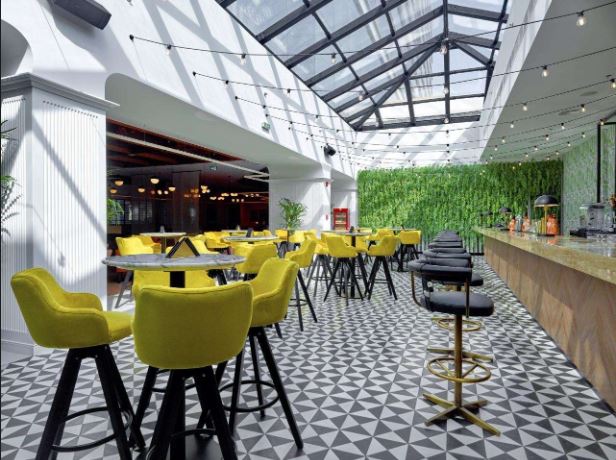 Marco's New York Italian restaurant
We're so excited about this and it's a sign for sure that are favorite brunches across the capital are set to return.
Mark your diaries for Friday noon till 4 pm, because Marco's New York Italian's brunch is back!
With packages starting from AED 199 (Kids under-six eat free), this well-known brunch packs a punch with those famed Italian classics and a tip of the hat to the United States… check out the 1930's all-American knickerbockers glory.
Crispy calamari, Buffalo wings, heirloom tomato & burrata salad, and New York pizza are just some of the starters being served up.
For mains, try the risotto funghi e Tartufo, mac & cheese al fungi, grass-fed sirloin and oven black cod.
Head to the desert island and you'll be tucking into Mr. White's tiramisu and warm chocolate brownie, among others, not forgetting that all-time favorite we mentioned earlier, the knickerbocker glory.
So if this has piqued your interest, here are the details:
Marco's New York Italian, Fairmont Bab Al Bahr, noon to 4 pm every Friday, AED 199 for the soft package, AED 299 for house package, free for kids under-six, 50% discount for kids aged six to 12.
For reservations: contact: 02 654 3333 and for more information, visit: marcosabudhabi.com
Sushi 99
The award-winning Japanese restaurant on Al Maryah Island, 99 Sushi Bar & Restaurant is still providing the residents of Abu Dhabi an experience for fine dining with their popular Friday brunch.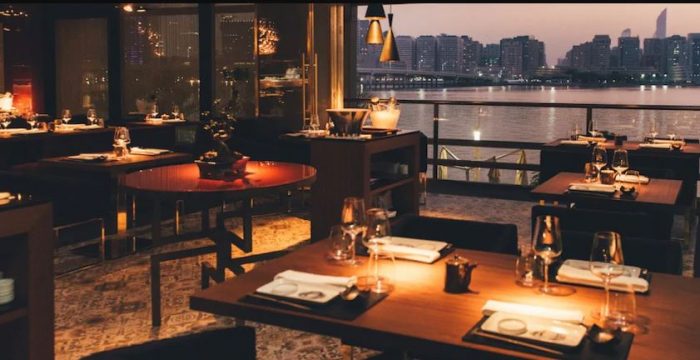 Translating to 'luxury', the Zeitaku brunch offers a unique fine dining experience within a swanky setting with excellent views of the Arabian Gulf.
Running every Friday from 1 pm until 5.30 pm, guests can indulge in a soft package for just AED269 and indulge in 11 courses of signature dishes, comprising a tempting array of nigiri, tuna specialties, and sushi – all served at the table plate by plate.
For those looking to make it a special occasion, splash out on the bubbly and premium package at just AED 369 or experience the full Zeitaku experience with the finest champagne and Sake at AED 669.
 Favorites from the a la carte menu have been added on to the brunch menu and include signature dishes like the spicy tuna tartar with wakame seaweed, melt-in-the-mouth salmon flambé nigiri with lime and the grilled foie gras nigiri with raspberry and tare sauce.
The meal is concluded on a sweet note with a selection of famous mochi ice-cream complemented with a range of coffees and teas.
11 courses of signature dishes, soft package AED 269, premium bubbly & house AED 369, bubbly & Sake AED 669.
For reservations: contact: 02 672 3333 or email [email protected]
Anantara Eastern Mangroves
Ingredients are the place to be if you enjoy brunching.
The set menu serves up a tasty selection of delicious appetizers, salads assortments, and tender meats with free-flowing drinks.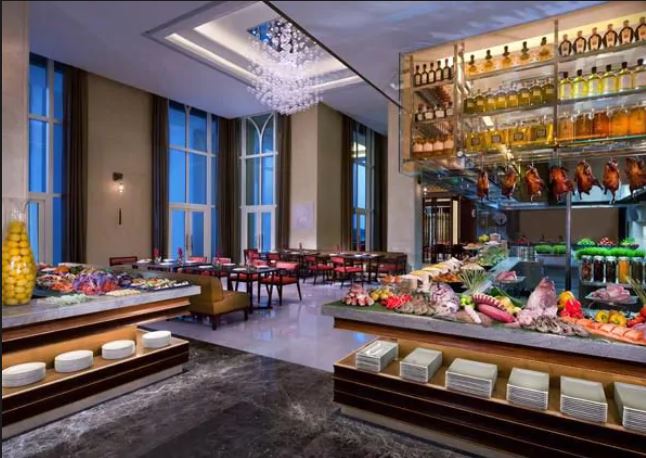 Brunch takes place every Friday and Saturday from 12.30 pm to 4 pm. Packages start at AED 195 per person, including soft beverages, and go up to AED 295 per person, including house beverages.
It doesn't stop here, let the party continue after brunch ends and clink glasses and get to enjoy a 50% discount at Impressions Rooftop Bar from 4 pm to 9 pm.