Dubai Weather in December
In December, the weather in Dubai is perfect because it is the winter season and temperatures range between 15-30 degrees Celsius.
This is a stark difference from the summer months when the temperatures are burning around 40-50 degrees Celsius, and the intense heat makes it impossible to plan for most places to visit in Dubai during the day.
However, December is also one of the most expensive months to book flights and hotels because it is the peak tourist season
You should book months in advance and avoid waiting on last-minute deals.
Beaches, gardens, desert safari tours, many of the top Dubai attractions are actually outdoors, hence why so many tourists visit Dubai in winter.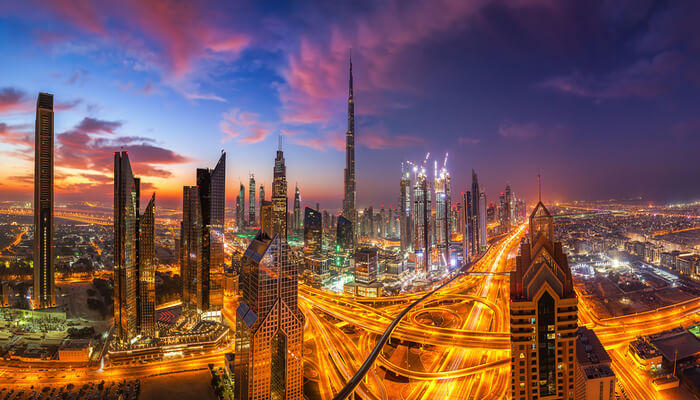 Madinat Jumeirah Festive Market
Even though the UAE is an Islamic country, many tourists and residents celebrate Christmas in Dubai, and the holiday season kicks off at the start of December.
Nearly every mall will have a giant Christmas tree with decorations, and Santa attends all of them to take photos with families.
One of the most anticipated activities for Dubai in December is the Madinat Jumeirah Festive Market.
La Mer
Another exciting choice for your Dubai trip and one of the best places to visit in Dubai is La Mer.
La Mer is the ultimate beach and shopping destination that makes winter in Dubai feel more spring break than hibernate.
You can easily spend an entire day on this Dubai beach sipping on delicious drinks and taking part in watersports.
One of the best Dubai waterparks is in La Mer, called Laguna Waterpark.
You can go jet skiing, flyboarding, wake surfing, paddle boarding, and so much more.
Burj Khalifa At the Top
Even though the weather in Dubai is heavenly at this time of year, it is only natural that you might want to do some indoor activities as well.
After all, you cannot spend Xmas in Dubai without going to the tallest building in the world that the city is famous for.
Otherwise, how will anyone believe that you have been to Dubai without a selfie inside the Burj?
For the best Dubai tour of the Burj Khalifa, you should plan a few months in advance because the winter season is usually packed with tourists.
Desert Safari
If you want those Aladdin fantasies to come true during the Dubai winter season, you cannot miss a trip to the desert to ride four-wheel drives on giant sand dunes.
A trip to the desert is a huge part of Dubai's culture, which is why all tourists are encouraged to spend a day.
This trip is not a boring one, and you will be left with butterflies in your stomach after dune bashing, sandboarding, dune buggy rides, camel rides, and so many more thrilling activities.
After sunset, you will be taken to a luxury Bedouin campsite where you will be treated with an all-you-can-eat barbecue buffet dinner with local and international cuisines.
When you are done with dinner and drinks, you can sit back and watch a belly dance and Tanoura show.
If you want to stay in the desert much longer, you can book an overnight camping safari where all the tents, mattresses, pillows, blankets, food, and drinks will be provided. The only thing you need to pack is a sense of adventure.
Miracle Garden
If you love a colorful life and are not prone to allergies, a visit to Miracle Garden while in Dubai in December is a must.
This gorgeous Dubai attraction is the largest natural flower garden, with over 50 million flowers and 200 million natural plants.
This is a little further from the city center, but worth a visit if you want some breathtaking photos for social media.
If you have always dreamed of being an Instagram influencer, this is the place to be for the best shots that you won't even need filters for.
The Miracle Garden is only open from November until May every year, so you should take advantage of the winter season to enjoy this stunningly unique display and extravagant outdoor tour in Dubai.
Global Village
If you ever promise to show a loved one the entire world but have a very limited budget, Global Village is the best solution to your problems.
This is often a running joke amongst Dubai residents.
Global Village is one of the most iconic Dubai attractions that has been running every winter season for many years, and people never get enough of it.
This is the world's biggest multicultural amusement park with pavilions selling goods from different countries, a ton of street food from every cuisine, and carnival-style Dubai theme park rides for both adults and kids.
You can go shopping at the Indian pavilion and then visit Iran, Egypt, China, and then Europe, etc.
It takes an entire day to visit all the pavilions because there is so much to see.
You might also struggle to walk after eating a lot of food because you will see vendors everywhere selling delicious local and
Dine on the QE2 
Never mind decking the halls, you can dine on the deck of Queen Elizabeth 2 in Dubai.
Choose from a buffet meal with alcohol at The Lido (indoor) or The Pavilion (outdoor).
This books up fast.
Christmas Day in Dubai
Chrismas Day (25th December) is not a public holiday in Dubai. However, lots of places celebrate the holiday.
You can expect the metro, shops and attractions to run like any other day.
Madinat Jumeirah Festive Dubai Market is open on Christmas Eve (24th) and Christmas Day too.
Top hotels serve western traditional meals as well as local options on Christmas Day throughout the city.
Looking for something boozy? Dubai's infamous party brunches can be booked on the 25th too.
For more civilized Christmas dining experience check out the revolving restaurant at Hyatt Regency Dubai, Dubai.


Although the 25th is not a public holiday, there are three other dates to note which won't have much impact on your trip.
Throughout the UAE, the 1st is Commemoration Day and the 2nd-3rd is National Day.
New Year's Eve in Dubai
Dubai is an expensive city to visit, but it becomes even more pricey on New Year's Eve.
If you are planning to celebrate New Year's while visiting Dubai in December, you might have to overstretch those wallets to have the best party.
Nearly every hotel, club, yacht, or mall in Dubai throws an event for New Year's Eve.
The midnight fireworks take place at the Burj Khalifa, Burj Al Arab, and The Palm Island.
The best fireworks are held at Burj Khalifa, where they literally shoot out of the building.
The fireworks, light show, and fountains are all synchronized on New Year's Eve. Which is why everybody wants to be there, and crowds become too hectic.
A yacht party is the best way to see the fireworks on the water.