Wrapped designer Christian Siriano Offers Fashion Week in New York for Spring and Summer 2021 New York Mode Week the SS 2021, outdoor specifically from his garden, using them as a backdrop to display the green grass as a platform Tmokhtrt by mannequins with confidence.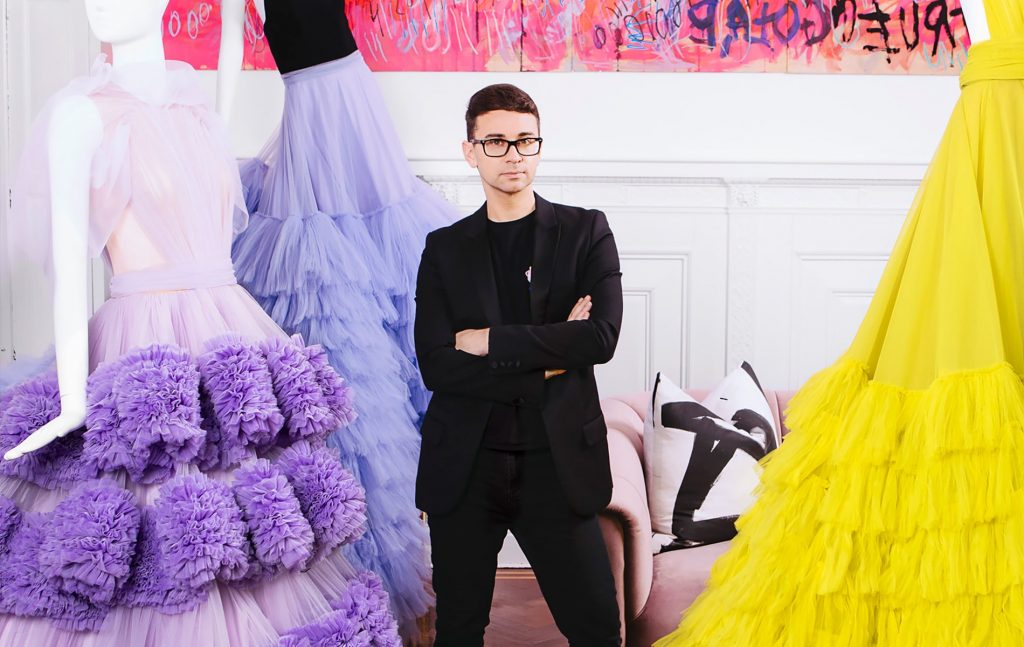 The Christian Siriano show is one of the rare shows that featured the personal presence of a group of journalists and guests, who followed strict precautionary measures by wearing a muzzle and practicing social distancing. The American designer made sure that the show was like that because according to him, he felt that his designs were well worth looking at. Depressed by the isolation at home, he just wanted to have fun.
Returning to the designs, Siriano was inspired by his Spring Summer 2021 collection from his home isolation and what he used to do during home quarantine, from watching films he loved in his childhood, reading books and comic novels that his mother sent him when he was young, in addition to paintings and technical drawings. Which decorated his new home, which he moved to last April. The result was a group full of vitality and magnificent geometric shapes, with chrysanthemum flowers in his garden transformed into embroideries over a yellow tulle dress, and his comic narratives were embodied on a jacket coordinated with trawler pants in the form of scraps of gray and black cardboard.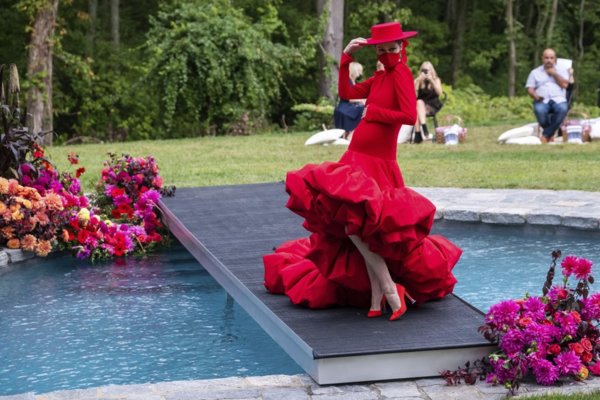 The Canadian model, Coco Rocha, who is considered one of the most famous fashion models, concluded the show, wearing a red dress inspired by Spanish dance clothes with a short, uneven cut in the front and a long veil at the back. The source of the inspiration from which the designer drew this dress was the ripe red tomatoes that were sitting on one of the farmers 'shelves near his home, which he used to visit to buy his needs during the home quarantine period.
As for his paintings, Siriano translated them into a design printed with a painter's brushstroke in yellow, red, green and blue colors, while other designs were decorated with squares, sometimes in red and white, and later in black and white.
Also, the designs emerged with the fashion of puffed sleeves and the cut-out trend, which is characterized by designs with bold openings that reveal different areas in the upper part of the body, and those printed with the logo "VOTE" or "vote" in English, in addition to the women's suits that consisted of a coordinated bolero jacket. And a short A-Line skirt.
At a time when wearing the muzzle is very popular, the talented designer was keen to dress his models with protective masks that were completely in harmony with the fashion they display, whether in terms of color or in terms of the fabric used.