Maria Grazia Chiuri, who chose to show the Cruise collection to reconnect her creative passion with the Italian region of Puglia, the place dear to her heart, said, "During this period, I wanted to give a new dimension to the collective effort. In spite of the disadvantages of distance and social distancing, Taking a different perspective on our daily life gave us power and unleashed our imaginations.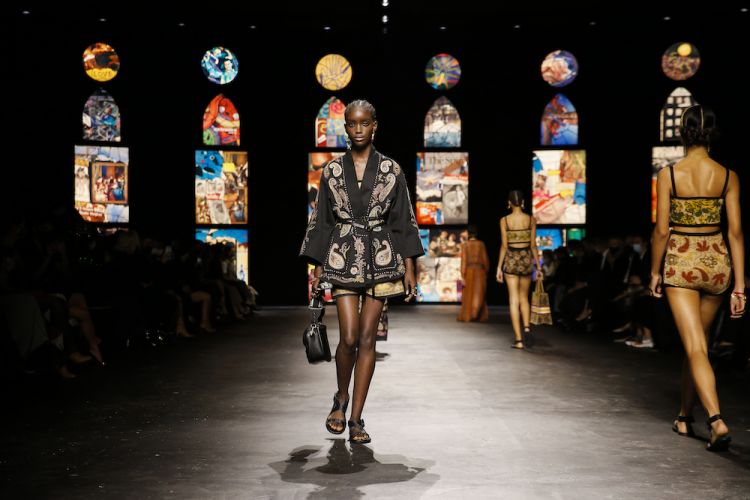 Whereas, texts were written by the anthropologist "Ernesto de Martineau" about the traditions of the region, which influenced authors including "Germano Celant" and "George Diddy Hubermann", prompted her to explore those roots. Also, Apulia, who is distinguished by different energies, and where we find magical beliefs such as hysteria dance, became in this context the embodiment of the utopia and a new perspective on the world.
This collection is a remarkable work that celebrates memories, values, culture, and the future of craftsmanship. An experimental expression of ancient craftsmanship, fabrics from the Le Costantine Foundation were used in a range of jackets, including the bar jacket, which is a symbol of the house. The motto of this unique venue, "Love and Singing", is Amando e Cantando 1 woven on the back of the skirts.
In reminiscent of the iconic Miss Dior floral embroidered dress by Christian Dior, artist Pietro Ruffo depicts a field filled with wheat ears, reminiscent of the landscapes of the summer season. The story of wild nature is evident in long dresses made of light cotton and on shirts and shorts. By creating symbolic writings inspired by the drawings that appeared in the book De Florum Cultura – published by "Giovanni Battista Ferrari" in 1 6 3 8 – Pietro Ruffo created five floral drawings decorated with proverbs such as "Les parfums sont" les sentiments des fleurs 2.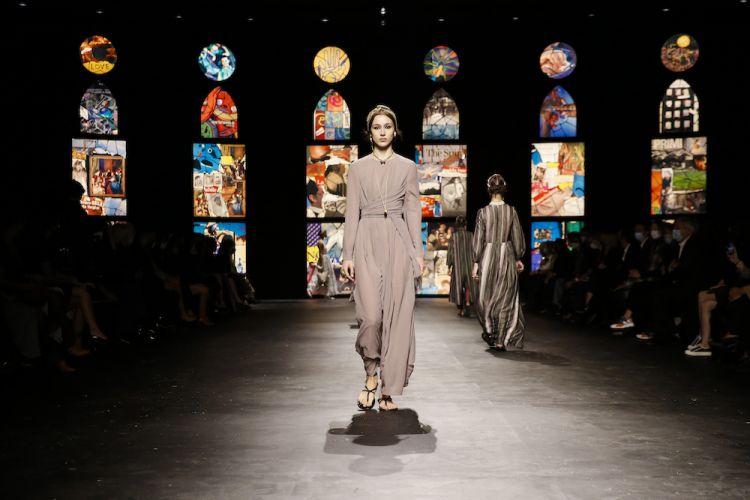 Maria Grazia Chiuri also wanted to honor illuminated displays that enhance the splendor of public squares and monuments through its luminous architecture. This craft, which allowed for the creation of an expressive pattern on the multi-colored scarves, is indicated in the openwork and ornate designs and in the embroideries. These luminous designs have been reincarnated by artist Marinella Senatori, whose works honor participatory art.
This group is an example of the collective intelligence that the artistic director advocates, in addition to the extraordinary power of rhythms and ritual, music and dance, as a means of uplifting ourselves.