The women's suit trend continues to dominate the winter 2021 fashion, and in general, it is an elegant piece that has never been lost on the fashion scene. It has also become more modern with details added by international fashion houses and adopted by fashionistas and many famous stars. Ranging from a classic piece for work to trendy pieces for different occasions, whether day or evening, from monochrome and printed monochrome designs to mismatched pieces; yes, every method is worth trying this year!!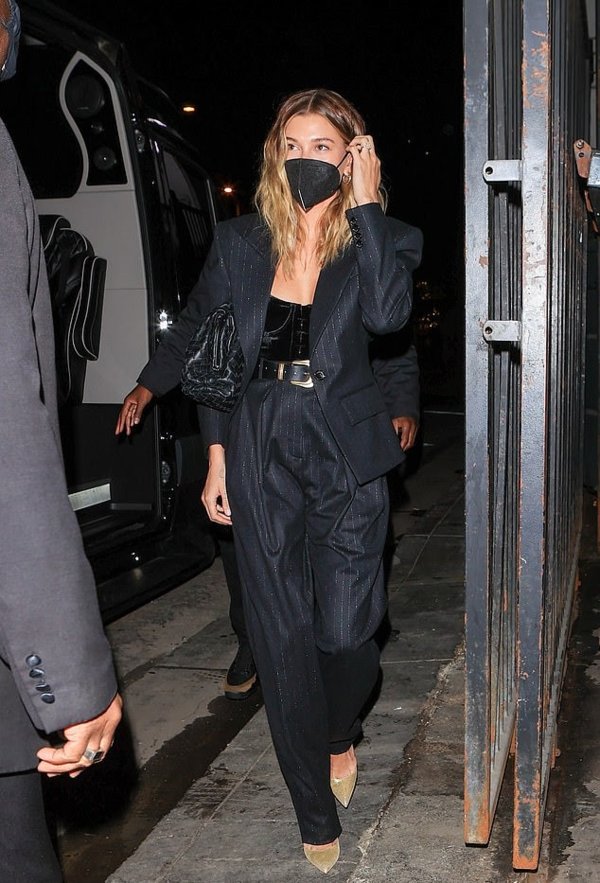 Many stars of the world starred in the women's suit, the most recent of which was the star Hailey Bieber, wife of pop singer Justin Bieber, who chose a loose design in black, which came with a masculine story inspired by men's clothing. Also, the thin golden trimmings adorn this design, in turn, inspired by the classic men's suits of the 1990s.
The classic Hailee suit consisted of high-waisted pants with a leather belt at the waist with a golden metallic buckle, and a back-length blazer, wearing a black velvet bustier underneath, and complementing this modern look with a black slouchy leather bag and stiletto heels in shiny gold. It was remarkable that she had given up all jewelry, except for a ring decorated with a precious stone with which she adorned her finger.
The blonde star did not hesitate to wear the muzzle that she chose in black, in harmony with the look, to preserve her safety from the Corona epidemic.
As for aesthetics, Bieber used a hairstyle with light waves, leaving her locks on her shoulders, and simple makeup based on dark shades.