Reveals the Asnsial Hai Borvkachin L'Essentiel High Perfection of Guerlain Guerlain beauty of the skin optimal and complete them naturally improved, skin completely homogeneous, thin, maintain the splendor. Instantly high coverage provides a second skin feeling far from the mask-like effect. The complexion is smooth, free of pores and blemishes, and this product works at the same time to reduce shine for complete comfort, revealing true radiance.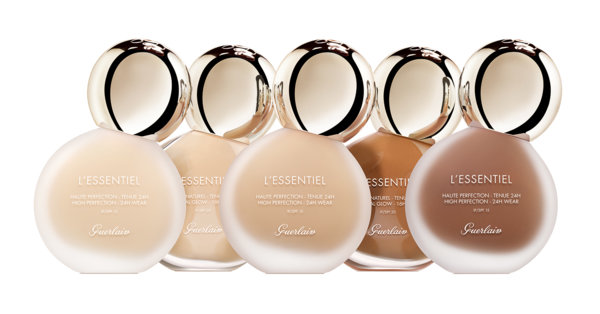 Subtly, L'Essentiel High Perfection blends high performance with rich natural ingredients in a successful formula which includes 96% of naturally derived ingredients. Carefully selected natural ingredients, each ingredient creates a network that allows skin to breathe while preserving its natural moisture and protecting it from harmful daily external factors such as UVA and UVB.
What is the key ingredient to this ideal formula? Ramie silk, which delicately soothes and moisturizes the skin, securing a matte finish throughout the day, does not dry out the skin, nor does it leave a mask-like effect.
Tara fruit extract and red algae that allow skin to breathe 3.
White cocoa beans strengthens the skin barrier and maintains moisture 4.
Probiotic derivatives and prebiotic extracts of yacon juice strengthen the skin barrier and the skin's natural defenses.
L'Essentiel Natural Glow and the new L'Essentiel High Perfection are two products available in a wide range of 3 0 shades . Was developed 1 0 shades of concentrated colors and 3 grades of basic colors dim skin (soft, neutral and warm), which appear in every touch, and gives every woman the right shade of her skin and the possibility of applying makeup that fits.
They are the sure solution in the search for a perfect complexion in two ways. Think of two preparations of two different styles that each meet their primary desires: natural ingredients and high performance.
Behind the lens are Inez & Vinoodh, the two iconic photographers who created for Guerlain their first campaign. In front of the camera, house muse Natalia Vodianova accompanied by supermodels Kong and Imari Karanja He Cong and Imari Karanja, wearing just the essentials: each with the shade and color foundation suitable for her complexion. The beauty and attractiveness of their skin is captivating. Embodying natural beauty and modern femininity, they make no compromises, but invite us to choose our own beauty essentials: natural ingredients, performance, application and care. Representing all the facets and aspects of L'Essentiel, L'Essentiel High Perfection and L'Essentiel Natural Glow.