A top-class actress, singer, dancer, and businesswoman, Jennifer Lopez is undoubtedly a star in every sense of the word who has reached the highest peaks of success in every work she has accomplished, without sacrificing her elegance and striking femininity.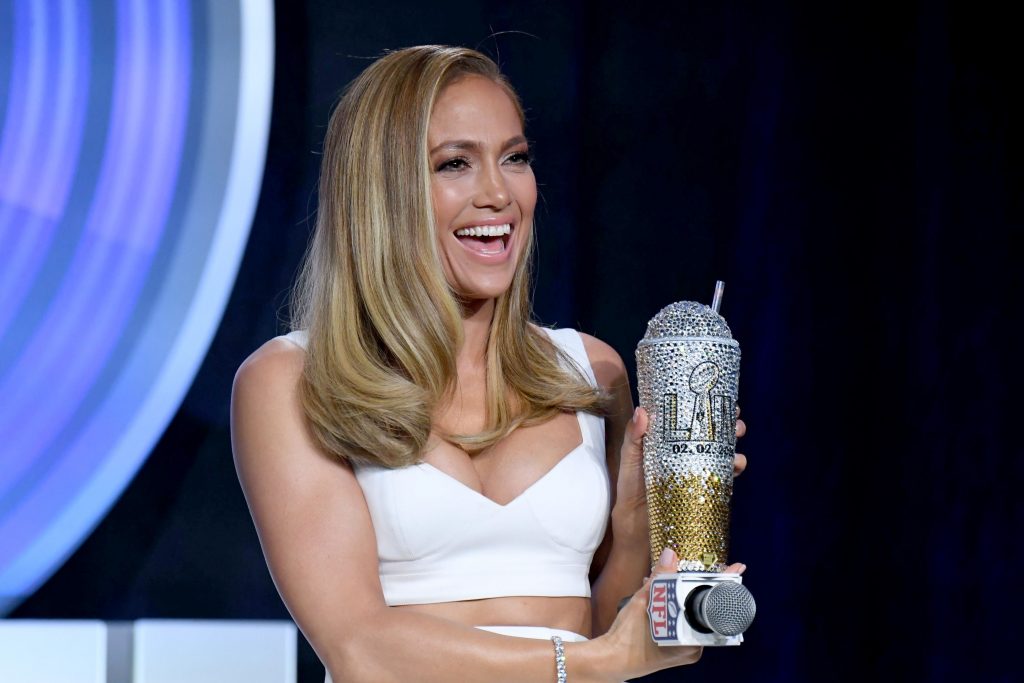 Although we used to see Ji Luo with feminine looks full of femininity, excitement, and daring, when she decides to wear the Power Suit, no one can compete with her in elegance. When she wears this feminine design that has both strength and sobriety, she not only brings out the best in this piece of modernity and elegance but chooses the story that highlights her curves remarkably, especially in the lower part of her pear-shaped body, so she chooses modern designs with radical cuts that enhance Her beauty is what makes her looks more distinctive.
Whatever style you take, whether it's a classy 3- piece suit or a skirt suit with sensational details, Jennifer Lopez perfects the Power suit. Learn how to style this suit for this fall season:
Male suit style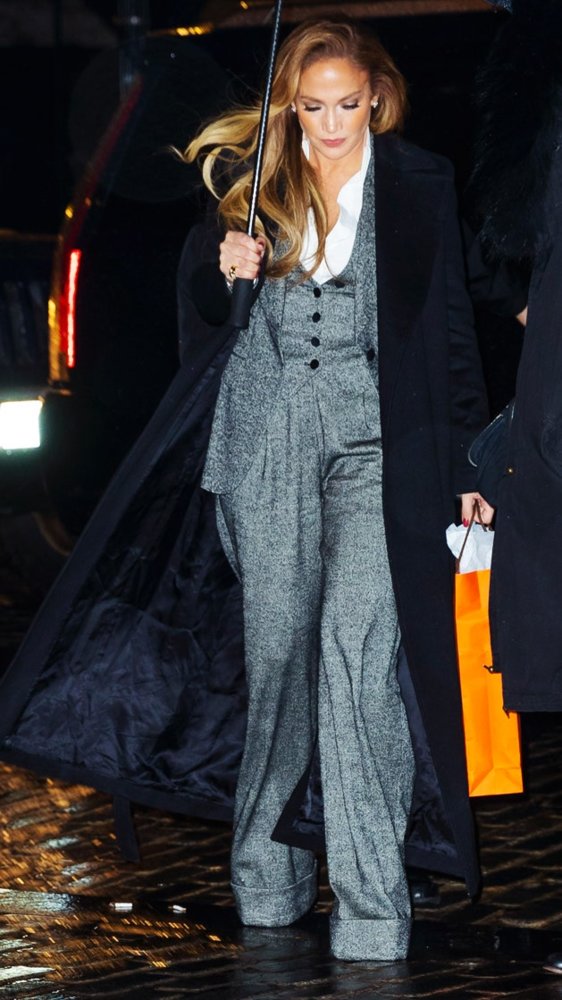 J Lu knows very well that the 3- piece suit is synonymous with classic refined elegance, and this gray suit by Dolce & Gabbana design, composed of wide-leg trousers with a defined-sleeved jacket and an undergarment, represents the trend of masculine style par excellence. At the same time, she enhances her femininity with a white shirt with a slightly open neckline on the chest and a wavy hairstyle that falls to the shoulders.
Monochrome lock
The "Hustlers" star has mastered the monochrome look in a women's suit, not only because it is a trendy trend, but because it has the ability to lengthen her legs and make her taller more muscular. This distinctive design, in yellow by Sally La Pointe and made of crepe drop fabric and coordinated with a high-necked bottom, goes perfectly with the monochrome trend.
A zoot suit inspired by the 1940's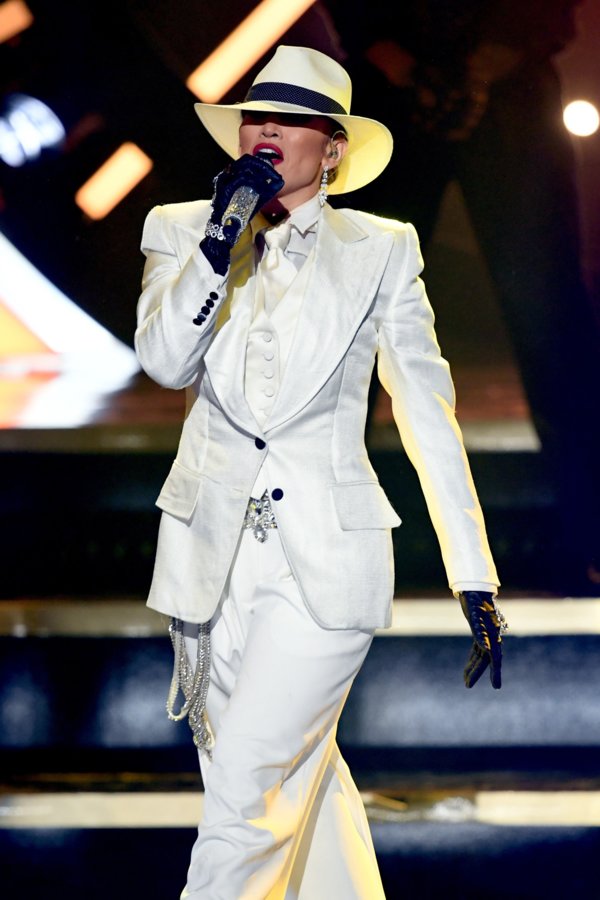 The Hispanic star looks gorgeous in her 1940s-inspired zoot suit, which she starred in while performing the song "Dinero" at the Billborad Music Awards in 2 0 1 8 . This suit added to her modern outfit, Luke the mafia leader, and brought back to our memory the looks of the late Michael Jackson, with the hat, the wallet decorated with metal chains, the belt, bracelets and the microphone studded with shining straps.
Strong and sexy style
The 50th star J Lu is known for her love of feminine monochrome, and this white skirt suit is the biggest proof of that. Adopting a peplum-style jacket with prominent open shoulders at the chest and decorated with a leather belt decorated with silver metal rivets, coordinated with a pencil skirt with a high leg by Michael Kors, Lopez appeared very feminine and daring.
Tuxedo suit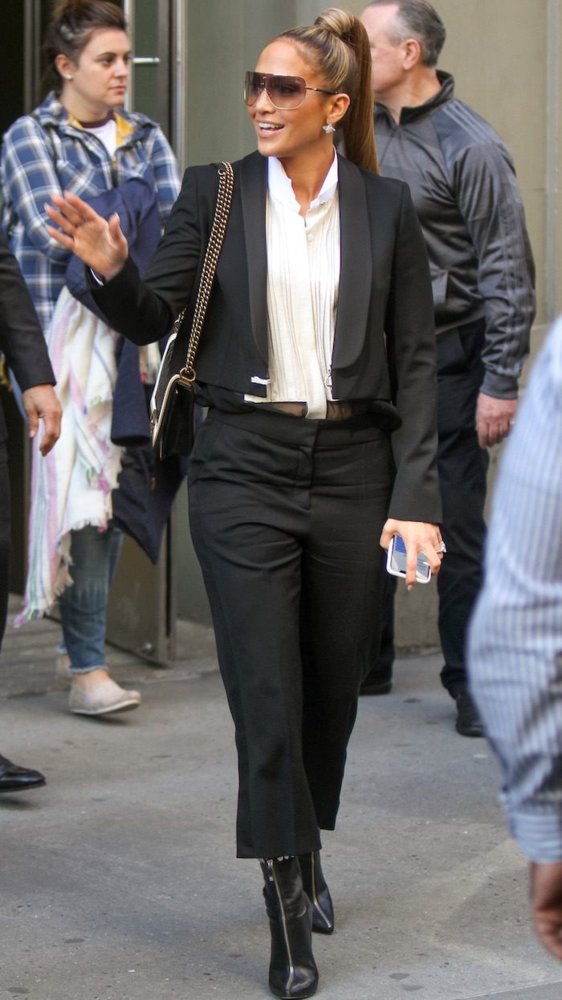 The classic black suit should be a part of every modern woman's wardrobe, as it can be adapted for more than one look and for more than one occasion. But when Jennifer Lopez wears it, she becomes a far cry from the traditional suit. This tuxedo style, consisting of a cropped blazer and shorts with a sheer white shirt on the belly, made the diva look striking and elegant.
Military style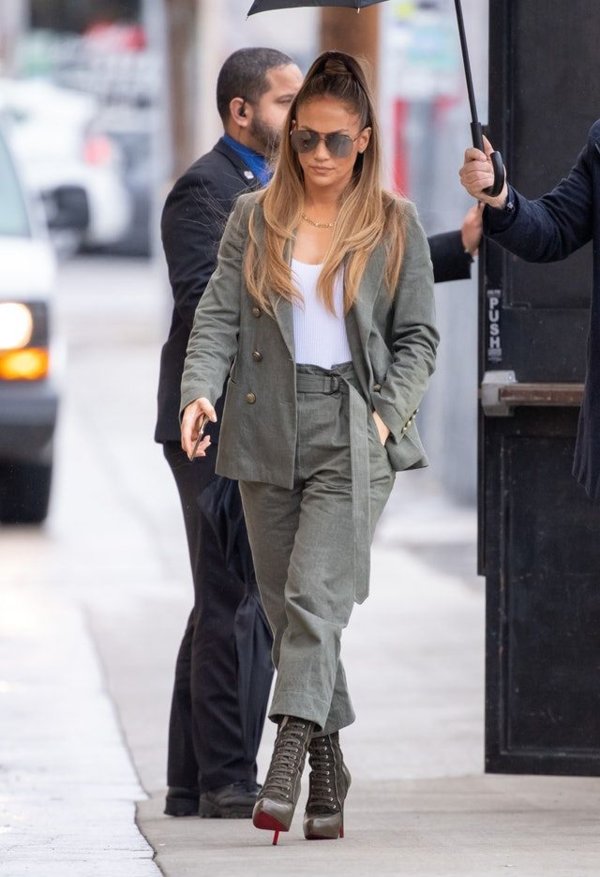 Wearing a double-breasted jacket and khaki paper bag, inspired by Brunello Cucinelli's military look, the mother of two appeared in a casual, chic style. And when she decided to coordinate her suit with Christian Louboutin high heels ribbons, Aviator sunglasses and a high ponytail, she never failed.