Diorshow begins the year 2020 with the most refined design approach ever. Drawing inspiration from major fashion pieces, Peter Philips, Artistic Director of Creative and Image at Dior Makeup, reinvents two icons from the house's makeup world.
Diorshow Iconic Overcurl mascara is more curving than ever before and comes with a new design, and the Couleurs 5 Eyeshadow Palette features a new couture style. The new Diorshow 24H Stylo must-have companion leaves an eye-catching finish.
Bold curved lashes that are super long lasting
Diorshow Iconic Overcurl has been known from the start for enhancing the volume and curl of eyelashes for all women. This comes today Dior Dior icon new design inspired by the world of high – end designs with a perfect combination, and now offers effect lasts for 24 hours daily care Balrmoh.
Diorshow Iconic Overcurl is a success because it's a mascara that lives up to its promises! Peter Philips.
More beautiful eyelashes, instantly, day after day
Designed for different types of eyelashes, (Asia: specially designed for curving Asian eyelashes), it defines, covers, and gives maximum volume to the eyelashes with one touch and a lasting effect of 24 hours. Its ultra-fine curved brushes enhance the natural curving of eyelashes. Infused with cotton nectar, the formula delivers a heavy dose of eyelash care. Eyelashes become smoother and grow more elastic and stronger day after day.
New fashionable and elegant design
Diorshow Iconic Overcurl is packaged as a masterpiece. The sleek new tube features a multi-faceted brush that highlights the Dior logo and matches the color of the mascara: black, blue, brown or shimmery silver – the top layer available in a limited edition.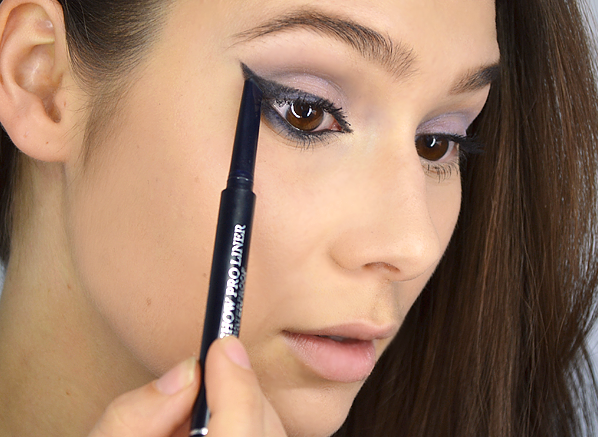 High-end design range for the eyes
The iconic eyelid collections have a new twist on the world of haute couture: each makeup collection is inspired by a popular look from the Dior fashion show. The eyelid products come in a new box and include new colors and finishes.
The touch of high-end designs
5 Couleurs Couture comes with 6 new finishes – matte, satin, pearly, metallic, shimmering, and a touch of highlighter – and 14 color palette created by Peter Philips, each of which matches an iconic look from the fashion show in a range of colors Easy to mix and match.
In the paintings make up the 4, each color represents a "major" piece in the closet Iconic Dior Dior women: 079 Black Bow, and 279 Denim, and 689 Mitzah, and 879 Rouge, Trafalgar is.
Skin care color and formula
The make-up palettes were developed in the Dior laboratories and feature a delicate, creamy powder without the heavy make-up products and instantly provide long-lasting color that matches all skin tones. For the first time, make-up palettes are rich in skincare ingredients: Aloe Vera for its soothing properties and Pine Oil for its smoothing effect.
The new "makeup" clutch bag
Come 5 Couleurs Couture in a new compact tray larger and more generous. The compact case highlights the colors of the makeup kit, with a silver press-stud embellished CD logo and a silver interior. The new Dior pattern is stamped on the central color, as if it was sewn into an eyelid lotion. And as a final touch, the applicators have been redesigned to make applying makeup easier.
Denim celebrates the timeless and elegant casual style of jeans, the new Dior brand.
Mitzah is a tribute to Mitzah Bricard, the muse of Christian Dior, whose iconic leopard look became an iconic fashion icon.
Rouge Trafalgar pays homage to the look of the red show that Christian Dior has added to each collection to surprise the crowd.
Black Bow refers to Christian Dior's beloved butterfly tie immortalized by fashion painter René Gruau.
Said Peter Philips in this regard, "does not include a group of 5 only Couleurs Couture new variety of colors, but also provides a variety of effects. These allow you plates make – up creating views of makeup delicate and sharp, with easy -to- color mode and blending and long – lasting."
The perfect line
The new Diorshow 24H Stylo was born after years of backstage experience for Peter Philips. To implement any look, from the most natural to the boldest, create this new eyeliner to enhance performance and flexibility.
The seamless texture glides beautifully onto the skin and delivers a bold line from the first stroke. This pigmented color finish is also water-resistant and lasts for 24 hours.
The round and a precise retractable tip of the Diorshow 24H Stylo is easy to spot with the included sharpener. The frothy filter is the perfect accessory to blend and smooth the line to create a smoky eye look.
Diorshow 24 H Stylo is available in two finishes – matte and satin – and 12 colors that work with 5 Couleurs Couture makeup palettes, including 4 "main" colors: matte black, matte blue, matte red, and pearl silver.
Campaign
This year's Diorshow campaign, photographed by Richard Burbridge, shows his haute couture style. Diorshow Iconic Overcurl invites us to dare to have bold curved lashes. As for Couleurs 5 Couture makeup palette, two models flaunt their cosmopolitan beauty in style, each representing one of the iconic colors of the makeup palette with their makeup and clothes: Blesnya Minher for Mitzah and He Kong for Rouge Trafalgar.