Vacheron Constantin's Traditional Collection blends aesthetic sophistication and technical sophistication in a feminine setting by welcoming the first self-winding tourbillon movement into a women's watch. This jewel-watch is translated by two valuable models that celebrate mechanical art with a great deal of confidence.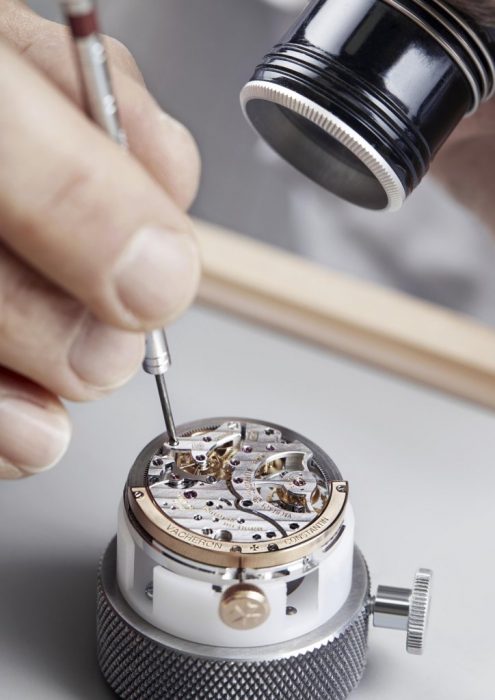 Graduated round case, discreet bezel, fluted back, minute track circle, slender Dauphine hands and hour markers in the batons type: the pure and elegant Traditional Collection offers a showcase of technical elegance expressed by outstanding watchmaking characteristics. 
This timeless elegance embodied in timepieces whose form follows function is now expressed through two new feminine models featuring a tourbillon system for the first time. 
Housed in a new 39mm rose gold case , or in a jewelery version made of white gold paved with diamonds, this sophisticated, sophisticated function appears in an unprecedented feminine image and is specifically geared towards women seeking a timepiece that combines precision and elegance.
Caliber 2160 movement, a style that prides itself on elegance and precision
The Caliber 2160 movement, manufactured in-house and launched in the year 2018, found its way for the first time into the heart of a women's watch. Thanks to the tourbillon system, which eliminates the effects of the Earth's gravity, this self-winding movement has extreme precision operating at a frequency as low as 2.5 hertz, allowing the viewer to meditate on the continuous punching of the mechanism. T
he Caliber 2160 movement is extremely thin and has a circumferential rotor and embraces 188 pieces with a thickness of no more than 5.65 mm. This formula, which has been shrunk down to just embrace the essentials, in a 3- diameter case 9 mm thick and 11.22 mm, the proportional size fits perfectly in a woman's wrists.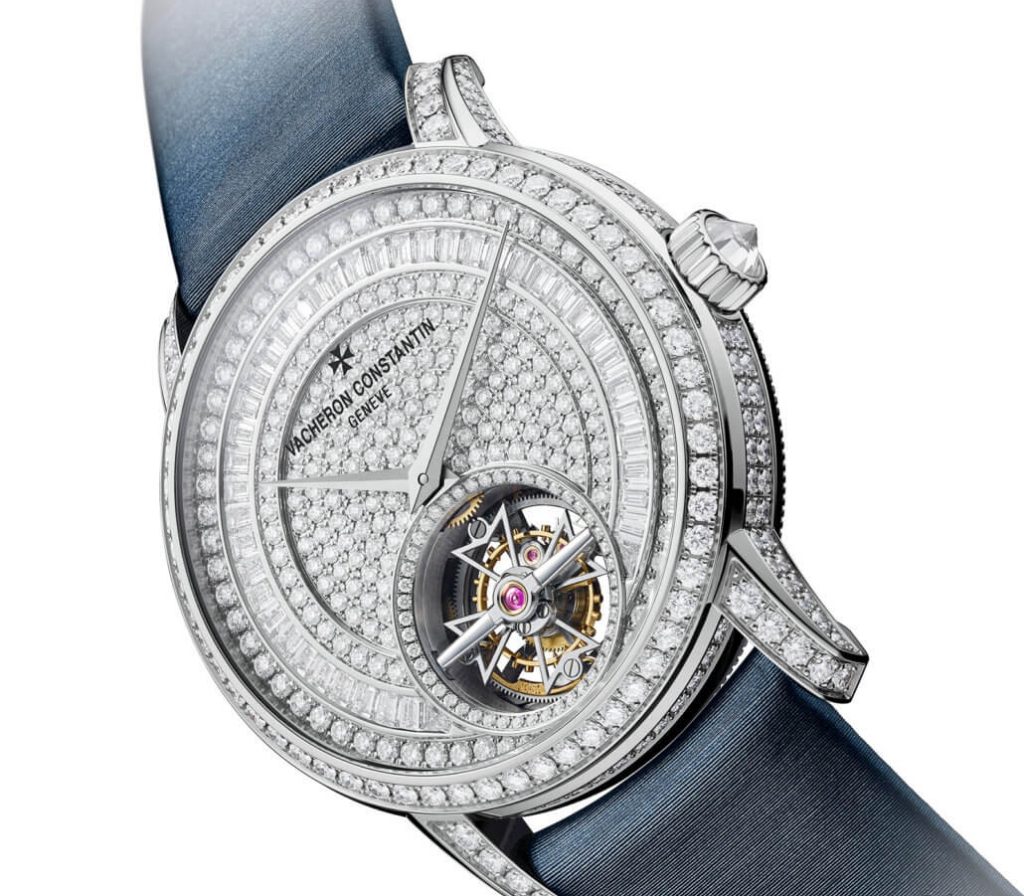 In addition to its reliability and accuracy, the 2 1 6 0 caliber movement features a comfortable 8 0 hour power reserve and the presence of a small second screen on the tourbillon held by a blackened screw – a function underlined by careful attention to every aesthetics of detail. On the front side, the openwork band of the Maltese logo-inspired tourbillon has been moved entirely by hand, a process that takes approximately 1 1 hour for this component alone.
The movement is shown through the transparent back case and is decorated with the famous Côte de Genève finish. This contrasts with the traditional decoration of improved aesthetics of the rotor peripheral gold caliber 22 carats.
Traditionl Tourbillon
Technical sophistication meets the elegance of design in this feminine brand. They are the epitome of radiant brilliance, balanced volumes, and subtle details. Sparkle classic box – sized 39 mm made of pink gold  8 – carat 5 Nb 208 round Diamonds installed on the edge, and the upper enclosure and lugs.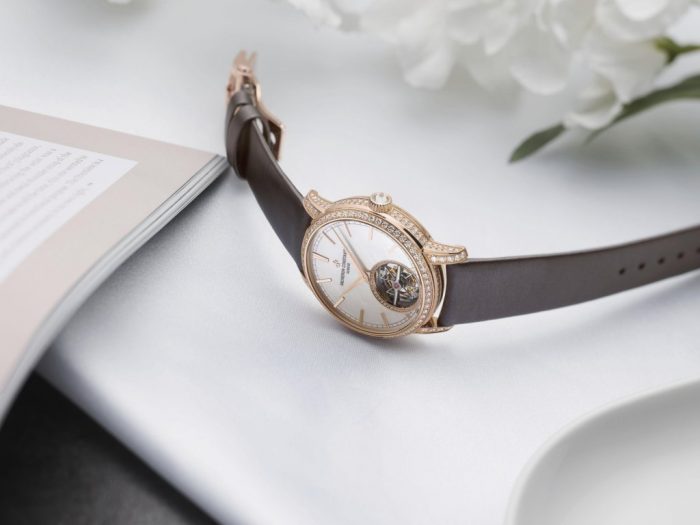 Its port provides a pearl of sweat attractive background iris colors of the scene of the majestic system Altorbion, surrounded by a group of 4 6A round diamonds. This makes this Tricion Tourbillon watch a precious masterpiece and an integral part of the collection's aesthetic heritage. The ultra-thin case features tiered wings and a fluted back. 
The minute track is interspersed with a circle with dauphine-shaped hands and rose gold hour markers. A delightful combination that wraps around the wrist on a gray satin ribbon secured with a diamond folding clasp. This watch is delivered with another gray alligator leather strap.
Traditional tourbillon jewelry
The tourbillon's sophisticated mechanical complications can be seen through a transparent glass block that reflects the craftsmanship of jewelry. Made of 18- carat white gold, this prestigious watch reinterprets the tradition of the Traditional collection through an elegant 39 mm round case, slim bezel, fluted back, and dial studded with Dauphin's hands. However, the distinctive design of the collection lends itself to a stunning flow of diamond sheen. 
The Traditional Tourbillon Jewelry watch adorns 559 round diamonds and baguette pieces totaling more than 6.5Carats and highlights the technical sophistication of the tourbillon, whose low frequency makes each cycle admirable. It all wraps around the wrist in a halo of bright light on a blue satin strap secured by a gold folding clasp. Available exclusively at Vacheron Constantin boutiques, the Tradition Tourbillon Jewelry comes with a second blue crocodile leather strap.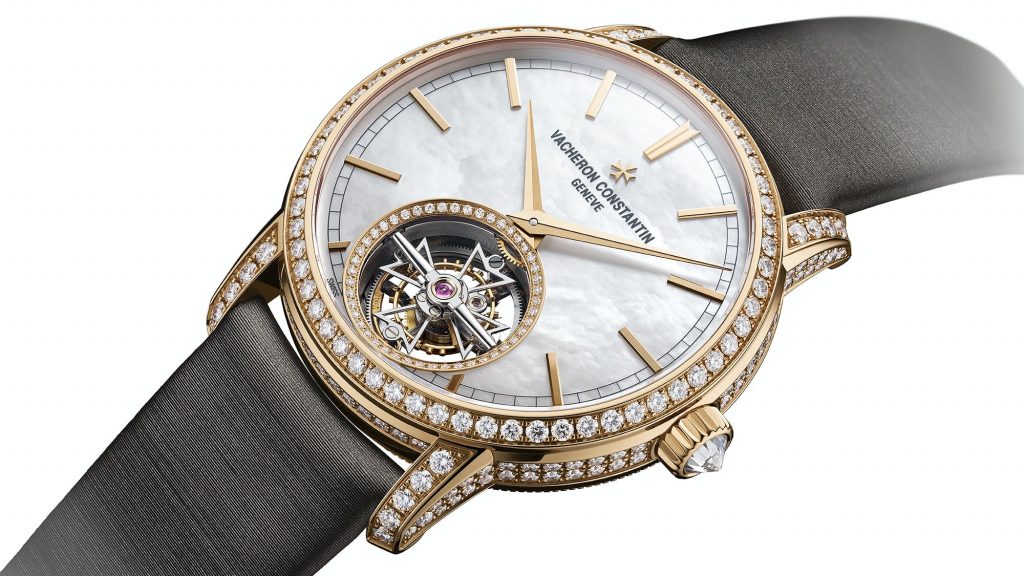 For the first time, Vacheron Constantin highlights the impressive function of the tourbillon through its feminine elegance. The movement lives inside a new box with a diameter of 39 mm and it seems complex mechanical in scintillating finishes unprecedented. 
The Traditional Tourbillon watch is available in 18 kt rose gold, set with round diamonds, with a mother-of-pearl dial, or another model in 1 8 kt white gold, set with round diamonds and baguette pieces on both the case and the dial. The timepiece works on the rhythm of Maison's Caliber 2160 movements, ensuring reliability, precision, and craftsmanship enhanced by the finest timepiece-making finishes.