The sterilization process of the soil takes place in the months of June and August, but most followed in the middle of June and July. The sterilization process is done to get rid of the wastes and pollutants that cause harm to the crop and plants, and the sterilization process is done to preserve the soil from damage.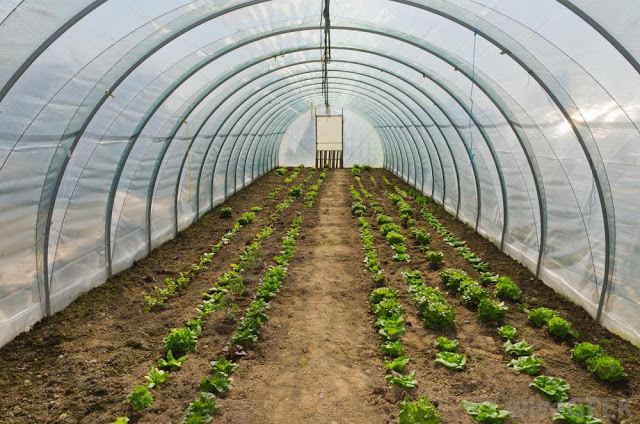 The soil preparation process for solar sterilization:
Cleaning the soil from weeds, disposing of waste, large and medium stones and stones that are visible, and disposing of plant debris and ground roots.

The process of transferring the fertilizer to the ground and working perfectly in distributing the municipal organic fertilizer on the ground and the distribution process is done depending on the type of fertilizer, the required quantity and the nature of the land.

The land is well flooded and saturated with water, either by using surface irrigation or by sprinklers, at a depth of (60-70) cm.

Smoothing and simplifying the land and breaking up the dirt into simple parts. This method is very important and useful for the lands and removes barriers such as stones and accumulated dirt and its fragmentation.

Solar sterilization of the whole house using transparent plastic:
The process of extending the lines over the ground for which the sterilization process is performed is straight, then furrows are drilled along the plastic house sideways and vertically from the beginning of the house to the end, then the place to be sterilized is brushed with a white tarpaulin from the beginning of the house, and it is fixed tightly by means Cover it with dirt on one end of the tarpaulin and tighten the tarpaulin on the other.
It is then the process of irrigation of the soil in a large Ngriv soil; In order for the necessary moisture to be found in the soil and to help the method of solar sterilization, the soil is then irrigated using sprinklers or irrigation pipes, after the sterilization process is completed, the plastic tarpaulin is removed and preserved until it is used in the following times of other seasons.
After solar sterilization, terraces are then installed inside the greenhouses, without turning the soil over or rotating it. In order not to be affected by the greenhouse or the failure of the sterilization process, irrigation rags are then placed on the terraces and the plastic tarpaulin is spread over each irrigation sprinkler on the terraces, then small holes are made inside the tarpaulin and the openings are to be side on the plastic tarpaulin; In order to help place the seeds or small seedlings inside the pits, and then the indoor planting process is done, the process of solar sterilization is one of the most reliable processes that help the plant grow appropriately and cleanly in the soil.