Dubai is a paradise for adventure loving wanderlusts. Anything is available in Dubai to quench their thirst. A glorious desert and a magnificent ride through it are specials among these. From sand dunes to desert camps, authentic Arabian food to camel rides, quad biking to sand boarding, there's a lot to do in the Dubai desert! This is exactly why you need to find the best desert safari Dubai, to experience traditional Dubai at its finest.
Morning desert safaris
Choosing a morning desert safari has many advantages. First of all, you get to explore the desert while it is still relatively empty. The serenity of the desert is most certainly best enjoyed in solitude. As the day progresses, you will see more and more people around you.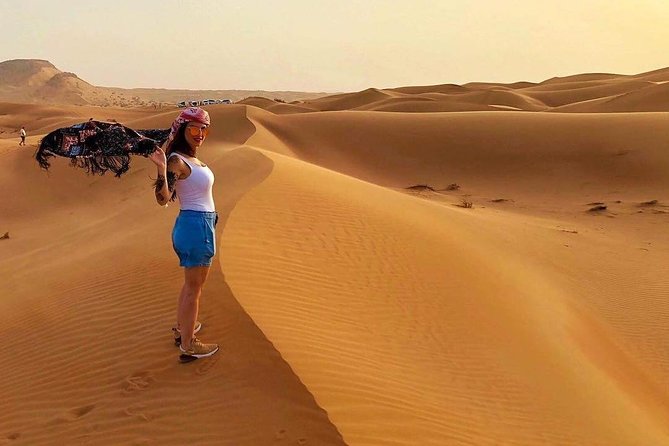 Secondly, the weather tends to remain pleasant from the previous night, which means that this is the perfect time for you to indulge in adventure activities. You will be able to finish all your adventure activities before it gets too hot. Visitors can take their pick from a variety of activities like camel riding, sandboarding, quad biking, etc. In fact, certain activities like hot air ballooning are exclusive to the morning desert safaris.
Premium morning desert safaris range between AED 130-140.
Evening desert safaris
If a quintessential desert experience is what you're looking for, then an evening desert safari should be your first choice.
Evening safaris start in the late afternoon, after the sun has started its descent. As a result, you will get to enjoy pleasant weather, allowing you to enjoy your desert safari to the fullest. You have the entire evening to relax and indulge in various adventure activities like sandboarding, quad biking, etc.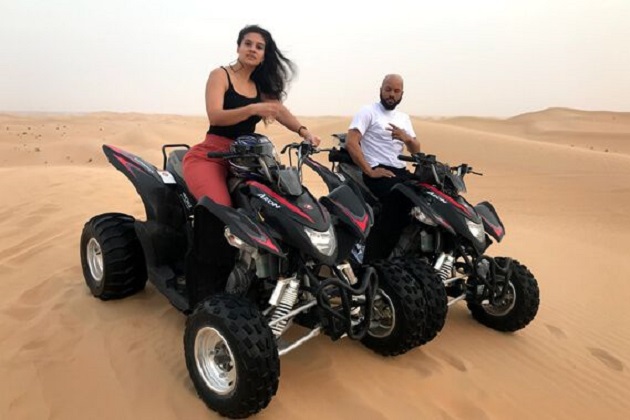 A typical evening desert safari starts with a dune bashing session which makes for a highly exhilarating experience. Don't forget to click photos as you enjoy the desert and the sand dunes. However, an evening safari has much more to offer than these adventure activities. Head over to the Bedouin Camp for a camel ride and indulge in traditional activities like henna- painting.
Most premium evening safari operators will charge around AED300-400.
Adventure desert safaris
The relentless desert landscape makes for an ideal setting for you to experience traditional desert activities such as camel riding and modern adventure sports such as quad biking, sand boarding, dune buggy riding, fat tire biking, horse riding and hot air ballooning. If an exhilarating adrenaline-pumping experience is how you want to remember the desert, then these adventure desert safaris are perfect for you.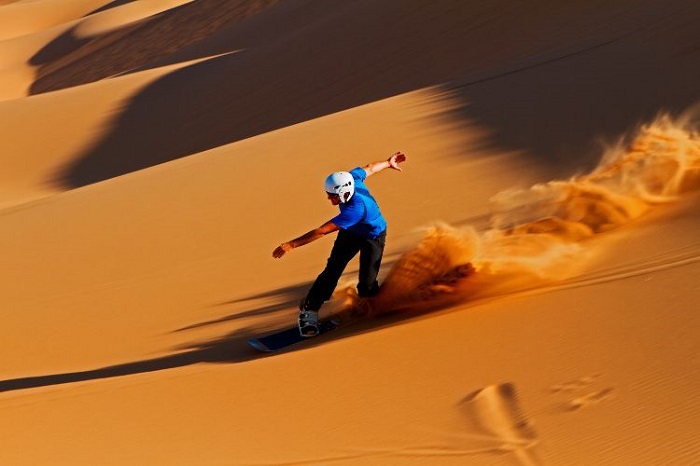 The expense for adventure safaris ranges widely from AED400 to AED1000.
Desert safari combos
If you are looking for a comprehensive tour of the city, your best bet is to opt for a combo tour. Head out offers many combo tours that combine Dubai desert safari with various other attractions. These combo tours are perfect for those who are short on time and would like to make the most of their trip to the land of skyscrapers. You will get to experience the best of the city in a day or two, making sure that you do not miss out on any must-see attractions. Combos are the most economic safaris.
Combo safaris start from AED100.