Saudi Arabia's Al Ula embeds a history of cultural heritage and tradition, even UNESCO has enlisted it as a world Heritage site. A new resort is being built at Al Ula, which preserve this wonderful cultural heritage of the region. The resort named Sharaan is designed by a French architect Jean Nouvel.
The famed French architect's designs draw on the nearby Nabataean wonders of A Hijr, Saudi Arabia's first UNESCO World Heritage Site, paying tribute to a unique 2,000-year-old architectural heritage. Describing Al Ula as "the coming together of a landscape and history", Nouvel, who was responsible for the design of Louvre Abu Dhabi, emphasised the importance of preserving the area's unique landscape.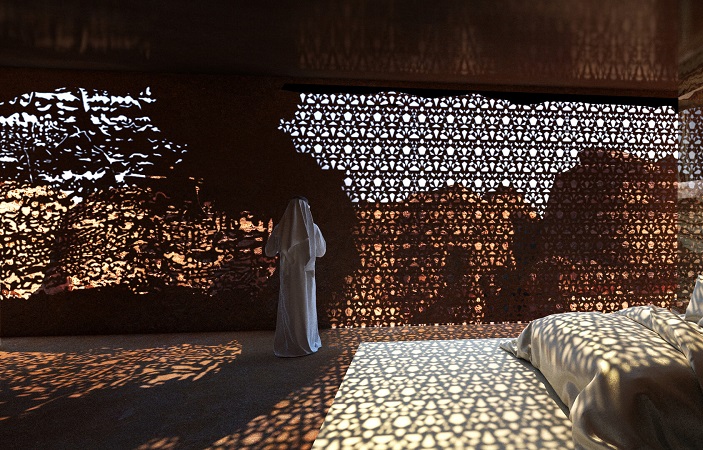 "Al Ula is a museum. Every wadi and escarpment, every stretch of sand and rocky outline, every geological and archaeological site deserves the greatest consideration. It's vital we keep all its distinctiveness and conserve its attractiveness, which largely rests on its remote and occasionally archaic character. We have to safeguard a little mystery as well as the promise of discoveries to come," he said.
But this does not mean that the site cannot be injected with a hint of modernity, he added. "Our project should not jeopardise what humanity and time have consecrated," he said. "Our project is celebrating the Nabataean spirit without caricaturing it. This creation genuinely becomes a cultural act."
The architect acknowledges that building something in this historic site is "a real responsibility" but, as a self-professed contextualist, he is committed to working with "what's there".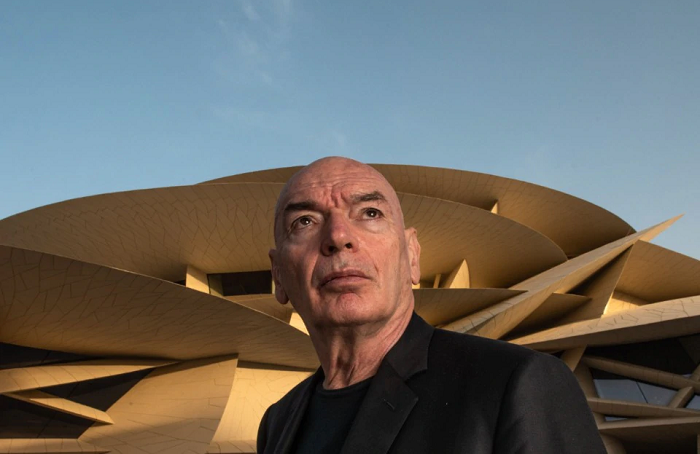 In this instance, the site's dramatic rock faces became a central focus. And in Nouvel's eyes, they are more than inanimate objects. "What most struck me – beyond the archaeological features – is the work of the wind, of the wind on the rock formations. When you stroll around, you're gobsmacked. I'd never seen anything with the same precision before. And, for me, these particular rock formations and landscapes are actually works of art, natural works of art."
In his design, Nouvel pays tribute to the musicality, harshness, tactility, power and complexity of nature – from the finely chopped stones found on the resort's balconies to the granularity of each rock wall.
A constant interplay between what is solid and what is hollowed out, and how light hits these contradictory surfaces, has materialized as a form of mashrabiya patterning.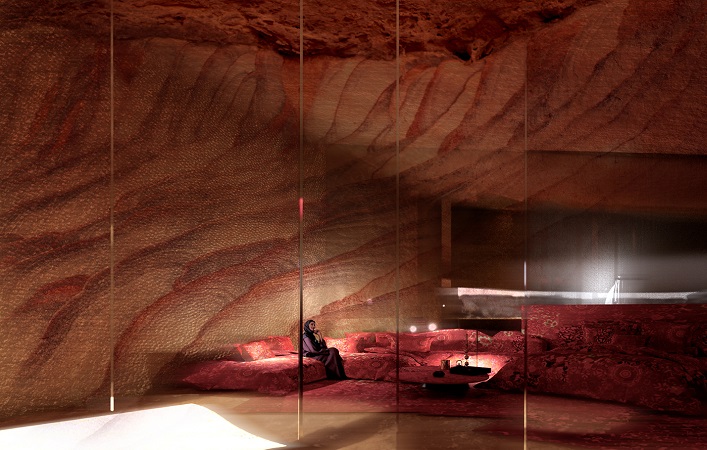 At the heart of the design is a hollow sphere that opens to the sky and creates a kind of internal patio, with views that extend out towards the resort's lobbies and rooms. "And this can be seen from the sky," says Nouvel. "It's something you discover there, like a big surprise. We'll seek the light, always, always, always."
According to the Royal Commission for Al Ula, the resort will be located in a valley within Saudi's Sharaan Nature Reserve, which was chosen for its dramatic landscape of cliffs, rocky plateaus and spectacular sand dunes. Consisting of guest suites, tented pavilions and resort villas, as well as restaurants and a large spa, the exclusive 40-key resort is scheduled for completion in 2023.