We can all enjoy some relaxation and rejuvenation after the eventful past few months. Luckily, there's no need to travel far to find what we're looking for, as we have visited three resorts in the area that will help you regain the rest of the body, mind, and soul.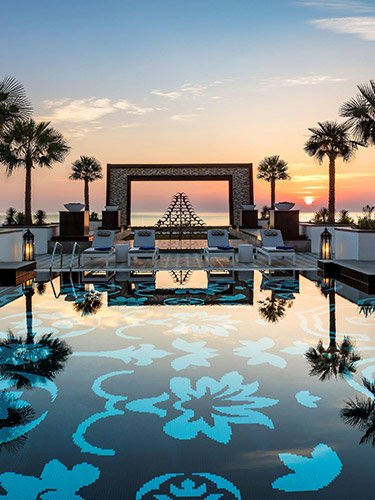 Sultanate of Oman: Anantara Al Jabal Al Akhdar Resort
Located at an altitude of 2000 meters above sea level on the curved edge of a great canyon, the resort allows guests to fly over breathtaking landscapes of unforgiving beauty while discovering an important and original cultural treasure by immersing in the rich heritage of the place. The Green Mountain is a towering mass of rock on the vast "Siq" plateau in the Sultanate of Oman surrounded by soaring peaks. The resort features a cliff-edge infinity pool, a state-of-the-art fitness center, tennis court and the world-famous Anantara Spa. 
If adventure is your goal, explore the nearby culture, history, and landscapes. Stroll through valleys lined with palm trees and pomegranate groves, bargain over a silk scarf in the souks, and stroll through the fragrant rose gardens. Wake up early to receive a solar salutation on top of a mountain, admire the stunning night sky during a fortune-telling session, or try mountain climbing, archery, and mountain biking.
The adventurous arrival journey takes guests – two hours from Muscat International Airport or four and a half hours from Dubai and includes ancient date plantations, dry river basins known locally as "valleys" and historic forts.
We love: dedicated teachers! The Slumber Guru experience ensures that guests wake up again for another perfect day; Mountain Gurus specialists have unsurpassed knowledge of the area, bringing guests a real taste of local life; Wine connoisseurs are on call, allowing guests to discover and explore the wonderful world of wine.
Saudi Arabia: Shaden Resort
Located 28 km from Madain Saleh Cemeteries, The Shaden Resort offers accommodation with a restaurant, an outdoor swimming pool, a 24-hour front desk and free much-needed Wi-Fi throughout the venue – we want to relax of course but we still need Netflix! With cooler weather, you can enjoy a continental breakfast every morning in the tents prepared for the reception. After a day of hiking or cycling, you can relax in the communal lounge and enjoy the wonderful scenery and the picturesque surrounding mountains.
Prince Abdul Majeed bin Abdulaziz Domestic Airport is the nearest airport to Shaden Resort, 48 km away. The resort provides a shuttle service to and from the airport for a fee.
United Arab Emirates: The Retreat Palm Dubai – MGallery by Sofitel
The "first 5-star holistic spa" in Dubai, combining the perfect balance of holistic luxury with the vibrant city energy. Part of the inspiring Serenity's MGallery by Sofitel group, The Retreat Palm Dubai MGallery by Sofitel is an ideal retreat offering relaxation, tranquility and truly unforgettable moments full of local discoveries.
Whether you are looking for a relaxing spa weekend, a complete luxury experience or a romantic getaway, this is one of our favorite health getaways in the region.
The resort is located on Palm Jumeirah, a 30-minute drive from Dubai International Airport.
What do you pack in your luggage?
We love Ojar's blend of fragrances that pay tribute to the art and beautiful rituals of perfumery in the Middle East. Founded by Sheikha Hind Bahwan from Oman, the flagship product of her group is Absolute Perfume Oils that lasts 10 hours and comes in the perfect travel size of 20ml. Essential for every traveler. Gucci caftans, Altuzarra tote, Kaleos sunglasses, and Loewe X Paula's Ibiza sandals.