Scuba diving gives unending feeling for adventure-lovers. The Middle East waters have so many sites perfect to enjoy a Scuba diving.
Red sea
Known for its incredible biodiversity, excellent visibility – averaging 30m or more – and the resilience of its coral in the face of rising sea temperatures, the Red Sea is the Middle East's most popular diving destination for good reason. You can approach resorts like Sharm, which offers the best access to the Thistlegorm, a sunken WWII freighter considered one of world's most famous wreck dives, and Ras Mohammed National Park, with its superb wall diving.
The Bohemian dive town of Dahab, known for its 'Blue hole', 100km north of Sharm is also significant. However, many divers say Egypt's best diving is found off the mainland resort of Marsa Alam, the launch point for trips to Elphinstone Reef, where advanced divers may spot oceanic white tip and hammerhead sharks; go underwater with Red Sea Diving Safari, one of the region's leading operators. While you won't spot too many pelagics at the northern end of the Red Sea, the reefs off Eilat, Israel, and Aqaba, Jordan, are excellent spots.
Arguably the hottest Red Sea diving destination right now, however, is Saudi Arabia. The dive clubs in the resorts of Jeddah and Yanbu, with top dive sites including the Boiler Wreck off Jeddah with its huge fan corals and manta rays will give you the best shot.
When to go:
Scuba Diving is possible year-round, though oceanic whitetips are best visible from October to January, while hammerheads make an appearance from June to September. May to July is whale shark season.
The Gulf:
Although costal development and oil rigs are present, there are some best diving spots on the Gulf coast. Among the plethora of wrecks outside Dubai's harbour, most divers count the Zaineb, the MV Ludwig the MV Dara – a passenger ship that became the world's second worst maritime disaster after the Titanic following an explosion that sank it in 1961 – as the best. Off the south coast of Iran, Kish Island is one of the region's picky dive spots. Kish Diving Centre can take you there, though men and women currently must dive separately. On the plus side, a visa isn't required for divers visiting this free trade zone area from Dubai.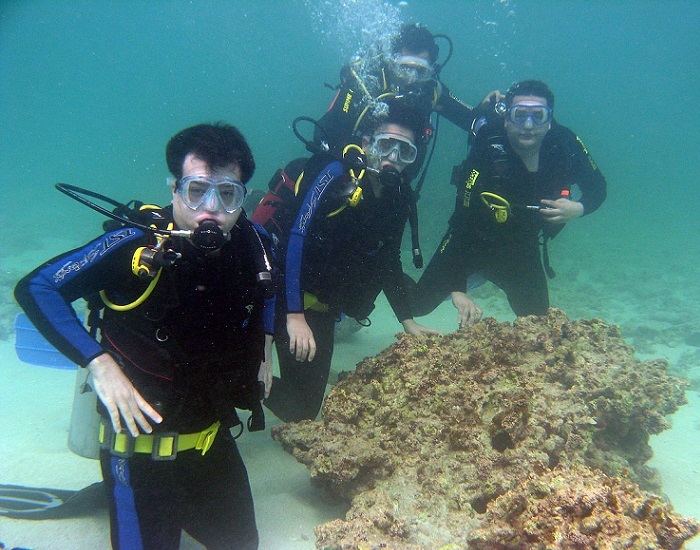 When to go:
Diving is possible year-round, but for the best comfort and visibility above and below the surface, experts recommend avoiding the peak summer and winter months.
Gulf of Oman and Arabian Sea:
The only emirate with a coastline solely on the Gulf of Oman, Fujairah boasts more marine life at its dive sites than those of the Gulf. While it's possible to dive off a traditional dhow in the nutrient-rich waters of Oman's enclave of Musandam (book with Al Marsa in Dibba), Muscat is the Gulf 's most popular diving hub. An important nesting area for hawksbill turtles, the Daymaniyat Islands off Muscat are a crowd favourite.
Further South at Mirbat, both coral and kelp gardens can be seen. January to April season will show you 22 species of dolphins and whales here. The nearby Hallaniyat Islands are also a hotspot for whale encounters and are best reached by live-aboard.
When to go:
Scuba Diving is possible year-round except in the south, where the monsoon season prompts most dive centres to close from around June to September. April to May and September to October are said to offer the best combination of surface and sea temperatures for diving in the north, and September to November the best months for whale shark encounters.