Man has achieved several impossible distant dreams to reality. Travelling is one among them. His hardwork is the only reason for his ability o travel to any parts of the world. But there are some terrains that normally people cannot access. However, his hardwork has enabled him to reach these destinations too by building roads.
Check out some of the most dangerous roads in the world and try to ride through these only if you have enough confidence. Here goes the count down and watch the video of the last one if you're still not collapsed.
Karakoram Highway (Pakistan to China)
Location: Pakistan and China
Length: 810 miles (1,300 kilometers)
Maximum Elevation: 15,466 feet (4,714 meters)
Danger: Landslides, falling rocks, floods, avalanches, cliffs, and more
Built as high as 15,000 feet above sea level and under very rough conditions, Karakoram Highway is sometimes considered the Eighth Wonder of the World. Construction on the road began in 1966 and was completed in 1979, although it wasn't open to the public until 1986.
This dangerous road covers more than 1,300 kilometers and, at least in some places, follows the old Silk Road. Cutting through the most mountainous region in the world, the Karakoram Highway is beset with hazards: rock falls, landslides, avalanches, flooding, snow drifts, reckless drivers, herds of animals, precipitous cliffs and terrible storms.
99-Bend Road to Heaven (China)
Location: China
Length: 6.8 miles (11 kilometers)
Maximum Elevation: 3,855 feet (1,175 meters)
Danger: Sheer drops, hairpin turns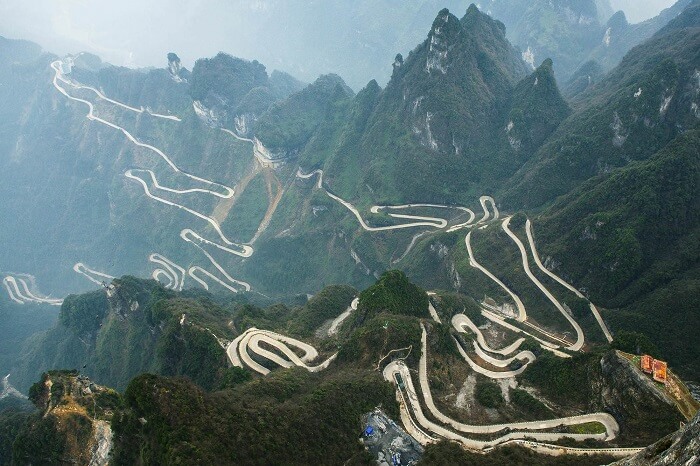 It comes as no surprise that the country that brought us the Zhangjiajie Grand Canyon Glass Bridge and the rickety wooden walkways of Hua Shan also has its share of dangerous roads. Located in Tianmen Mountain National Park in central China, the 99-Bend Road to Heaven features—you guessed it—99 death-defying hairpin turns constructed hundreds of feet in the air. If you went off the road in such places, you'd surely die in a fiery crash.
Pan American Highway (Alaska to Chile)
Location: North, Central, and South America
Length: 30,000 mi (48,000 kilometers)
Maximum Elevation: 10,499 feet (3,200 meters)
Danger: Inclement weather, difficult terrain, cartels, wild animals
The Pan American Highway (PAH) is not entirely dangerous, that is, it's probably no worse than your average American highway. But in some places, you risk your freedom and even your life by using the PAH as a means of travel. Certainly, a dangerous section of the PAH winds through Mexico and Central America, where drug cartel terrorists roam.
Sichuan-Tibet Highway (China)
Location: China and Tibet
Length: 1,330 miles (2,140 kilometers)
Maximum Elevation: 15,420 feet (4,700 meters)
Dangers: Rockslides, mudslides, avalanches, hairpin turns, cliffs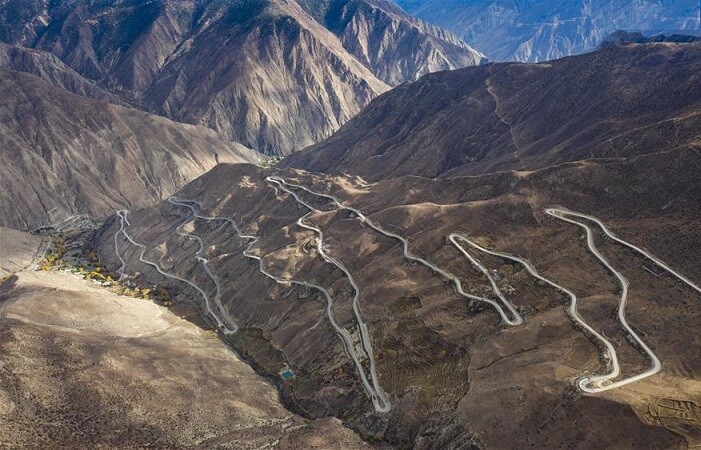 This very long highway connects Chengdu in Sichuan with Lhasa in Tibet, through an area known as Kham. Continuously beset with rockslides and avalanches, the Sichuan-Tibet Highway is a treacherous, switchback-laden highway that winds among towering peaks, often causing vomit-spewing altitude sickness in travelers. The road was built between 1950 and 1954 and since then, many thousands of people have died while traveling on the Sichuan-Tibet Highway (a shocking 7,500 deaths for every 100,000 drivers).
Kolyma Highway and Lena Highway
Location: Russia
Length: 1,914 miles (3,080 kilometers)
Maximum Elevation: Unknown
Dangers: Extreme weather, unpaved roads, ice, mud, low visibility
Travel through Siberia is always a challenge. Nicknamed the "Road of Bones," this Siberian road from Magadan to Never meanders its way through one of the coldest regions in the world. It is a combination of two highways—the R504 Kolyma Highway and the A360 Lena Highway, both of which are subject to the same dangers.
The highways are joined by the Lena River Ice Road, which is exactly what it sounds like: a "road" across the river that is open yearly from December through April, when the ice is frozen enough to drive on, or so one hopes. Sadly, dozens lose their lives each year when their vehicles fall through the ice.
Zoji La Pass (India)
Location: India
Length: 5.6 miles (9 kilometers)
Maximum Elevation: 11,575 feet (3,528 meters)
Dangers: Extreme weather, no guardrails, steep cliffs, narrow, unpaved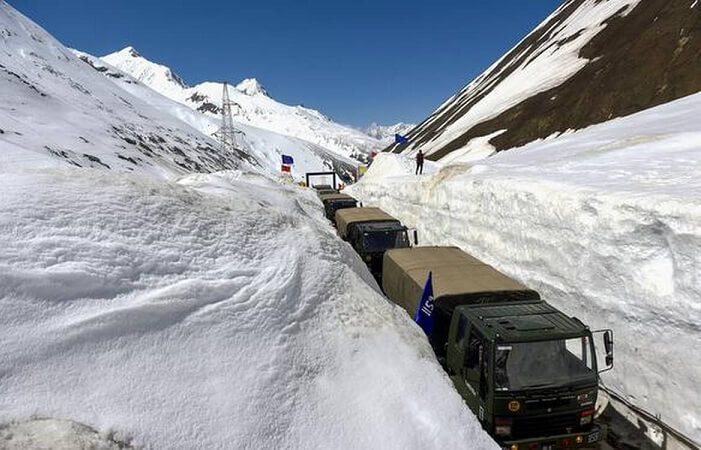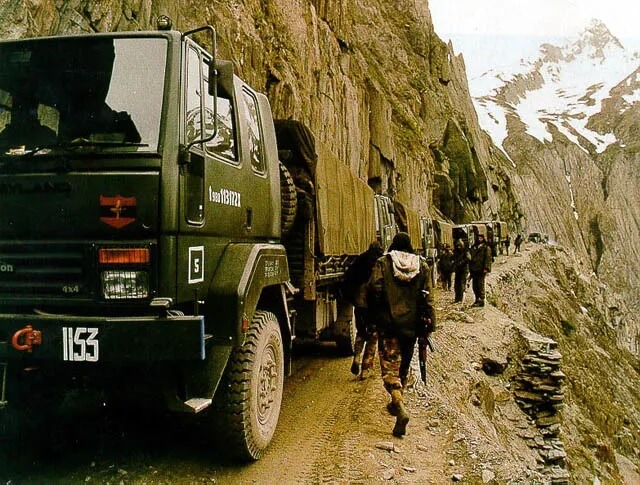 Just about any road that winds through the highest mountain range in the world would probably be at least somewhat dangerous to travel. The Zoji Pass certainly qualifies in this regard, since it's a dirt road with no guardrails or traffic signs and where landslides are a continual problem. Moreover, the road zigzags among craggy peaks at over 11,000 feet at its highest elevation.
North Yungas Road
Location: Bolivia
Length: 49.7 miles (80 kilometers)
Maximum Elevation: 15,256 feet (4,650 meters)
Dangers: landslides, rockfalls, fog, cliffs, narrow, no guardrails
If you don't want to travel on a road nicknamed "The Road of Death," stay away from this one! Leading from La Paz to Coroico, the Road of Death is almost 50 miles of one-lane road, featuring vertical drops of as much as 3,000 feet into the Amazon rainforest below. Astonishingly, the road has over 200 hairpin turns. Up until 1994, nearly 300 travelers died on the road every year.
Killar to Pangi Road, via Kishtwar (India)
Location: India
Length: 70.8 miles (114 kilometers)
Maximum Elevation: 8,280 feet (2,524 meters)
Dangers: Steep cliffs, no guardrails, unpaved, mud, isolation
This nerve-wracking road is only for people who love to drive in the mountains and have nerves of steel. Open only during the summer months, this rocky, gravelly road is about 70 miles long. A six-mile stretch of it is particularly hazardous; rocky overhangs look as if they could fall upon the roadway at any moment. The road was built hundreds of years ago by local villagers and has not been repaired over the decades.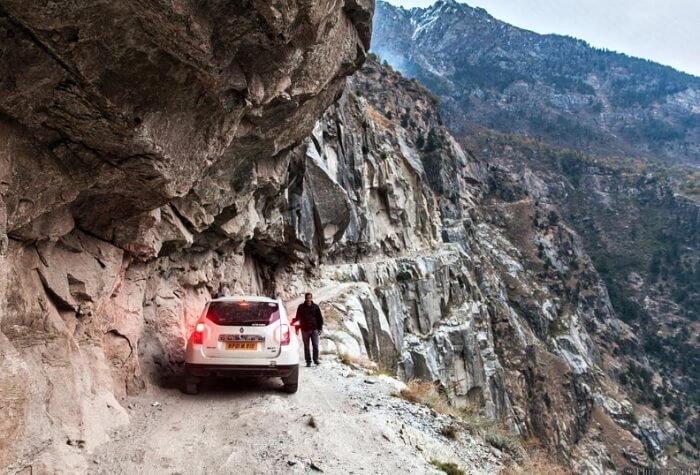 Only wide enough for one jeep at a time and having no guardrails, this dirt-and-gravel road is terrifyingly unstable in places. One false move by a driver could send a vehicle 2,000 feet down a vertical cliff. This road is so frightening that it's hard to watch videos of people driving over it. If your bucket list has this one on it, make sure it's your last challenge!