The Season is chilling and everyone wants to chill this chilling winter. Most of you might have made plans on how to spend this year end. If you haven't, nothing more than a vacation to the world's first ice hotel can give you as much chill anywhere possible. Combining the work of 24 artists and 1,300 blocks of ice harvested from the River Torne, Icehotel 31 has opened for winter.
Located 200 kilometres north of the Arctic Circle in Jukkasjarvi, guests checking in to the icy hotel will sleep in frozen beds on top of reindeer hides, in suites where temperatures dip well below freezing.
This year, each room in Icehotel 31 has been designed by an artist from Sweden. International entries were cancelled due to coronavirus restrictions on travel. The newly designed suites have never been created before, nor will they exist again once the ice harvested from the River Torne melts in spring time and returns to its origins.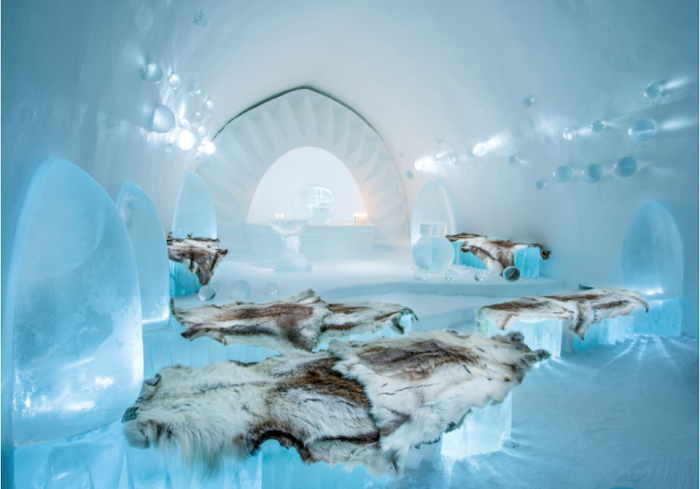 While part of the hotel is open year-round, thanks to a solar-powered refrigeration plant, the big reveal takes place each December. This is when the pop-up winter hotel comes alive in its annual frosty incarnation.
Standouts this year include a frozen forest ceremony hall, a composer suite paired with curated classical music, an angled typography room, a strawberry suite with an ice sculpture of a fruit seller and an ice-covered hotdog stand. There's also a snow-carved giant Maltese dog to be found in the Oh Rapunzel art suite.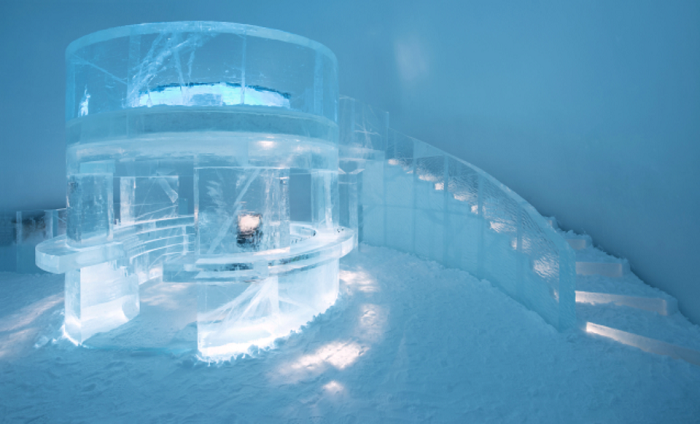 Twelve new rooms are ready and waiting with sparkling ice art for their first visitors, and the Ceremony Hall is all sculpted to host small winter ceremonies. A further six art suites in Icehotel 31 will open on Monday, December 21.
The impressive results took 19 art teams, months of sculpting, shaving and chiselling snow and ice to try to replicate each artist's vision. The entire production involved harvesting teams, builders, art support staff and lighting crew. Work first began in spring 2020, when the teams harvested thousands of kilograms of ice from the river, using special machinery to extract each of the glass-like blocks.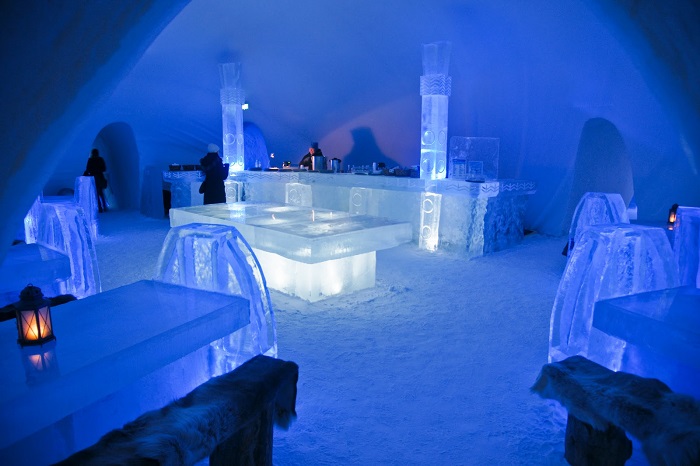 Visitors to Icehotel 31 can also check out six new permanent ice rooms in Icehotel 365. These include a frozen winter garden, a room full of toys sculpted out of ice and snow and a sub-zero sauna. With the hotel open for the season, rooms are maintained daily, with normal housekeeping services accompanied by a morning scattering of fresh snow and touch ups to any melting decor.
This year, travellers who can't get to Lapland due to Covid-19 restrictions have the option to explore Icehotel via Augmented Reality on Instagram. The winter wonderland tour takes visitors through six new art suites in the permanent section of the hotel. Another 12 suites will be added to the virtual experience now that the winter hotel has opened its doors. For anyone hoping to book a stay at the Icehotel, the owners recommend spending one night in ice, usually at the start or end of your trip. The rest of the time, there's traditional and cosy Scandanvian-style hotel rooms or chalets available