The Video Assistant Referee Technology (VAR) course organized by the UAE Football Association over the course of three days has concluded its activities with the participation of 69 referees and assistant referees from the first team under the supervision of the Dutch Mike Van Derost, Director of the Video Assistant Referee Technology Program at FIFA.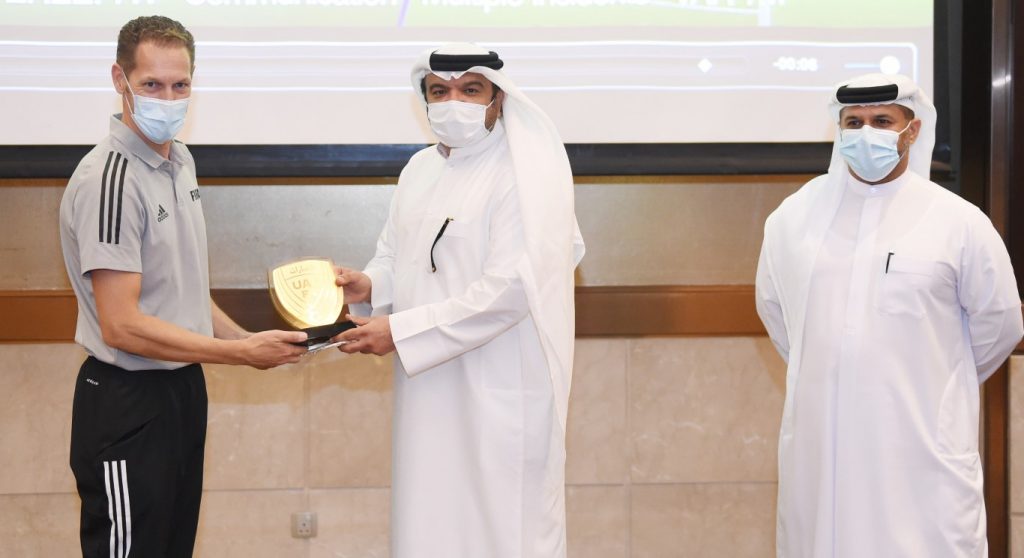 The closing day of the session yesterday was attended by Youssef Hussein Al-Sahlawi, the second vice president of the Football Association, and Ali Hamad Al-Baddawi, a member of the Federation's board of directors and head of the Referees Committee, along with Saleh Al-Marzouki, Hamad bin Hanifa and Ibrahim Al-Mansouri, members of the Referees Committee, Ali Al-Tarifi, Director of the Referees Department, and Khaled Dokhi, Technical Director. And Ahmed Yaqoub, the technical officer for residents and lecturers
Al-Sahlawi stressed during his speech to the referees that the Football Association is making great efforts to develop the arbitration sector by using international expertise to provide various courses and workshops with the aim of giving the refereeing cadres new experiences and informing them of the latest developments related to the law of the game, praising the efforts made by the committee and the referees management in developing an integrated strategy To advance UAE arbitration.
In a turn, Ali Hamad Al-Badwawi, Chairman of the Referees Committee, indicated that the session achieved its objectives by completing the licensing requirements of 6 yard referees who were escalated from the second team, 6 assistant referees and 6 assistant referees, in addition to two video operators of the company implementing the technology.
Al-Badwawi praised the referees participating in the session and their keenness to make the most of the theoretical lectures and practical exercises, as well as their full commitment to implementing the program that the committee had put in place since the suspension of sports activity, performing the exercises, participating in the lectures through visual communication technology, in addition to the Serbia camp, and managing a number of friendly matches.
For its part, the Football Association honored, on the sidelines of the session, a number of the referees' evaluators who worked with the Referees Committee during the last period in appreciation of their efforts and dedication, namely Ali Makhlouf, Shaheen Al Hosani, Farid Ali and Ibrahim Al Muhairi.
The final day of the course witnessed theoretical lectures that focused on the importance of speedy arbitration decisions and the presentation of the best angles for referees to make the right decision, and a summary of the most important recommendations of the International Federation of FIFA related to the referee of video assistant, and other on the application of the spirit of the law, and the video cases of the three games were reviewed. Which was held on the second day of the tournament at Diab Awanah stadium and gathered teams of amateurs.