The Sharjah Workers Championship, organized by the Labor Standards Development Authority in Sharjah, continued with the success of the Sharjah National Park stadiums, with the participation of more than 1000 players.
The eighth week's competitions witnessed a summit of clubbing and excitement, to settle the championship titles and crown the winning teams with cups and medals, and the best players were honored by Salem Yousef Al Qasir, Chairman of the Work Standards Development Authority in Sharjah, in the presence of a crowd of officials in the sports sector in the country and the Emirate of Sharjah, and team officials Participate in the tournament.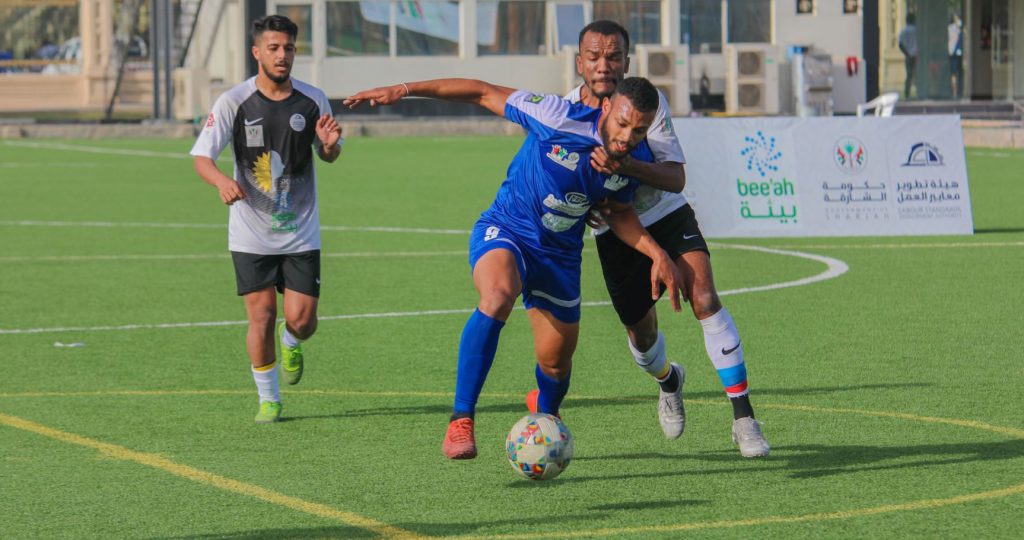 Fast and National Paints qualified for the football final, within the competitions of the fourth Sharjah Workers Sports Championship, held at the stadiums of Sharjah National Park, organized by the Sharjah Labor Standards Development Authority.
Fast's qualification came after defeating Skinova team in the match that brought them 2-1, and in the second match of the semi-final matches, he reached National Paints after winning his match with ADNOC team 3-1.
The basketball competitions held within the same tournament witnessed strong and exciting competitions in the struggle for the title, and resulted in the victory of the Oregon team over the BISDAQ team – 103-47, and the Fast Building Contracting team over the Muse Event Racquattro team – 56-55, and the Institute team defeated Sharjah Driving defeated the D 74 team with a score of 52-40, MBL Esteg team beat ADNOC team – 110-50, SBL team defeated Airstrike – 68-53, and Abu Shagara team defeated Blossoming team – 20-0.
As for the volleyball confrontations, two matches were held, and the Biggmelt team defeated Bee'ah 2-0, and Unifresh defeated the Nahda Club team – 2-1.
The cricket competition witnessed strength and excitement, and resulted in the Emirates Stevedoring team winning over ADNOC Sharjah, and the Sharjah Environment team defeating the Sharjah Archeology Authority team.
In hockey, the Sharjah Tigers India Hockey Club-Blue team defeated the UE Master Hockey Club 4-1 and the Khalifa Hockey Club Fujairah team defeated the United Emirates Hockey Club- White 4-1 in the workers' tournament, the largest event of its kind that attracted 120 teams. To his competitors.