The UAE Jiu-Jitsu champions, who have dazzled the world in all forums, have proven that they are up to the challenge and have shown great skill in striking a balance between sport, study, and work.
Mahra Al Hinai, 19, has managed over the past few years to strike the perfect balance between sport as a professional sports hero representing her country's jiu-jitsu national team, and her educational career.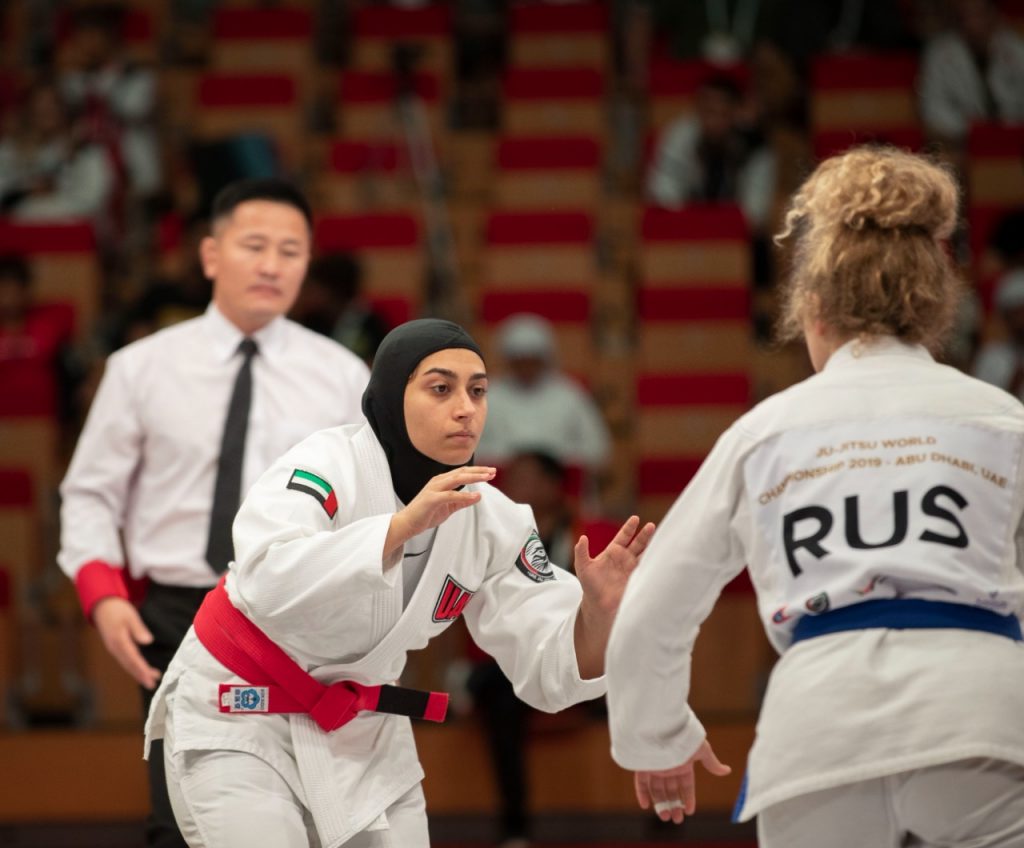 Al Hinai, who represents Al Ain Club and the first Emirati woman to win a continental medal at the Games level, after receiving the silver of the Asian Games 2018 in Jakarta, has succeeded in raising her level on the battle rug through daily training, and she is also among the group that won gold medals in the last two editions of the championship. Mother of the Nation "as well as winning bronze in the World Youth Jujitsu Championship, which Abu Dhabi hosted in 2019.
And by winning gold medals in the Al Ain International Professional Jiu-Jitsu Championship and the Dubai International Championship as well, Al Hinai confirmed that she is good at the art of balance and investing time in the best way in training, participation and excellence in university studies.
In this regard, Al Hinai says: "I used to translate the positive energy resulting from my practice of the sport that I love on my academic performance, as the sport of Jiu-Jitsu gave me a lot, raised my confidence in myself, and gave me the ability to face challenges, and this was reflected in my academic performance as I enjoy the time I spend. At the university with my professors and colleagues, as I am currently seeking to obtain a university degree in finance and business from the Emirates University in Al Ain, and I have benefited from my focus on the battle rug, in raising the concentration rates in the academic field.
As for Noor Al-Harmoudi, the owner of the blue belt, she also believes that the secret to achieving success on and outside the battle rug lies in time management, and Al-Harmoudi won a silver medal weighing 70 kilograms in the Abu Dhabi World Professional Jiu-Jitsu Championship in 2019, at the same time that success after another was achieved in her career. In the job you cherish and seek to return the favor to the homeland.
"My primary goal in jiu-jitsu is to obtain a black belt, which requires a great deal of dedication to training and successful participation in tournaments," Al-Harmoudi says. Work as coordinator in organizing and managing events, as well as for family time. "
By the nature of her work in the event management sector, Nour Al-Harmoudi spends long hours in field work, but that does not prevent her from training, because she knows how to organize her daily program, and Nour says: "I always carry my exercise equipment, as my sports bag accompanies me wherever I go Whether in work events or even vacation, and during travel, I always look for any training center to maintain my fitness and my level in sports. My strong desire to compete at global levels pushes me to make an extra effort to surpass my opponents. "
She adds, "Jiu-Jitsu players have a superb ability to control their emotions from the nature of their sport, which teaches them patience, endurance, discipline and self-confidence. These skills gave me the ability to reduce work tensions and pressures."