Marine biologists from Belgium and New Zealand for the first time recorded bioluminescence in a black shark, which lives in the depths of the sea off the coast of New Zealand. Such scintillations have never been observed in large vertebrates.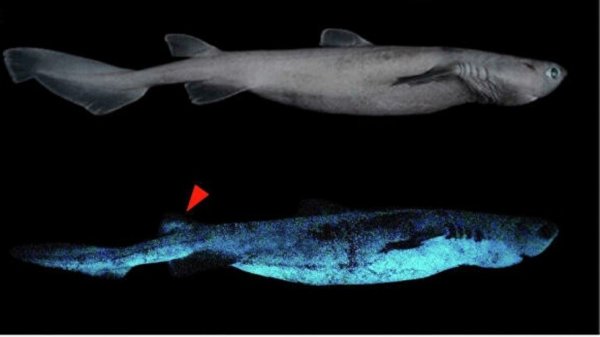 Frontiers in Marine Science notes that researchers from the University of Louvain in Belgium and the National Institute for Aquatic and Atmospheric Studies (NIWA) in New Zealand discovered bioluminescence in three species of deep-sea sharks caught in January 2020. They are Etmopterus lucifer, Etmopterus granulosus, and Dalatias licha.
Bioluminescence is the production of light by a chemical reaction in the body of living things, and it is common among small marine life. This is the first time when great sharks are made. For example, a black shark has a length of 180 fish . She is currently the largest representative of vertebrate luminous, where the length of the largest sharks luminous discovered previously reported 42 Sama.
The researchers explain that this feature was not observed in the black shark, that the sharks that live in the depths of the sea appear black when viewed from the top, while the bright parts of them are located in the abdomen, sides and dorsal fin.
But researchers were unable to explain the scintillation function of the black shark, as it is usually designed to scare off predators. But the shark has no enemies, because it is a strong and predatory fish and lives in tropical waters and warm temperate waters, at a depth of 200 – 1000 meters, and it feeds on bony fish, small sharks, cephalopods and crustaceans.
And some scientists believe that the scintillation function may help the shark to approach its prey, because when viewed from below it appears the color of the water and it is difficult for the prey to see it. The researchers plan to continue studying these fish, in order to pinpoint this function.