This time SpaceX collaborates with Planet, the satellite operator.
California: Elon Musk's SpaceX plans to launch three new satellites to Starlink, SpaceX's own Lower Earth Orbit (LEO) around earth. It will use the famous Falcon 9 rockets made by the SpaceX itself for the launch. This is a part of SpaceX's Starlink programme to start uninterrupted broadband service around the globe with Starlink. 'Planet' will be satellite operator that is preparing the launch of the satellites. Planet becomes the first of its kind to arrive at space as a part of SpaceX in the new satellite ride-share programme.
The three Planet satellites going up on this next launch will add to the company's existing SkySat constellation in low Earth orbit. The constellation is currently made up of 15 spacecraft, each about the size of a washing machine. The Planet satellites can generate high resolution image of the earth. Planet plans to round out the fleet with six more satellites: three going up on an upcoming Falcon 9 launch and three more set to fly on another Falcon 9 Starlink launch in July. The company initially announced its plan to launch with SpaceX in mid-May.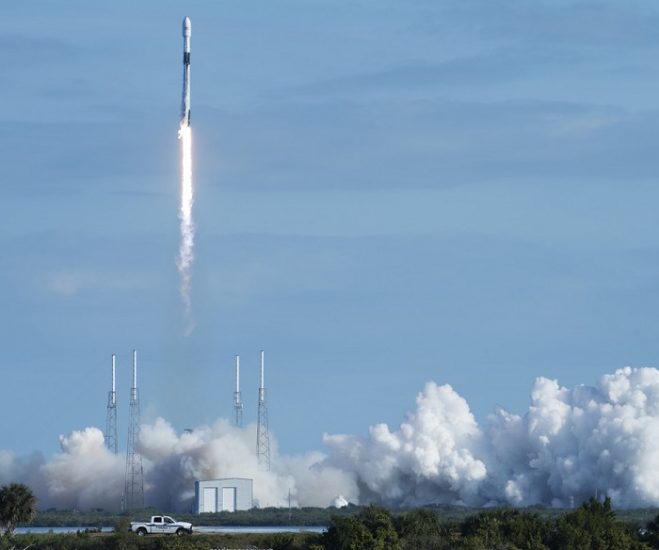 Previously, Planet has launched SkySats on a Falcon 9 rocket. The company sent up seven satellites, including two SkySats, on a Falcon 9 in December 2018. SpaceX called this 'SSO-A Mission' which was a massive ride-share that packed 64 satellites – all in one rocket.
Working directly with SpaceX has been a speedy experience, according to Planet. "One of the things that was really nice about working with SpaceX is that they work at a very similar pace as Planet," said Mike Safyan, vice president of launch at Planet. "We both go fast, and we do a lot of stuff in house which helps enable us to go faster than the typical aerospace project", he added. It took only six months to almost getting the launch since Planet has collaborated with SpaceX.
SpaceX has sanctions to launch a total of 12,000 satellites in the Starlink, about 60 satellites per month for starting the broadband service. "When you're working as a ride-share payload, you often have to pick one launch and then you just have to wait for whenever that primary payload is ready," says Safyan. "And sometimes those delays can add up to three, six, nine, 12 months. It really depends. Whereas with SpaceX, they're launching Starlink so frequently, and the orbit is just really well matched for what we were looking for these specific SkySats."
The three satellites will be situated on top of the stack of 60 Starlink satellites, all packed inside the Falcon 9's nose cone. Once these three and the next three SkySats launch, Planet will provide a new capability for customers: capturing images of certain spots on Earth up to 12 times in a single day. With just two launches to go, Planet is close to unlocking the full capability of the SkySat constellation with a total of 21 satellites. And Safyan says the company is excited to fly on the Falcon 9 again.
As a small satellite operator, Planet has lots of experience launching its satellites on different rockets, but the company said that the announcement of SpaceX's Starlink programme, costing the low price of just $500 per kilogram, was a game-changer. "If we can find a ride-share opportunity that has good pricing and it's going towards a desired orbit – and we have a pretty good confidence in the schedule – then that's typically our port of call."