Lebanon is in mourning after a massive explosion ripped through Beirut's port killing more than 70 people and injuring 4,000. The blast, at 6:08 pm local time on Tuesday, was so powerful it was felt in Cyprus, 120 miles away.
Rescue teams are still searching through the debris of ruined neighborhoods for the missing and hospitals are struggling to cope with the influx of casualties.
A two-week state of emergency has been recommended by President Michel Aoun. He also declared a three-day mourning period and said the government would release 100 billion lira ($66m) of emergency funds.
The unfortunate incident happened when 2,750 tonnes of highly reactive chemical ammonium nitrate that was stored in the Beirut port warehouse exploded.
According to Prime Minister Hassan Dia, the explosion devastated large parts of the Lebanese capital.
"It is unacceptable that a shipment of 2,750 tonnes of ammonium nitrate has been present for six years in a warehouse, without taking preventive measures," he said at a defense council meeting.
Video footage appeared to show two blasts, with some witness accounts suggesting the initial conflagration sounded "like fireworks". The first plume of smoke was then suddenly consumed by a massive fireball and white cloud, sending a shockwave scudding across the city.
The explosion destroyed wheat in the port's granaries, prompting fears of a looming food crisis across a nation already suffering bread shortages and paralyzed by the twin crises of coronavirus and an economic meltdown.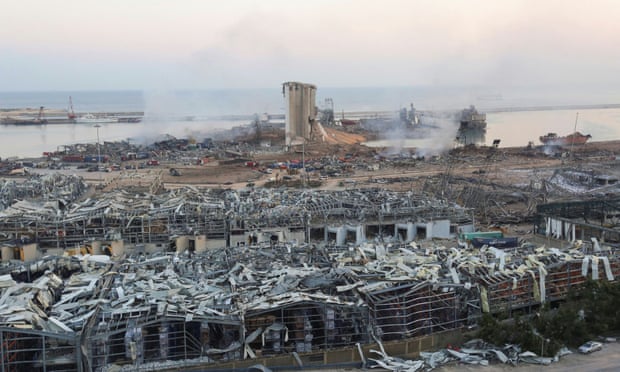 But the most immediate fear was for the casualties, and a health system already straining because of the coronavirus pandemic.
"There are many people missing. People are asking the emergency department about their loved ones and it is difficult to search at night because there is no electricity," Health Minister Hamad Hasan said.
In the aftermath of the blast, thousands of people sought treatment in nearby hospitals, which were struggling to cope, or had been incapacitated by the blast.
A security source told AFP that victims of the blast had been taken for treatment outside the city because Beirut hospitals were overwhelmed with wounded. Ambulances from the north and south of the country and the Bekaa valley to the east were called in to help.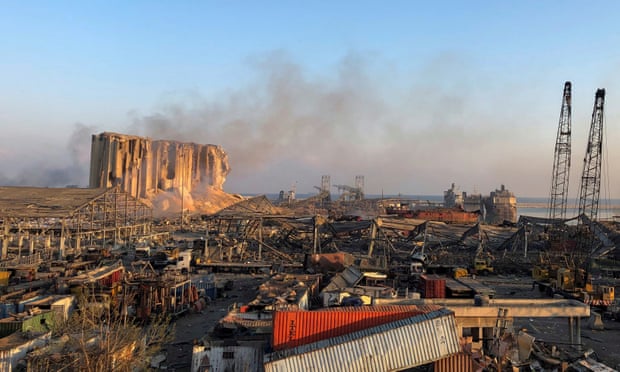 "What we are witnessing is a huge catastrophe," the head of Lebanon's Red Cross Georges Kettaneh told broadcaster Mayadeen. "There are victims and casualties everywhere." The Red Cross issued an urgent call for blood donations.
The final death toll is expected to climb significantly as rescue teams begin combing through damaged buildings.