The famous rap star, Kanye West filed with the Federal Election Commission on Wednesday in his first official step toward running for president in November.
He filled out Form 1 declaring that the Kanye 2020 committee will serve as the 'Principal Campaign Committee' with West as its candidate. Form 1: Statement of Organization is the first form required by the FEC to run for president.
A representative for West filed the necessary paperwork and paid the $35,000 filing on Wednesday afternoon, which was the deadline for a spot on the state's November 3 presidential ballot, said Oklahoma Board of Elections spokeswoman Misha Mohr.
He was one of three independent presidential candidates to pay the filing fee prior to the deadline, she added. The others were concert pianist Jade Simmons and cryptocurrency entrepreneur Brock Pierce.
West 43, declared he will be running as a third-party candidate for the BDY Party, which he says stands for the Birthday Party.
The FEC form signals West is serious about running for president in November after announcing on July 4 that he would be seeing the White House four years earlier than he previously said.
The move with the FEC comes after reports emerged Tuesday that West decided to end his campaign less than two weeks after announcing he was seeking a run.
A few hundred people are working on the ground for West already, but an election strategist told the Intelligencer on Thursday, just hours before the FEC filing dropped, 'He's out.'
Although Kanye West finished the first form to run for president, he has yet to fill out Form 2: Statement of Candidacy. And confusion remains over whether he's actually running.
The second and more important form would show that he has raised or spent more than $5,000 in campaign activity and would trigger immediate candidacy status under federal campaign finance law. The FEC filing shows funds for West's campaign will go through First Bank of Wyoming.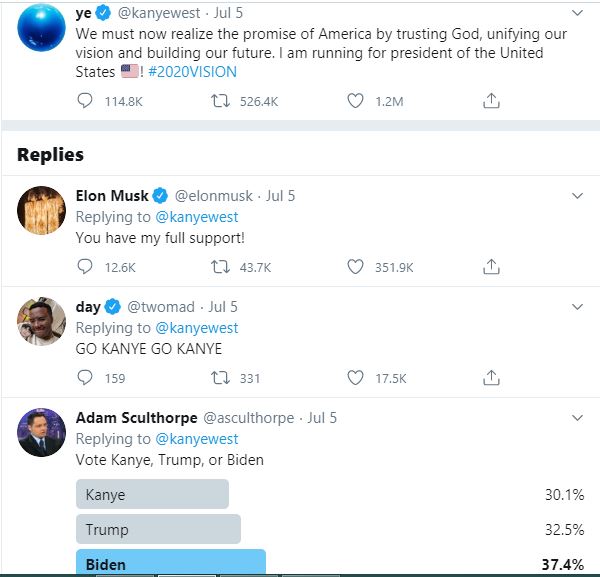 The move comes as West has, on several occasions, talked about his desire to move him and his family to the deep red state and is in the process of building a massive mansion there now.
Immediately following his announcement, West's wife, pop culture icon Kim Kardashian West, reposted his message along with an American Flag emoji – signaling her support. West's longtime friend and eccentric billionaire and CEO of SpaceX Elon Musk also showed his support on Twitter for the candidacy.
West has already missed the deadline to qualify for the ballot in several states, and it's unclear if he is willing or able to collect enough signatures required to qualify in others.