A strong earthquake hit Mexico on Tuesday in the southern state of Oaxaca, almost three years after a tremor in the central state of Puebla killed more than 300 people.
The tremor killed five people and injured five near the earthquake's epicenter in Oaxaca, a mountainous state known for its coffee, mescal and Spanish colonial architecture.
The U.S. Geological Survey initially said the quake's magnitude was 7.7. Mexico's seismological institute put its strength at 7.5, according to Mexico President Andrés Manuel López Obrador.
Rockfalls blocked the winding mountain roads between the state capital of Oaxaca City and the coast. A clinic and other buildings in hill villages near the epicenter were severely damaged, images on social media showed.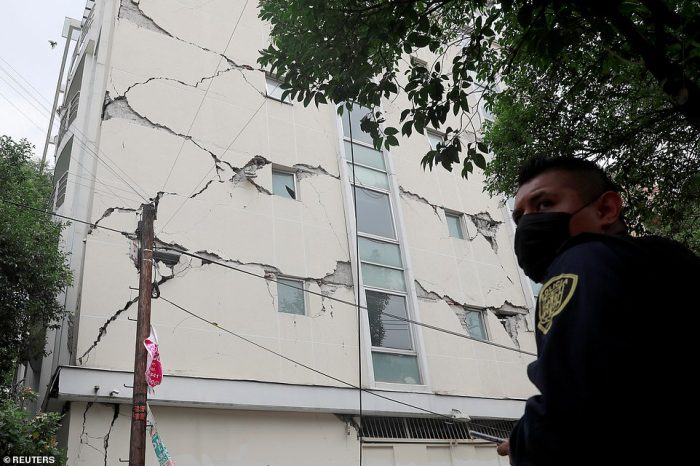 An Oaxaca state agency that assessed the damages informed governor Alejandro Murat that a 92-year-old man was killed when a fence fell on top of him in the town of San Agustín Amatengo. A 53-year-old worker for PEMEX, the state-owned oil company, died when he fell off a work area at the Antonio Dovalí Jaime Refinery in the municipality of Salina Cruz.
A 26-year-old man in the city of San Francisco Ozolotepec and a 22-year-old woman in the Santa María Huatulco neighborhood of La Crucecita were also killed after the buildings they were in collapsed.
President Andrés Manuel López Obrador said one person was killed in a building collapse in Huatulco, Oaxaca, while state governor Alejandro Murat said a second person was killed in an apparent house collapse in the mountain village of San Juan Ozolotepec and a third died in circumstances he did not explain.
Federal civil defence authorities reported two more deaths: a worker at the state-run oil company, Pemex, fell to his death from a refinery structure, and a man died in the Oaxaca village of San Agustin Amatengo when a wall fell on him.
The earthquake also killed a boy – whose age was not released – in San Juan Ozolotepec.
The earthquake caused several injuries, including one person who was treated after a transformer exploded at a state-owned oil refinery in Salina Cruze.
The tremor was felt in the states of Chiapas, Guerrero, Veracruz, Morelos, Estado de México and Puebla, and the capital Mexico City.
The National Oceanic and Atmospheric Administration issued a tsunami alert for Mexico, Guatemala, El Salvador and Honduras. The US Pacific Tsunami warning center said waves as high as 10 feet could hit anywhere within 600 miles of the quake's epicenter.
Ecuador's Oceanographic Institute of the Navy [INOCAR] issued a tsunami alert for residents living along the coast of the South American nation.
Mexican authorities confirmed an aftershock at 11:32am that registered 5.2 on the Richter scale in Oaxaca.
The earthquake, which hit at 10:29am local time, shook buildings in the center of the capital of Mexico City, hundreds of miles away and sending hundreds of people fleeing their homes into the streets.
Mexican television network Milenio showed a slab of concrete separating from an apartment building in the Mexico City neighborhood of Cuauhtémoc.
Inbound and outbound flights from Benito Juarez International Airport in Mexico City were temporarily halted. Images from local television stations showed hundreds of travelers milling outside the airport.
Residents took to social media to share footage of the powerful tremor, causing a cobblestone sidewalk in the Mexican capital to separate as the ground moved for various seconds.