Lebanon is in mourning after a massive explosion ripped through Beirut's port killing more than 70 people and injuring 4,000 on Tuesday. Many countries and humanitarian aid organizations are coming together to lend a helping hand to Lebanon. UAE also acted quickly and responsibly to help the nation in distress.
Other than human and property loss, the explosion prompted fears of a looming food crisis across the nation already suffering bread shortages and paralyzed by the twin crises of coronavirus and an economic meltdown.
Under the directives of His Highness Sheikh Mohammed bin Rashid Al Maktoum, Vice President and Prime Minister of the UAE and Ruler of Dubai, the UAE has dispatched emergency medical assistance to Lebanon to help healthcare facilities treat victims of the massive explosions in Beirut.
The assistance, which includes medicines and medical supplies, reflects the UAE's solidarity with the brotherly Lebanese people.
The unfortunate incident happened when 2,750 tonnes of highly reactive chemical ammonium nitrate that was stored in the Beirut port warehouse exploded.
"What we are witnessing is a huge catastrophe," the head of Lebanon's Red Cross Georges Kettaneh told broadcaster Mayadeen. "There are victims and casualties everywhere." The Red Cross issued an urgent call for blood donations and other aid.
This medical assistance from the UAE is represented by the Ministry of Health and Prevention, the World Health Organisation, and the International Federation of Red Cross and Red Crescent Societies.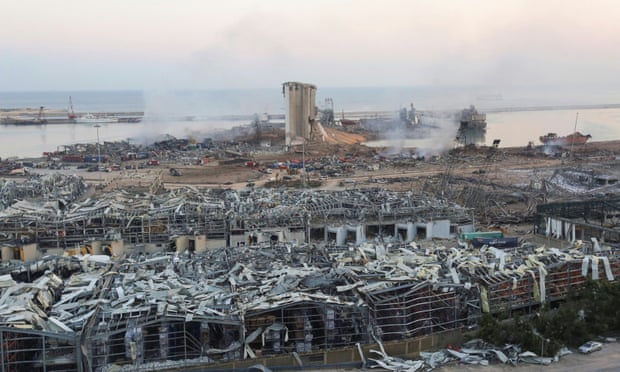 It is part of a response to help mitigate the effects of the tragic accident and strengthen the efforts of medical personnel to treat the wounded. As part of the humanitarian assistance, 30 tonnes of medical supplies were sent from the International Humanitarian City in Dubai to Lebanon.
The aid consisted of essential medicines, medical supplies, and surgical equipment needed to treat the injured and enable hospitals and medical centers to rapidly deal with cases requiring urgent care or surgical intervention.
Reem bint Ibrahim Al Hashemy, Minister of State for International Cooperation said, "The UAE's commitment to providing various forms of support in such situations underlines our solidarity with all brotherly and friendly countries in times of crises and our desire to make concerted efforts to mitigate challenges. We will work to assess the situation to evaluate what further assistance we can provide."
The relief supplies were dispatched by the Ministry of Health and Prevention from the warehouses of Dubai's International Humanitarian City (DIHC). DIHC coordinates relief efforts for various international humanitarian organizations in the region.