The fifth phase of the Government of India's 'Vande Bharat' mission is announced to begin by August 1. The mission was launched on May 7 aimed at evacuating Indian nationals stranded in various foreign countries owing to restrictions on air travel.
"Under Vande Bharat Mission, we have already brought back more than 2.5 lakh stranded Indians from 53 commies," Air India said in a statement today.
"We will be soon announcing a host of additional flights under Vande Bharat Mission Phase 5 starting from 1st August 2020," the national carrier said.
The fifth phase will include 105 repatriation flights set to be operated from the UAE to various cities in India, said officials at the Indian missions in the country.
"A total of 74 flights will operate from Sharjah and Dubai to various cities in India starting August 1 to August 15," said Consul Press, Information, and Culture Neeraj Agarwal.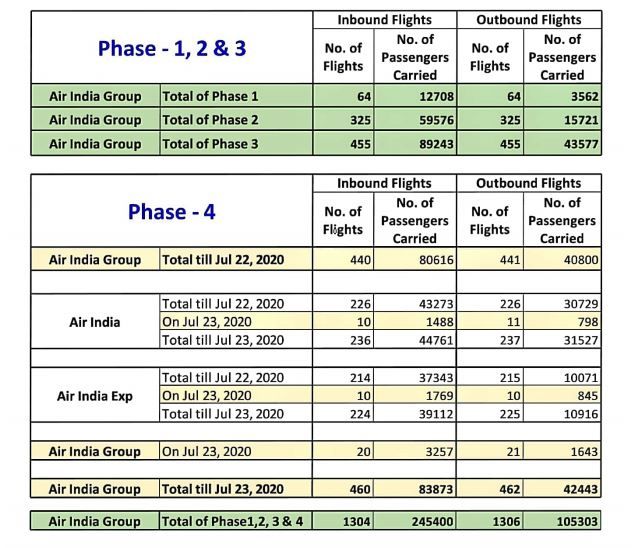 Meanwhile, an official with the Indian Embassy in the UAE has said around 31 special flights will fly from Abu Dhabi to Indian cities between August 1 and 15 as part of Phase 5.
"The formal announcement and online booking details of the special Air India and Air India Express flights will be announced shortly," said Agarwal.
Commenting on the travel agreement between India and UAE to fly stranded residents in India back to the UAE, Agarwal said, "The status quo remains and more clarity will emerge shortly."
Flights for the USA, Canada, Qatar, Oman, UAE, Australia, Germany, Thailand, Singapore, UK, Germany, Saudi Arabia, Bahrain, New Zealand, Philippines, and several other countries have been planned under this phase.
Meanwhile, aviation minister Hardeep Singh Puri said, "As we did earlier, more destinations and flights will be added as this phase progresses."
According to the External Affairs Ministry of India, over 7.88 lakh Indians stranded abroad due to coronavirus pandemic have returned under Vande Bharat Mission till July 22.
Under the fourth phase of the mission, India and the UAE had launched a 15-day special agreement to operate flights from July 12 to 26. As per the agreement, Air India and Air India Express flights operating repatriation flights under the Vande Bharat Mission from the UAE to India can fly UAE residents stuck in India back to the UAE on their departure leg of the trip.
"I can confirm that the existing travel arrangement to bring back passengers who have received approvals stipulated by the UAE government will continue for the time being," assured Agarwal.
He added, "People who are desirous of going back to India need not worry as there are ample flights available from UAE and Indian carriers as well as private carriers. The same can be said for passengers wishing to return to the UAE."