Today, for fear of infection or the spread of the Corona epidemic, we find many people, especially those with germophobia, carrying a bottle of hand sanitizer at all times. While some people take extreme precautions, hand sanitizer is essential but should be used in moderation.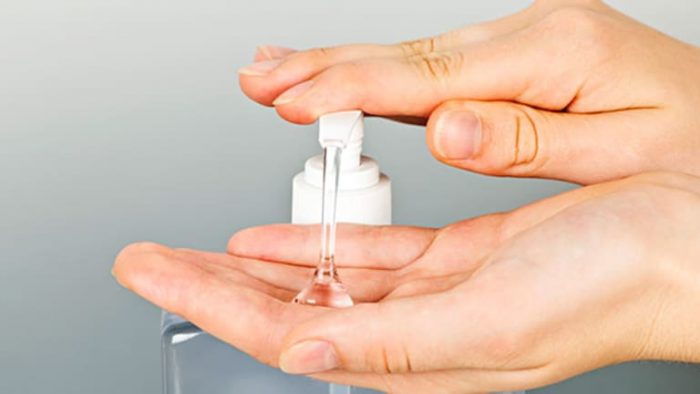 But while getting hand sanitizer may sound like a smart idea, overuse of it may harm your health more than it does for you.
Stimulates the development of antibiotic-resistant bacteria 

Hand sanitizer contains many ingredients, but the biggest one you should be aware of is triclosan.
Also known as TCS, this is the active ingredient in some hand sanitizers. While this ingredient removes microbes, scientific studies have found that it stimulates the development of antibiotic-resistant bacteria. Exposure to a large amount can lead to an increase in drug resistance to E. coli.
Increased risk of developing eczema
To prevent the spread of the coronavirus, the Centers for Disease Control and Prevention recommends washing hands often with soap and water for at least 2 0 seconds, or using a hand sanitizer that contains at least 6 0 % alcohol, when not available. Following this advice is essential, but increased contact with irritants and allergens may increase the risk of developing hand dermatitis or eczema. 
This usually manifests itself on the skin with redness, dryness, cracks, and even pimples that cause itching or pain. It's important not to overdo it with cleanser and moisturizers after each use. Using a moisturizer that ideally contains mineral oil or Vaseline can help prevent hand dermatitis. While moisturizer should be applied immediately after washing hands, this is not the case with hand sanitizer. Individuals must rub their hands for 1 to 5 minutes3 – 0 seconds to cover all surfaces with hand sanitizer to dry hands, then apply moisturizer?
Skin irritation
The main antiseptic ingredient in hand sanitizer formulas is ethyl or isopropyl alcohol, and they are formulated along with softeners to intensify odors and sometimes fragrances to reduce the strong smell of alcohol. Repeated use can cause skin irritation or dry skin. If you have sensitive skin, the effects could be worse. 
Washing your hands with warm soapy water is the best way to kill any germs, but there are times when you cannot reach the soapy sink. If you can't cut back on the use of hand sanitizer, it is a good idea to follow a moisturizing regimen.
Some combinations can affect fertility
Some hand sanitizers contain alcohol, such as ethyl alcohol, as an active ingredient that acts as an antiseptic. However, there are some alcohol-free hand sanitizers that consist of an antibiotic compound called triclosan or triclocarban. Several research studies have reported that triclosan poses a health risk as overuse of it has negative effects on fertility, fetal development and asthma rates. It is recommended that you always wash your hands with soap and water to completely eliminate germs.
Some of them affect the immune system
Triclosan also impairs human immune function. A weak immune system makes people more vulnerable to allergies.