Offering Gerland Guerlain group Abay Royal Abeille Royale new rituals Hand care that combines efficiency and takes care of delicate hands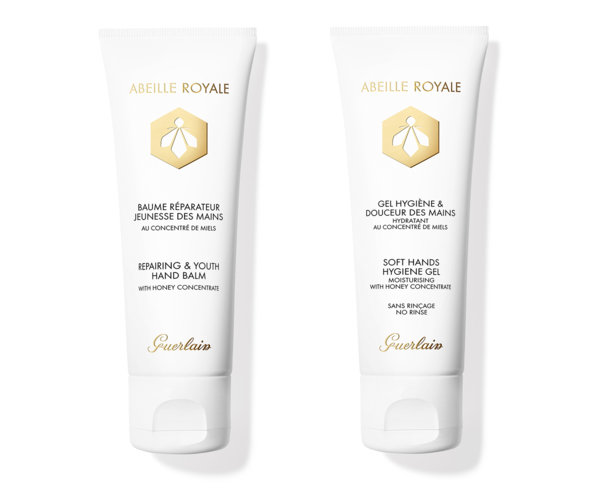 Soft Hands Hygiene Gel
Frequent use of the cleaning gel without washing it can dry out and damage your hands. This problem has now been addressed and alleviated by the development of the new Abeille Royale Hand Gel. This hand cleansing gel with concentrated honey and glycol has been tested on sensitive skin, a new formula specially formulated to clean hands while keeping them hydrated. The result is remarkably soft and moisturized hands.
Its texture is fleeting, non-slippery and upon application it quickly absorbs into the skin and smooths it without leaving a pelletizing or thin greasy film. What it leaves out is the delicate and comforting scent of honey.
Abeille Royal Soft Hands Hygiene Gel Moisturizing was developed to clean hands whenever needed without washing them, available in a white tube with an elegant matte texture and cap designed for easy one-handed use.
Repairing & Youth Hand Balm
Made with concentrated honey, the treasure of the hive, this rich balm takes care of the most affected hands, softening and enveloping the hands of youth.
Like an ointment, this soft and rich balm envelops the skin and leaves it deeply comforting. Thanks to Guerlain's expertise in formulating its products, the skin absorbs the texture of this creamy conditioner very quickly and disappears completely after application. No stickiness, no squishing or greasy effect on hands.
In return, this conditioner nourishes the skin in depth and softens it instantly. Even those for the driest hands. With use, the complexion becomes firm, smooth and plump. And just like real skin care for the hands, the nails are also strengthened during the process of smoothing and reviving the skin, making the hands look more beautiful than ever before. To deliver an exclusive sensory experience, the distinctive soft honey scent of Repairing & Youth Hand Balm marries the gel and two layers of texture with each other without wrinkling or irritation.
Stylish and portable, this conditioner is available in the same white tube with a matte finish and an easy-to-use cap as Soft Hands Hygiene Gel Moisturizing.