Rose water has been used for thousands of years for its potential health benefits and is a popular ingredient in beauty and food products. Studies indicate that it may have antibacterial, soothing properties and is beneficial for the skin.
The powerful antioxidants in rose water can fight skin inflammation and redness. It may also help delay the signs of aging. Rosewater is also known to promote wound healing and aid in treating eye infections.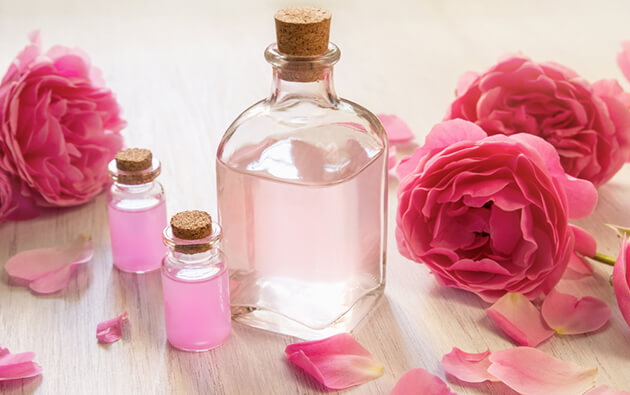 Treatment of dermatitis
Rose petal extracts have been found to show anti-inflammatory activity on the skin. This can be attributed to the polyphenols, anthocyanins, and flavonoids in the extracts. Rosewater also protects the skin from infections caused by the sun's UV rays. Rosewater also contains vitamin C that further contributes to its anti-inflammatory properties and reduces redness and irritation of the skin. The anti-inflammatory properties of rose water may also help treat acne.
Delay the signs of aging
Regular use of rose water may delay the appearance of wrinkles and tighten pores. You can use it to even out your skin tone every morning after you shower. Rosewater contains anti-bacterial and anti-inflammatory properties that contribute to reducing redness and swelling of the skin, reducing the appearance of acne, and it has properties that reduce the formation of wrinkles.
Calm a sore throat
Rosewater is used in ancient traditional medicine to relieve sore throats and treat enlarged tonsils, thanks to its antibacterial properties. Although there is not enough scientific evidence to support the effectiveness of rose water in relieving sore throats, some old studies have proven that it helps relax the muscles of the throat.
Treatment of eye infections
Rosewater may help treat eye infections, including conjunctivitis and dry eye syndrome. Rosewater contains analgesic and antiseptic properties that may help treat eye diseases
Wound healing
The antibacterial and antiseptic properties of rose water may aid in wound healing. It can be used to treat burns, scars, and wounds. Rosewater has a host of antiseptic properties that aid in disinfecting wounds and preventing and treating infections.
Reducing stress
Inhaling rose water helps boost mood and relieve stress. Some research suggests that rose water may have antidepressant-like effects that help improve mood. Rose water contains anti-depressant and anti-anxiety properties, thus it is used in the treatment of many mental disorders such as depression, stress, and tension, as well as aids sleep.
Treating headaches
The use of rose water or rose oil may help relieve the pain of headaches, migraines, and tension, thanks to its sedative properties that help to relax and improve mood and thus reduce stress and lower blood pressure, which are the main factors causing headaches.