There is nothing worse than experiencing the feeling of spending a whole night without sleep and staying up at a time when the body is supposed to relax, this problem is called insomnia, and it suffers a lot in our time, where the pressures of daily life are constantly increasing.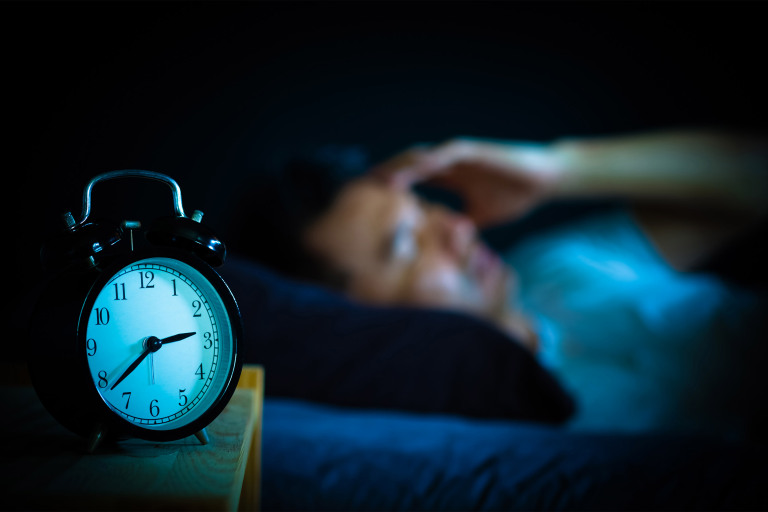 According to a study in the Journal of Clinical Sleep Medicine, getting seven hours of sleep a night can lead to fewer feelings of depression, and getting fewer hours is a guarantee that leads to weight gain and increases your chances of getting sick.
Set the appropriate temperature
A very warm room makes you sweaty, while super cold thresholds will make the person shiver, so it is preferable to set a temperature between 60 and 73 degrees Fahrenheit, where a slightly cold temperature helps reduce the internal temperature of your body, feeling sleepy, and ensuring you stay all night In rest and relaxation.
Modify the mood
Dim the lights for at least 30 minutes before going to sleep and turn off all sources of noise such as the fan and other machines available in the room, as well as work on playing soft music in a low voice, and all these signals are useful for overcoming insomnia and telling your body that it is time to sleep by helping it provide all the ingredients for a peaceful, quiet night.
Use of essential oils
Incorporating essential oils, or scents, into your nighttime routine is a safe, natural, and therapeutic way to encourage your body to relax, and we particularly mention here using lavender and chamomile oils to remove stress and relax the body and make it ready for sleep on those nights you cannot sleep.
It will be useful to rub your pillow with your hands with almond oil or coconut oil, or rub it on your neck. You can also use scented candles with essential oils to spread their scent throughout the room.
Relax the mind
Lie on the bed, holding a good novel or book of spiritual growth half an hour or so before bed. This practice gives your body an opportunity to relax instead of forcing it to try and head straight to sleep, here your sleeping position as you peruse one of your favorite books is very important.
Avoid getting drunk late at night
Avoid eating sugary sweets, chocolate, simple carbohydrates, juice or high-sugar fruit right before bed, as it can raise your blood sugar level, boost your energy, and you can wake up from feeling hungry. Instead, focus your choice on protein with vegetables or a small amount of complex carbohydrates with protein, which can boost melatonin and help you fall asleep quickly!
Some good bedtime snacks are: Half a banana with almond butter on a slice of hummus bread with carrots and cucumber or apple chips, celery and sunflower butter, a small handful of cashews, 1/4 cup of dried fruit.
Keep the electronics away from the bed
Watching TV in bed, responding to emails, and working late at night will exercise your mind to think that your bed is just another place to get things done and not the place to rest and relax after a long day.
Make sure to watch your evening programs in the living room and keep the bedroom as a sacred space for sleep and rest only.
Maintain a regular sleep schedule
Maintain your circadian rhythm by organizing your sleep schedule and sleep timing even on the weekends, this way you will find it easier to fall asleep and wake up normally, and be sure to get an average of eight hours of sleep a night.
Limit caffeine after 12 pm
Did you know that the effects of caffeine can last for up to 12 hours? If you cannot sleep at night, then the cup of coffee you drank in the middle of the night is to blame, try an alternative caffeine-free drink such as a refreshing cucumber juice with ginger that will give you an energy boost without depriving you of sleep.
Morning exercises
Try shifting your workout schedule to the morning, which will make it easier for you to feel relaxed at night.
Discharge your preoccupation with writing
Often times before bed, we have those special thoughts that prevent us from falling asleep, and instead of being preoccupied with problems in your mind after turning off the lights, try writing before bed. It's a healing remedy for what's bothering you and tell the story of your day before you drift off to sleep.
Don't count time or force yourself to sleep
If you find yourself having trouble going to sleep for more than 20 minutes, and you are still feeling uncertain, do not force yourself to sleep, and instead try reading Ritma's book to feel sleepy and avoid technology, watch TV and make sure the lighting is dim.
Get some sunshine
It is important to start your day with exposure to the natural light from the sun, as it helps reset the biological clock, and it also balances melatonin and cortisol levels in the body, try taking an early morning walk or leaving the office during lunch hour to get a dose of sunlight.
Before going to sleep, take a relaxing bath
A perfumed bath with essential oils or Epsom salt will help dilute toxins from your body, release the power of essential oils, and calm both the body and the brain, a lavender bath is a favorite for feeling relaxed and bringing balance to the body.