Our life is so blend with mobile phones that we cannot even think of a day without it. Most of us check our phone several times a day, be it to check messages, send emails, surf the net, or call someone. Some of us watch movies on our tablets or read e-books on our e-reader while on the go. For others, we may be texting for as long as hours a day!
Quite literally, it is time to look up, if you are a mobile phone or tablet addict. A new study published in the journal Surgical Technology International suggests that the typical texting and mobile surfing posture is the equivalent of placing a 60-lbs / 27-kg weight on one's neck. Dr. Kenneth Hansraj, a spinal and Orthopedic surgeon developed a computer model regarding the phone surfing model: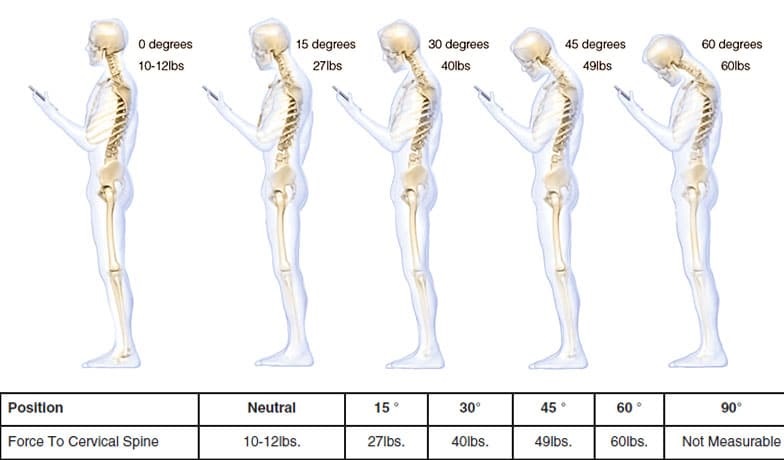 According to Hansraj's results, the force exerted on our spine dramatically increases when our head flexes forced. It goes from 10 to 12 pounds in the neutral position (that's the weight of an average adult human head), to 27 lbs / 12 kg at 15 degrees, to 40 lbs / 18 kg at 30 degrees, to 49 lbs / 22 kg at 45 degrees and 60 lbs / 27 kg at 60 degrees! 60 lbs — that's five to six times the usual force on our neck at a neutral position. That isn't light by any means, and is the equivalent weight of a boxer dog, a punching bag, or an arm chair!!
This data can be realized as alarming if we consider the fact that a person spends at least two hours on mobile phones, on an average. Assuming two hours a day, that adds up to at least 700 hours a year, meaning at least 700 hours of additional stress to our spine a year each year! With back pain affecting 8 out of 10 people at some point in their lives and spinal problems starting as early as age 29, it is important that we don't take our spinal health for granted. I will give you 6 tips to avoid this:
When using your phone, hold it up to chin level, as opposed to your chest or waist level. Putting it at your chest or waist level forces you to push your neck down and forward, which is where bad posture begins.
If you have a tablet, use a tablet stand so you don't hunch over as much when using it. Prop it up on a table of good height (not too low that you have to slouch).
Just because your device is not in front of your face doesn't mean you need to tilt your head completely to read it. Your eyes have a range of motion, so use that (and minimal tilting) to read your device.
Increase the readability in your device. Increasing the default font size, particularly for SMS, Whatsapp etc that you use more, zooming the pages and increasing the brightness can be don to achieve it.
Take regular stretches and exercises while using the device. I can suggest a tutorial in case you experience any posture-related back pain