Cryo Health is the first spa of its kind in the Middle East dedicated to cryotherapy. Cryo Health Resort in the United Arab Emirates opened in June 2013 in Emirates Towers Boulevard in Jumeirah, in addition to a second facility in the Ladies Club in Dubai. 
Cryo Health is the first spa of its kind in the region to offer cutting-edge solutions in local and total cryotherapy.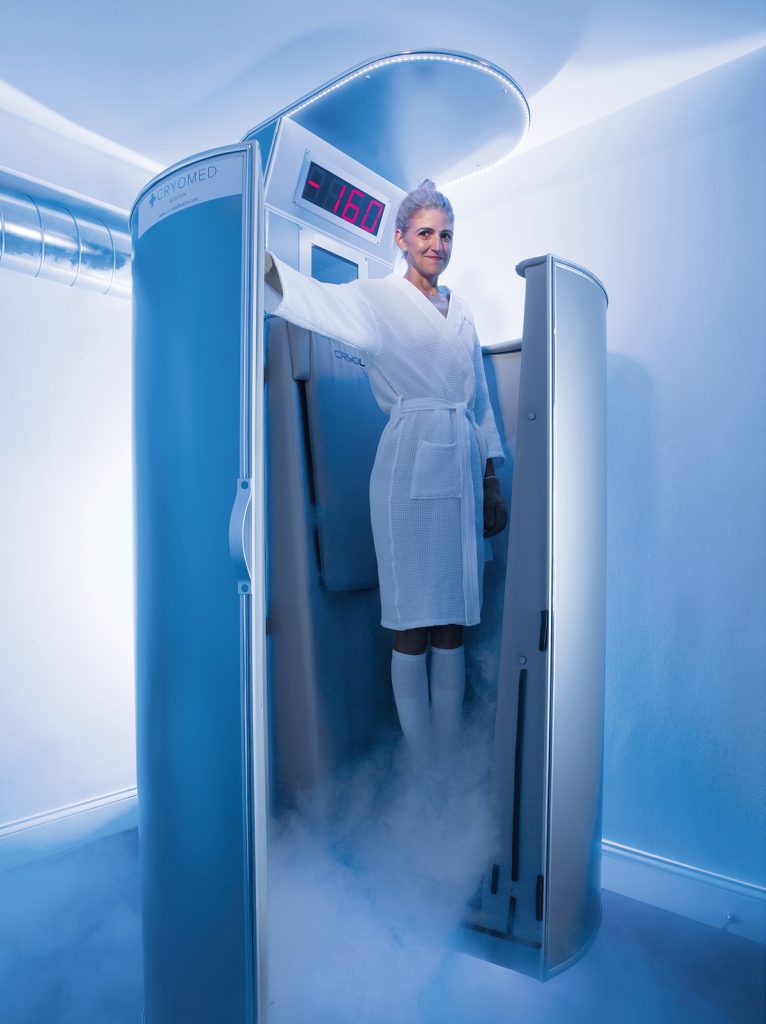 Its benefits
Cryotherapy is a healthy treatment based on very low temperatures (from 120 to 160 degrees Celsius below zero). The process of temporarily freezing the surface of the skin stimulates the release of endorphins and adrenaline hormones in an instant and at increased levels. In addition, cryotherapy provides amazing health care and well-being benefits, including skin rejuvenation and fighting signs of aging by stimulating collagen production and controlling weight loss by using a subzero temperature to accelerate blood circulation and raise metabolism rate to burn 400 – 800 calories in one sitting.
An essential ingredient for beauty preservation
Losing weight is no longer a distant wish
One session in a cryotherapy room can burn from 400 to 800 calories in just 3 minutes! Low temperatures stimulate the process of temporary freezing of the surface of the skin, and raise the rate of metabolism, leading to the release of endorphins and adrenaline hormones in an immediate manner and at increased levels. There is no doubt that following a balanced diet and exercising regularly are two steps necessary to maintain a beautiful body, but if you are seeking a strong start to the process of losing weight, and if you want to prepare your body to burn the largest number of calories, then you should consider a complete cooling treatment for the body.
There is no need for surgery
Cryotherapy offers a non-invasive alternative to Botox and other aggressive surgeries, as this treatment breaks up and eliminates toxins stored under the layers of the skin. The extreme cold also stimulates collagen production, leaving your skin feeling clear and firm. The result is an even complexion, with fewer fine lines and wrinkles.
Who does not want that!
 An instant boost of energy
We all need an energy boost now and then. On some days, the alarm may ring in the morning before we can plunge into a deep sleep that rejuvenates our youth. Therefore, cryotherapy allows the brain to release the natural soothing endorphins, to help you cope with extremely cold temperatures. These same hormones increase energy levels and give you a sense of joy and pleasure that lasts for up to 8 hours. The treatment also has anti-inflammatory properties, meaning you will look and feel fresh, not bloated and swollen! 
Celebrities believe in its effectiveness
In preparation for the red carpet ceremony, celebrities such as Demi Moore, Jennifer Aniston and Jessica Alba are turning to cryotherapy. Professional athletes like Cristiano Ronaldo and Kobe Bryant love this treatment for muscle recovery after grueling training sessions. Low temperatures lead to blood flow in the abdomen of the body to protect the organs, so the blood receives a sufficient amount of oxygen before it is pumped back into the body, which prevents muscle spasms and acute pain.
Get rid of cellulite!
Another welcome benefit of this pioneering technology is the reduction of cellulite. Cellulite is the result of a deficiency in the skin's energy supply. However, restoring the flow of energy in the body through the temporary freeze process may help restore the skin, reduce the appearance of cellulite and the appearance of early signs of aging.