Whether you are a regular or an occasional runner, having the right workout/ running shoes are an absolute necessity. Injury caused by inappropriate shoes can be serious and can even get you hospitalized.
Investing in a quality running shoe can help you to prevent foot and ankle damage, and make your workout a more pleasant and comfortable experience. But having good-quality and perfect fit shoes does not mean everything, it's also important that you maintain those shoes properly so you can enjoy them for a long time.
Here are some helpful tips that can give your shoes longer life.
Only wear your shoes for working out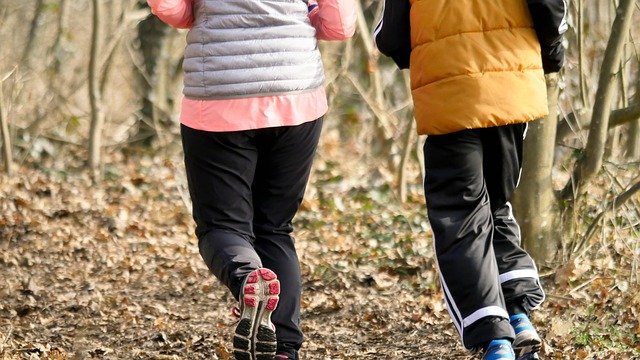 This is probably the basic tip you have to know. Although your running shoes may be very comfortable, don't wear your running shoes for anything other than running. Even if you are just walking around, you are still wearing out the cushioning. When you begin to feel that your shoes are losing their bounce it's time to replace them before their material breakdown leads to injury.
Proper storage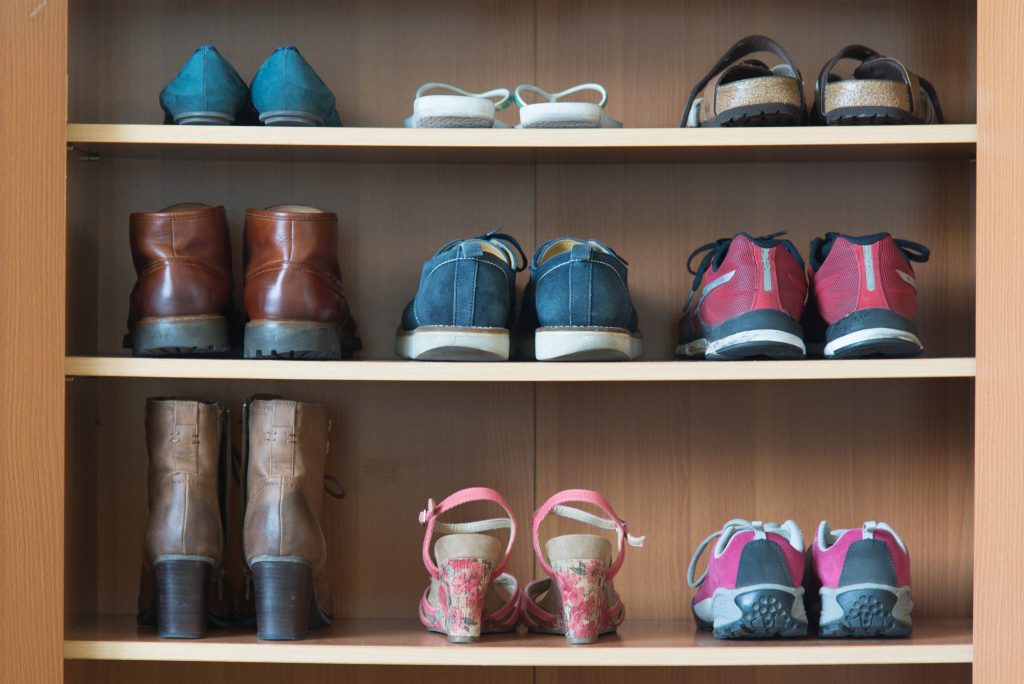 Keep your shoes away from heat or direct sunlight. Do not pack them in a box or plastic bag as it will prevent air circulation resulting in bad odor. Don't stack your shoes under boots or other heavy shoes.
Do not leave your shoes in hot cars or under direct sunlight. This dries up, shrinks, and hardens the midsole, which reduces the durability and cushioning.
Use your shoes appropriately
It is always recommended to use two pairs of running shoes if you are a regular runner. When the midsole of the shoes gets compressed, it generally takes a few hours to bounce back into shape. Give your shoes a 48-hour break between runs. This can extend the life of a pair by up to 100 miles.
Replace your shoes timely
It is recommended to replace your running shoes after every 400 to 500 Kilometres (9-12 months) of usage as its outer sole gets worn out and its midsole gets compressed resulting in a loss of the cushioning which is required. However, there are some that may need replacing after just 300 miles.
Keep them clean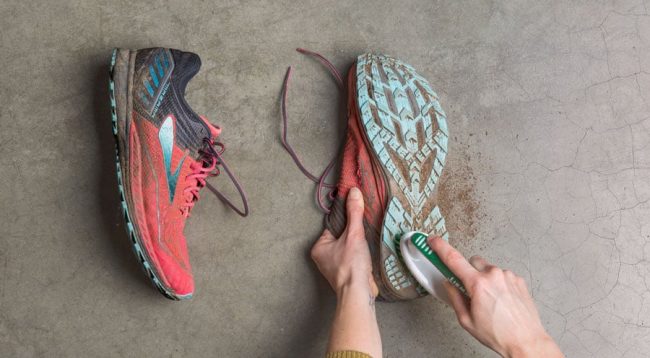 Leaving your shoes in a muddy and clammy state reduces the quality of the rubber used in the sole. Remove the mud with a brush and water and let it dry naturally.
Hand wash only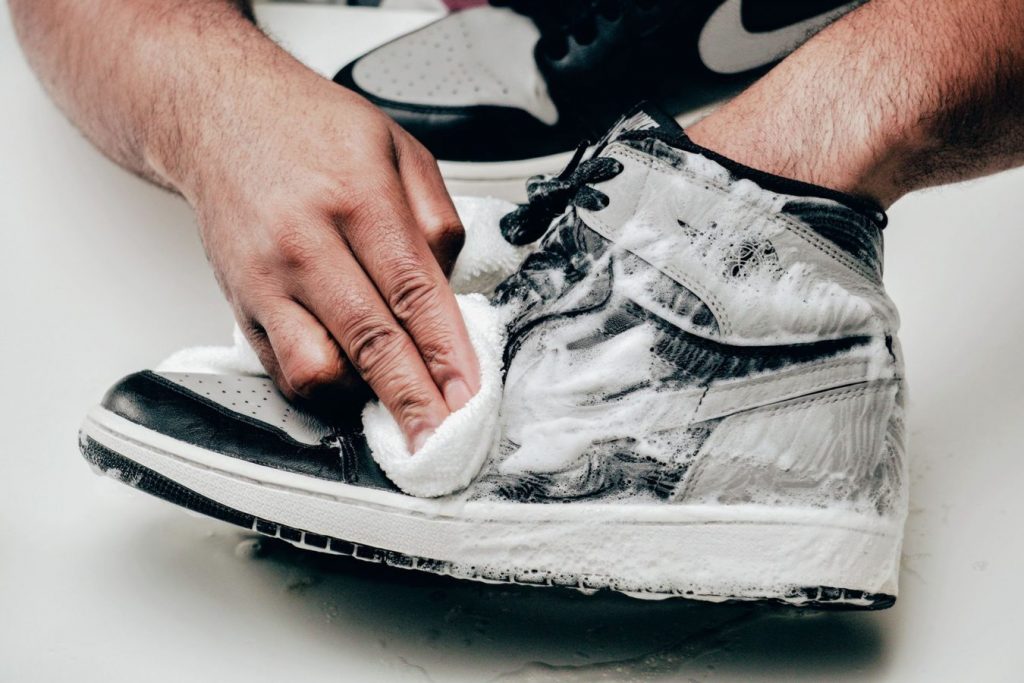 The textiles and performance materials of running shoes are not meant to go through an intense wash and dry cycle. Always wash your running shoes with your hand/brush with mild soap and warm water. Never put your running shoes in a washing machine. It drastically reduces the holding capacity of glue causing the shoes to tear apart and break down the mesh and stitches.
Dry your shoes properly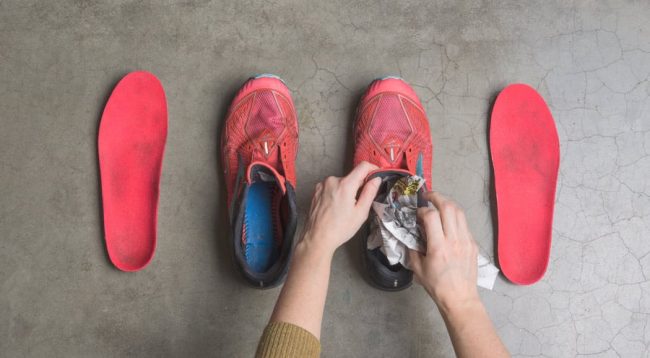 Proper drying routine is also essential for long-lasting shoes. Always dry sole separately. Place paper towels inside the shoes to absorb the moisture and dry quickly. Avoid keeping it in the sun or close to any heat source. Wet shoes that air-dry on their own tend to stink. Switch paper towels after 10 minutes and stuff with fresh ones.
Retain the shape of your shoes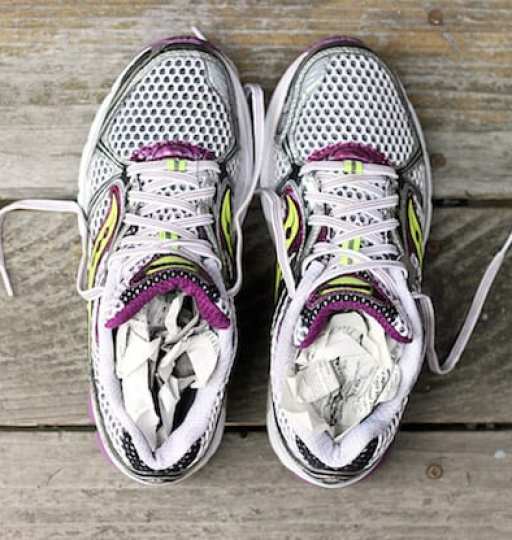 Thin, lightweight uppers can wear out before the sole does. You can reinforce your shoes with many market available pads. You can also stuff newspaper tight into the toe box which helps to retain the shape of the shoe.
Read about the basic footwear men and women should own to be always in trend.